Nomad aesthetic: Cattle modifications among the northern Turkana of north west Kenya
Pastoralism
Research, Policy and Practice
2018
8:6
Received: 31 October 2017
Accepted: 12 December 2017
Published: 7 February 2018
Abstract
Among the Turkana of north western Kenya, as well as in many other eastern African pastoral societies, cattle are not only a source of food but also an essential tool for a man to establish his own concepts of aesthetic and to visibly express his own personal identity and social relationships among his people. A Turkana man achieves these objectives by choosing a specific male cow and then modifying its external appearance with branding to permanent alter the coat, with a forceful modification of the growth direction of the horns, and with peculiar cuttings of the ear margins and dewlap. These modern-day practices are identical to the images of cattle present in numerous Neolithic rock art scenes over widespread geographical areas. This present-day Turkana custom may facilitate a correct interpretation of prehistoric rock art and help to understand the systems of thoughts, values and aesthetic perceptions of long-vanished prehistoric pastoral societies.
Keywords
TurkanaEast African pastoralistCattle modificationsBrandingHorn deformationsAfrican rock art
Introduction
The information presented here was gathered during a decade of work as a Veterinary Officer in northern Turkana County, an area of Kenya west of Lake Turkana, bordering Sudan, Uganda and Ethiopia (Fig. 1), and various travels to north-eastern Uganda (Karamoja, Kidepo).
Study area
The area is populated by the Turkana, a homogeneous Eastern Nilotic group belonging to the "Karamajong Cluster", comprising several closely related ethnic groups that speak a mutually intelligible language. The component tribes include the Karamajong, Jie, Dodoth, Teso (Uganda), Toposa, Jiye (South Sudan) and Nyangatom (Ethiopia) (Gulliver
1952b
,
1966
, Lamphear
1976
,
1988
, McCabe
1995
, Lokuruka and Lokuruka
2006
). Geographically, the region is made up of open plains with sparse scattered mountain ranges and several seasonal rivers. The area is characterized by high temperatures, frequently exceeding 30 °C, and aridity, with an annual rainfall generally in the range of 200 to 300 mm, which falls in very scattered and highly irregular showers (Turkana County Government
2013
). Droughts are common, and while areas of higher elevation receive more rainfall, agriculture is limited to a few riverine zones (McCabe
1987
, Rutten
1989
, Opiyo et al.
2015
). Because of such harsh ecological conditions, the Turkana are highly mobile pastoralists, managing a variety of livestock species (small stock, donkeys, cattle and camels) and balancing the challenges of living in an unpredictable ecosystem with a complex social network (Gulliver
1958
, Wienpahl
1984
, McCabe
1990
,
1995
, De Vries et al.
2006
, Juma
2009
,
2016
).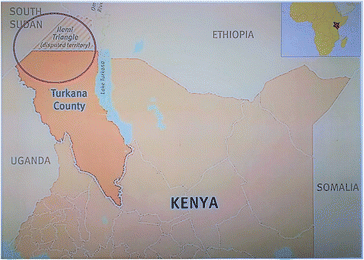 Methods
For the Turkana and all the ethnic groups of the Karamajong Cluster, as well as to various degrees many of their neighbours - the Mursi, Dassanetch, Hamar, Suri and other more distant groups such as the Nuer, Ngok Dinka, Longarim (Herskovits 1926, Nalder 1937, Hazama 2012), cattle are the most prized livestock. Cattle are not only a source of food, supplying meat, milk and blood, but they are also overwhelming important in all aspects of social life (Cummins 1904, Evans-Pritchard 1940, 1953, 1956, Beaton 1950, Clark 1952, Kronenberg 1961, Gulliver 1966, Gourley 1972, Tornay 1981, Fukui 1984, Abbink 2003, Dubosson 2014, Insoll et al. 2015). Among the listed ethnic groups, a man is known by his contemporaries and friends not only by his given birth name but also by his "ox-name" - the name of his "favourite-ox", which denotes specific and distinctive characteristics of the chosen ox, including colour of the coat, presence and patterns of spots, shape of horns, fatness or behaviour (Evans-Pritchard 1934, 1940, 1956, Gulliver 1951, Almagor 1972, Tornay 1981, Brown 1990, Dubosson 2014). Turkana adherence to such social custom is highly developed, and the ox-name of the favourite-ox - emong lodwarat (Ohta 1987) or emong lo edwaritae (Barret 1998) - is widely used to identify a man in addition to his birth name (Barton 1921, Gulliver 1952a, 1966, Gourley 1972). The ox-name is regularly used by the Turkana in social interactions, including dances where Turkana singers extol the qualities of their favourite-ox (Gulliver 1951, 1952a, Robbins and Robbins 1971, Ohta 1987, Barrett 1998, Hazama 2012). The favourite-ox of the Turkana is generally a castrated male with a very particular appearance, artificially developed through a variety of complex coat and body modifications and horn deformation (Gulliver 1951, 1952a, Evans-Pritchard 1953, 1956, Almagor 1972, Turton 1980, Brown 1990, Dubosson 2014, Insoll et al. 2015). While a Turkana woman may own livestock, the feature of the ox-name is an entirely male feature. As reported by Gulliver (Gulliver 1966: 59), male children from the age of about four years receive an ox-name from their father or uncles.
Results and Discussions
The cattle chosen by a Turkana to become "favourite-oxen" are invariably castrated at one to two years of age. Castration can be surgical, involving physical removal of testes through cuts in the scrotum, or non-surgical using a wooden hammer (ekidonget) and repeatedly beating the spermatic cord areas over the base of scrotum on an underlining wooden surface. The trauma disrupts blood supply to the testes, leading to subsequent tissue deterioration and atrophy. Castration is done to render the animal more docile and enhance growth, resulting in a taller and fatter animal that is better able to survive periodic fodder shortages. The preferred coat colour for a favourite-ox is uniform and pale, and can be white, gray, yellow or pale roan. However, in order to avoid competition, close agnates frequently choose cattle of different colours, even including brindled or pied coats. The preference for paler coat colours is because a coat "beautification" process is adopted: firing or branding in a specific pattern that causes the hairs of the fired area to grow back much darker than the surrounding undamaged skin. A paler background ensures a more visible result.
Conclusions
This article is embracing the interpretation of ethnoarcheology put forward by David and Kramer: "ethnoarcheology is neither a theory or method but a research strategy" that includes "a range of approaches to understanding the relationship of material culture to culture as a whole, both in the living context and as it enters the archaeological record, and to exploiting such understandings in order to inform archaeological concepts and to improve interpretation" (David and Kramer 2001: 2). This concept is more clearly summarized by the definition of the archeologist Lewis Binford: ethnoarchaeology is a "Rosetta stone: a way of translating the static material found on an archaeological site into the vibrant life of a group of people who in fact left them there" (Binford 1983: 24). Turkana cattle modifications - the creation of a favourite-ox - are powerful and very visible, representing a tool with which individual Turkana are able to establish and affirm a vast array of cultural and social relationships at individual and family levels and among the various clans. As stated by Barrett (Barrett 1998: 2), who studied the Turkana extensively, "man creates the identity of the animal and the animal gives identity to man". Cattle represent the pivotal element of life for the Turkana, and it is logical that the favourite-ox is a chosen tool to express a Turkana's personal concepts of beauty and his idealized "public persona", in addition to his relationship to the world. The Turkana cattle-centered lifestyle is a classic example of people developing their visual aesthetic feelings through an easily available common object, which Gombrich terms "the marvel of everyday vision" (Gombrich 1977: 275 quoted by Coote 1992). It is undeniable that the Turkana favourite-ox coat patterns, horn deformations and body modifications are similar to cattle images present in numerous Neolithic rock art scenes from a broad range of geographical areas. Such a fact might help to better understand and interpret livestock images found in prehistoric rock art from a variety of African and European sites. More importantly, it can be argued that the Turkana's favourite-ox is a present-day tool that allows anthropologists to understand better the systems of thought, values and aesthetic perceptions of long-vanished prehistoric pastoral societies that produced similar rock art images.
Declarations
Acknowledgements
My thanks to the countless Turkana nomads for their help and hospitality and to Prof. Itaru Ohta, Prof. Terrence McCabe, Dr. Carol Kerven, Dr. Jorome Dubosson, Dr. Marcel Rutten, Dr. Yves Gauthier and Dr. Giulio Calegari for their productive comments on the manuscript. Sincere thanks also to Prof. Jonathan Robinson for editing the manuscript's English.
Ethics approval and consent to participate
In every case, prior informed consent was obtained verbally before the interview was conducted, according to the ethical guidelines adopted by the American Anthropological Association (1998) and by the International Society of Ethnobiology (2006).
Competing interests
The author declares no competing interests.
Publisher's Note
Springer Nature remains neutral with regard to jurisdictional claims in published maps and institutional affiliations.
Open Access This article is distributed under the terms of the Creative Commons Attribution 4.0 International License (http://creativecommons.org/licenses/by/4.0/), which permits unrestricted use, distribution, and reproduction in any medium, provided you give appropriate credit to the original author(s) and the source, provide a link to the Creative Commons license, and indicate if changes were made.