The relevance of herders' local ecological knowledge on coping with livestock losses during harsh winters in western Mongolia
Pastoralism
Research, Policy and Practice
2018
8:3
Received: 30 May 2017
Accepted: 28 November 2017
Published: 29 January 2018
Abstract
In many regions of the world, traditional and local ecological knowledge is still important today for coping with environmental challenges. This study explored the relevance of such knowledge for predicting and coping with harsh winter conditions (dzud) in a remote area of western Mongolia, where government support to disaster-affected herders is restricted by weak infrastructure. Structured face-to-face interviews were held in 50 households (HHs), addressing aspects of livestock possession and management as well as disaster prediction and mitigation. The responses disclosed that livestock losses during the 2009/10 dzud averaged 112.4 animals per HH, equaling nearly 80% of the interviewees' total livestock possession in summer 2013. To reduce such high losses in the future, herders planned to improve their hay-making efforts and winter pen preparation. However, they also stated that the earliest signs for a dzud occur in September, when it is already too late for substantial hay-making. Therefore, some herders underlined the necessity of maintaining livestock productivity through segregated summer grazing of specific animal groups, controlled mating and early sale of weak livestock. Animals are then entering a harsh winter in good body condition. National and international organizations wishing to support livestock keepers in this and similar regions should therefore highlight the relevance of local strategies for disaster prevention and support community-based approaches that can compensate for the prevalent lack of family labour.
Keywords
Altai MountainsClimatic hazardsDisaster reductionLocal ecological knowledgeTranshumant animal husbandryResilience
Introduction
Traditional ecological knowledge (TEK) and local ecological knowledge (LEK) is knowledge held by indigenous and local cultures that often reflects the long-term past (TEK) and present (LEK) experience gained from the intimate involvement of humans with their local ecosystem (Berkes 1999; Chapman 2007; Martin et al. 2010). As an integrated knowledge system of verbal information, recognition and belief, TEK is transmitted from one generation to the next and is amended through new observation and experiences (that is, LEK; Fernandez-Gimenez 2000; Schafer and Reis 2008). TEK has been especially described by anthropologists from the viewpoint of culture and ethnological distinction (Berkes 1999). Sonak (2014) argued that successful and sustainable livelihood strategies of local cultures have often preserved their natural environments' health over centuries.
During the past two decades when the global society increasingly realized the need for long-term sustainability of agro-ecosystems management, improved resource use efficiency and better reconciliation of societal needs with natural ecosystems' health (e.g. WCED 1987; Mebratu 1998; Fernandez-Gimenez et al. 2016), scientists and ecological practitioners started to revaluate TEK held by communities that are strongly engaged in traditional subsistence systems (Menzies 2006; Martin et al. 2010). Scientists have tried to better integrate TEK with modern approaches of natural resources management and conservation strategies in different domains of human-environment interactions, such as inland and marine fisheries in Brazil (Schafer and Reis 2008; Teixeira et al. 2013), forestry and traditional rice-farming in Japan (Indrawan et al. 2014), as well as small mammals' conservation in the Dominican Republic (Turvey et al. 2014), and positive effects of the approach were reported.
Today, TEK and its substantial contribution to nature guardianship is vanishing among Mongolian herders (Fernandez-Gimenez et al. 2016). The loss of TEK and LEK on animal husbandry is viewed as one of the negative consequences of totalitarian collective farming during the 70-year socialist period in Mongolia and the subsequent social turbulences during the democratization process in the 1990s (Fernandez-Gimenez 2000). There is recent evidence of spatially concentrated exploitation of grazing resources leading to rangeland degradation (Altmann et al. 2016; Jordan et al. 2016) and eventually severe livestock losses in the case of extreme environmental conditions such as an extremely harsh winter (Soma 2014).
For the four-year period of 1999 to 2002, the occurrence of three subsequent disastrous winters (called dzud in the Mongolian language) and high livestock mortality was associated with a low remotely sensed normalized difference vegetation index (NDVI) in summer, high snow-water equivalent in winter and high livestock mortality or a high livestock population in the previous year (Saizen et al. 2010). For the same period, Begzsuren et al. (2004) reported an average annual livestock mortality of 18% in years when both summer drought and severe winter weather struck in Gobi Gurvansaikhan National Park. This mortality value was 4.8% higher than the mortality in years with only dzud and 7% higher than the mortality in years with only summer drought, indicating that livestock survival is more sensitive to dzud than to summer drought (Begzsuren et al. 2004). Therefore, it is not surprising that the disastrous dzud (winter) of 2009/10 triggered a series of studies that tried to establish cause-effect relationships for the vast livestock losses, and pointed to strategies that might help reduce the impact of disaster in the future (Sternberg 2010; Fernandez-Gimenez et al. 2012; Addison and Brown 2014; Middleton et al. 2015). As underlined by Fernandez-Gimenez et al. (2012), dzud is no singular environmental event but rather a complex social-ecological phenomenon, and vulnerability to dzud is a function of interacting physical, biological, socio-economic and institutional factors. Since governmental support of herders was drastically reduced after the end of socialism in Mongolia, Addison and Brown (2014) evaluated the financial return to a set of locally used herd management strategies under the scenarios of a mild, normal and strong winter. However, their propositions rely on well-functioning markets for the purchase of livestock feeds and the sale of live animals and livestock products by the herders, which do not often exist in remote areas with weak infrastructure in Mongolia. With this case study, we therefore wanted to explore whether, and to which extent, traditional and local ecological knowledge are of relevance for predicting and coping with harsh winter conditions in an area where physical and economic infrastructure is particularly weak.
Study area
The study area is located across the border of Bayan-Ölgii province (
aimag
) and Khovd province in the Altai Mountains (Figure
1
), the most poorly developed rural area in Mongolia, 2000 km west of the country's capital Ulaanbaatar (Soma
2014
). In this region, pastureland is shared by three ethnic minorities: the Kazakh, the Torguud, and the Uriankhai (Soma
2014
; Mroz
2015
). There are significant differences between these ethnic groups, both at a macro-scale (religion, philosophy, language, history of regional settlement) and at a micro-scale (livelihood, way of animal herding, style of house and costume; Saruul
2011
). The three ethnic groups practice a collective lifestyle which is based on tight kinship relations among households (HHs) who set up their homesteads (portable round tents called
ger
in the Mongolian language) close to each other in so-called
khot ail
. These are groupings of livestock-keeping families, nowadays typically comprising 2 to 12 households, who jointly practice a transhumant way of living and herding (Bold
1996
; Fernandez-Gimenez et al.
2015
).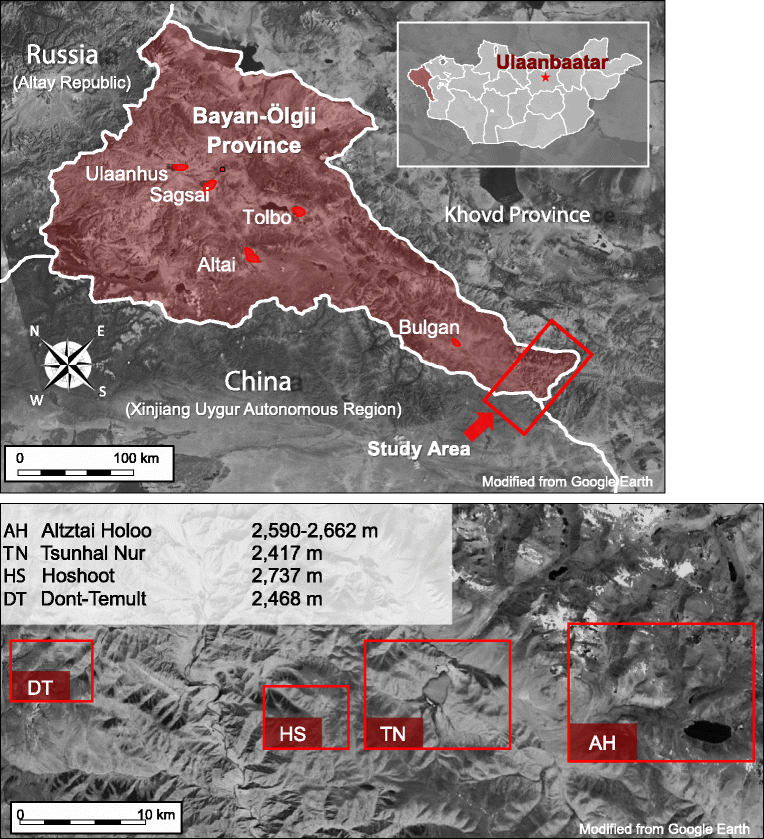 In the framework of a larger research project that focused on the effects of climatic changes and land use intensification in the transborder Altai-Dzungarian region of Mongolia and China (Jordan et al.
2016
,
2018
), four summer pasture settlements were purposefully selected for the present study. These were:

At the time of study, Torguud (11 HHs) settled in AH, Uriankhai in HS and DT (5 and 14 HHs, respectively) and all three groups (38 HHs altogether) were found in TN. Across ethnic groups, the average household size (mean ± SD) was 5.1 ± 1.7, where 3.2 ± 1.4 were > 18 years old (Tsevegmed 2016).
Methods
Data collection
The study was conducted from 24 June to 20 August 2013. All households in each settlement were initially approached and asked whether they would be willing to participate in an interview on livestock numbers, management practices and disaster-related ecological knowledge and strategies. Households responding positively (8 in AH, 24 in TN, 4 in HS, 14 in DT) were then visited again to carry out the interview. As the sampling approach was based on a household's voluntary participation, the distribution of households across settlements and ethnic groups was not proportional to settlement and group size, respectively. Data were collected through structured face-to-face interviews with a pretested questionnaire. The interviews were held inside the household's ger and specifically addressed a senior family member. The interviews were held in the Mongolian language, whereby a Mongolian assistant asked 21 predefined questions (12 closed multiple-choice questions that mostly allowed multiple answers and 9 comment-type questions). Subsequently, the first author and the assistant engaged in an open conversation with the interviewee, which was recorded in writing. In total, one household visit lasted between 60 and 90 min.
Data analysis
Out of the 50 interviewed persons (23 female, 27 male), 2 did not provide univocal responses to some of the questions; these answers were treated as missing values in the data analysis. Qualitative information collected in the open conversation and recorded in the English language was subjected to conventional and summative content analysis. Quantitative data from the structured part of the interview was entered in Microsoft Excel® spreadsheets, whereby text variables were coded into binary or nominal/ordinal dummy variables as appropriate. Wherever applicable, data was statistically analysed in SPSS for Windows, Version 20 (IBM Corporation, 2011). In a first step, the residuals of continuous variables were checked for normal distribution using the Kolmogorov-Smirnov test. As distribution of all variables was non-normal, differences between ethnic groups and summer camp locations were explored using non-parametric tests. Chi-square (Fisher's exact) test was thereby used for categorical variables and Kruskal-Wallis test for continuous variables. Linear relationships were analysed applying Pearson correlation statistics. Significance was declared at p ≤ 0.05.
Discussion
The central aim of this study was to evaluate whether in very remote rural areas of Mongolia where infrastructure and government support are deficient, livestock herders use traditional and local ecological knowledge to predict and cope with winter disasters. The relevance of this topic was also underlined in the study by Middleton et al. (2015). To put into perspective the importance of local ecological knowledge for herders in the two Bulgan counties of Bayan-Ölgii and Khovd provinces, we explored the livestock losses experienced during the 2009/10 dzud as well as the cumulated livestock losses during the years 2005 to 2010 and compared these to the post-dzud (2013) livestock possession of the interviewees. We could unfortunately not collect reliable data for the pre-dzud livestock possession of individual herders, but we might of course have applied the percentage loss of cattle, camels, goats, sheep and yak in Bulgan (National Statistical Office of Mongolia 2014) to each household, so as to reconstruct the 2009 herd sizes. Yet with this approach, we would have postulated that across all herds, the percent losses were the same, which certainly is not true; therefore, we abstained from this exercise.
Overall, low transmission and active application of local ecological knowledge seemed to prevail in the studied households, even though all interviewees acknowledged the significance of such knowledge for predicting dzud, preparing for the disaster and coping with it. However, this knowledge is not much employed in practical terms, neither through action nor cognitive reflection (such as predicting dzud). Most interviewees pointed to signs of dzud that appear earliest in September. This makes it difficult for herders to engage in precautious actions early enough in the vegetation growth cycle. If not already executed as a routine activity, protective measures such as hay-making are constrained by the availability of family labour and are only taking place after families and herds have moved from summer to autumn pastures (Jordan et al. 2016, 2018).
As Berkes (1999) and Baival and Fernandez-Gimenez (2012) reasoned, there is an obvious parallel between resource management strategies based on local ecological knowledge and 'modern' adaptive resources management. According to Berkes (1999), periodic crises evolving around resources use are not disproving the validity of traditional ecological knowledge but might rather lead to its revitalization. In Mongolia and neighbouring regions, dzud historically limited overpopulation of pastoral landscapes with livestock and even humans (Fernandez-Gimenez 2000), thereby drastically reducing grazing pressure on the natural grassland for several years. This clearly underlines the element of 'nature' and of 'adaptive cycles' (Holling 2001) in this social-ecological system (Ostrom 2007). The adaptation of complex systems to changing conditions takes place through subsequent stages of reorganization, growth, conservation and release or collapse (Holling 2001). The latter, in the present case, were the livestock losses in the 2009/10 dzud, which are presently followed by reorganization, that is, the abandonment of livestock-keeping especially by those Kazakh (Sh) families who lost all their livestock (personal communication with the leader of the Kazakh community in Bulgan county, August 2013). The same was also observed by Sternberg (2010) as a country-wide phenomenon across Mongolia and is likewise reported from drought-affected pastoral groups in Western Africa (Starr 1987) and Eastern Africa (Oesterle 2008). Given the economic disparity between the Torguud, of whom 50% were classified as Lh herders, and the Kazakh and Uriankhai, who mostly belonged to the Sh stratum, vulnerability to dzud also has an ethnic and an economic dimension, as for example shown by Chen et al. (2013) for the Yangtze River Delta Region. Even though in the Bulgan region all ethnic groups and wealth strata, respectively, kept a high number of goats, Sh and Mh Kazakh households with their goat-dominated herds seem to be particularly vulnerable to winter disaster: the respondents and our data indicated that dzud mortality is very high for this species.
Herd recovery rates after the 2009/10 dzud varied strongly across Mongolia (Middleton et al. 2015). According to official statistics (National Statistical Office of Mongolia 2014), overall livestock losses in the 2009/10 dzud were 13 and 28% of the 2009 animal population in the Bayan-Ölgii and Khovd provinces, respectively. In Bulgan soum of Bayan-Ölgii and in Bulgan soum of Khovd, these losses amounted to 54 and 51%. Whereas by 2013 the post-dzud livestock numbers had substantially increased in Bulgan soum of Bayan-Ölgii (1.54 times the 2010 headcount), in Bulgan soum of Khovd, an increase of only 28% was recorded (National Statistical Office of Mongolia 2014). Thus, in 2013, herders in the two soums on average kept only 71% (Bulgan soum of Bayan-Ölgii) and 63% (Bulgan soum of Khovd) of their 2009 animal numbers, rendering them very susceptible to new disaster in the near future. An analysis of 2010 livestock data also indicated that in the Gobi Desert, which is relatively close to our study region, a high proportion of pastoral herds were smaller than the minimum viable size (Addison and Brown 2014). Similarly, in the north of Bayan-Ölgii province, 80% of herder households possess less than 200 head of livestock (Soma 2014).
The decrease in livestock numbers in the 2009/10 dzud and the incomplete recovery in the two studied soums until 2013 led to a substantial increase of available pastureland for the remaining livestock population. The regional utilization patterns of pastureland are greatly influenced by the management strategies of Lh households who possess 55.5% of the total regional livestock and dominate on qualitatively and quantitatively better pastureland (Altmann et al. 2016). On the other hand, especially Mh and Sh herders tend to live together in khot ail summer pasture settlements for cooperative grazing purposes and work-sharing. For the Tsunhal Nur (TN) pasture, Altmann et al. (2016) determined an average stocking density of 2.5 sheep units (SUs, herbivore animal of 45-kg live weight) per hectare in summer 2014, whereas the median was only 1.6 SU/ha. Whereas Kazakh HHs kept on average 3.5 SU/ha on the summer grazing areas attributed to their use, the respective stocking density was 1.2 SU/ha for Uriankhai and 2.7 SU/ha for Torguud (Altmann et al. 2016). From remote-sensing-based biomass estimates in June 2014, these authors calculated an average offer of dry herbaceous forage mass of 424 to 1053 kg/ha per herd, with a median of 611 (Altmann et al. 2016). Together with a reduced rotation of herds between grazing areas within a seasonal pasture, and shortened distances of the daily grazing orbits (Jordan et al. 2016), pasture conditions may thus deteriorate easily (Tsui 2012) in specific areas.
Livestock losses in the 2009/10 dzud were exacerbated by a general decline in the government's pastoral support services since the transition to a market economy (Fernandez-Gimenez 1999; Sternberg 2010; Addison and Brown 2014). In view of this, and especially based on the herders' analysis of the effectiveness of official versus private measures, it becomes clear that local strategies of preventive herd and pastureland management are more important than governmental interventions in the study region. Addison and Brown (2014) collected a cascading series of livestock-loss-preventing strategies that are employed by herders in the Gobi Desert, such as hay-making, selling off lean animals in autumn, deciding against mating and purchasing supplementary feed for specific animals. By modelling the economic return to these strategies for a good, normal and harsh winter, they demonstrated the relevance of markets as non-tenured institutions for coping with adverse environmental conditions. However, few markets for trading animals, livestock products and inputs such as feed exist in the aimags studied by Addison and Brown (2014) and are quasi-absent in the westernmost region of Mongolia where our study took place. Herders in this region therefore have to rely on local non-market-oriented coping strategies, most frequently portrayed as winter pen preparation and hay-making. However, a few of our respondents mentioned early sale or slaughter of skinny animals and strategic mating, similar to such knowledge of their peers in the Gobi Desert (Addison and Brown 2014) and beyond (Fratkin and Mearns 2003). The by-trend different proportions of livestock lost in different wealth strata indicate that local herders need a basic socio-economic stability, granted primarily by herd size, in order to maintain a minimum of food and livelihood security during crisis (Greatrex et al. 2015). Economic stability of livestock-keeping households relies in particular on the survival of (re-)productive animals and replacement breeding females (Tsevegmed 2016). Therefore, as the first local strategic axis, appropriate summer grazing and mating practices are laying the basis for such survival, and the practice of otor improves the body condition of selected animals that may be sold after summer to purchase feed stocks (Addison and Brown 2014). A high herd mobility that involves frequent rotation of grazing areas in summer promotes well-nourished animals and prevents overgrazing in the semi-arid and arid landscapes of Inner Asia (Sneath 1998; Tsui 2012). For the Mongolian provinces of Arkhangai and Bayankhongor, Fernandez-Gimenez et al. (2015) reported that otor and other traditional resources management practices significantly increased after the 2009/10 dzud in formally organized community groups as compared to individual households. In our study region, where households operate individually or at best on a khot ail basis, the practice of otor has vanished due to a lack of manpower for herding, which in summer competes with milking and milk-processing, vaccinating livestock, shearing sheep and felting wool (Tsevegmed 2016). By controlling livestock-mating, herders determine the timing of livestock parturitions (AH04, AH06). The best mating period for cattle and yak is in early summer and for small ruminants in autumn; in this way, all animals will give birth during the following March (TN20), when the harsh winter months are normally over. If parturitions occur substantially later, newborn animals will reach insufficient physical maturity by the start of the next winter (AH08). Similarly, if the herd comprises many relatively old (and weak) animals, this may also lead to increased animal losses (AH05). These insights of the local herders concerning the relevance of strategic animal mating and selling strategies are fully supported by the results of interviews and economic modelling targeting the Gobi Desert (Addison and Brown 2014).
The second local strategic axis concentrates on herd survival in very harsh winters. To this end, building up a hay stock and fortifying the winter pen and fence in autumn are key measures. Since faeces of bovine species are required for fire-making and insulation of the pen floor, low cattle numbers threaten a family's recourse to these strategies. Similarly, and even more importantly, a lack of (adult) manpower severely challenges the ability to preserve enough winter fodder in many herder families. Even though the first and second axes of local strategies are synergistic, most of the interviewed herders only referred to second-axis strategies. Regional and national governmental and non-governmental organizations cooperating with herders in the Khovd and Bayan-Ölgii provinces should therefore aim to revitalize the practice of first-axis strategies as well.
Conclusions
Our data indicate that in remote rural counties of the Mongolian Altai mountains, livestock losses in the 2009/10 dzud were very high and in particular affected herders with smaller and/or goat-dominated herds, who often were of Kazakh and Uriankhai ethnicity. Whereas Uriankhai households and the wealthier Torguud herders pursued a quick re-stocking of herds, small-scale Kazakh herders abandoned livestock-keeping. For a majority of herders, local ecological knowledge of predicting harsh winters and taking precautions against such disaster gained importance only after the 2009/10 dzud. Therefore, priority was given to hay-making and winter pen preparation, whereas improvement of livestock productivity through segregated grazing (otor) of selected animals, frequent pastureland rotation of the main herd, controlled mating and early sale of fattened as well as skinny livestock were sometimes mentioned but hardly practiced. Since animals that enter the winter season in healthy and well-fed condition are more resistant against disaster than lean animals, national and international organizations wishing to support livestock keepers in this and similar regions should highlight the relevance of these local approaches. However, labour investments in refined herding strategies, hay-making and winter pen preparation can be substantial and surpass the capacities of individual households. Therefore, community-based activities are highly advisable.
Footnotes
2
These abbreviations indicate individual answers, whereby the letters stand for the summer pasture location and the number for the household.
Abbreviations
HH:

Household
LEK:

Local ecological knowledge
SU:

Sheep unit
TEK:

Traditional ecological knowledge
TLP:

Total livestock possession
Declarations
Acknowledgements
This research has been carried out with financial support from the WATERCOPE Project, financed by the International Fund for Agricultural Development (IFAD, Rome, Italy; Grant No. I-R-1284). We are grateful to all cooperating households for their hospitality and time spent in answering our questions and to two anonymous reviewers as well as Prof. Dr. Andreas Buerkert, Universität Kassel, for very valuable advice on earlier versions of this manuscript.
Funding
This study was part of the WATERCOPE Project funded by the International Fund for Agricultural Development (IFAD) Rome, Italy (Grant No. I-R-1284).
Availability of data and materials
Detailed data and information that underlie this manuscript will be made available to interested readers upon request by email to the corresponding author.
Authors' contributions
TS conceived the study, carried out the field research, analysed the data and drafted the manuscript. ES advised on the fieldwork, participated in the data analysis and composed the final version of the manuscript, which both authors read and approved.
Authors' information
TS is assistant professor at the Waseda Institute for Advanced Studies in Tokyo, Japan. The manuscript presents results of his two-year research project on 'Traditional and present livestock husbandry practices in the Mongolian Altai Mountains'. ES is professor and head of the section of Animal Husbandry in the Tropics and Subtropics at the University of Kassel and the University of Göttingen, Germany.
Ethics approval and consent to participate
All households and household members, who participated in this interview-based study, did so voluntarily after having been informed about the aims and scope of the study and with the insurance that their identity would not be revealed.
Consent for publication
Not applicable in the present context.
Competing interests
The authors declare that they have no competing interests.
Publisher's Note
Springer Nature remains neutral with regard to jurisdictional claims in published maps and institutional affiliations.
Open AccessThis article is distributed under the terms of the Creative Commons Attribution 4.0 International License (http://creativecommons.org/licenses/by/4.0/), which permits unrestricted use, distribution, and reproduction in any medium, provided you give appropriate credit to the original author(s) and the source, provide a link to the Creative Commons license, and indicate if changes were made.
Authors' Affiliations
(1)
Section Animal Husbandry in the Tropics and Subtropics, University of Kassel and Georg-August-Universität Göttingen, Witzenhausen, Germany
(2)
Current address: Waseda Institute for Advanced Studies, Waseda University, Tokyo, Japan