Wildlife-livestock interface, veterinary cordon fence damage, lack of protection zones, livestock theft and owner apathy: Complex socio-ecological dynamics in Foot and Mouth disease control in southern Africa
Kabo Mogotsi

1

Email author

,

Olaotswe Ernest Kgosikoma

2 and

Keotshepile Fredric Lubinda

3
Pastoralism
Research, Policy and Practice
2016
6:21
Received: 17 July 2016
Accepted: 24 September 2016
Published: 26 October 2016
Abstract
Current efforts to control and possibly eradicate the highly contagious and economically important Foot and Mouth disease (FMD) in Botswana are hampered by numerous inextricably linked constraints. These constraints were unveiled using a questionnaire-based approach among 94 communal area livestock owners in eastern Botswana's Zone 6 (FMD-free zone without vaccination, straddling part of the Central and North East Districts, sharing a common border with Zimbabwe to the east). The area has a history of FMD, with the last outbreaks recorded in 2002 and 2003 prior to the study. Some of the most outstanding constraints in FMD control were (1) rampant cross-border livestock theft, (2) veterinary cordon fence damage attributed to illegal immigrants and an ever-increasing elephant population, (3) livestock interaction with FMD-susceptible wild ungulates on the same rangelands, and (4) an absence of a protection zone (formerly 'buffer zone') along the Botswana/Zimbabwean border as well as (5) general apathy towards daily livestock management demonstrated by some owners/herders. The paper further discusses these complex socio-ecological constraints as perceived by livestock owners and offers possible policy considerations including targeted FMD awareness campaigns, strengthening of FMD risk analysis capacity and synchronization of surveillance and control strategies among neighbouring countries as well as adoption of approaches such as compartmentalization and commodity-based trade to enable greater access of Botswana's beef to high-value international markets.
Keywords
BotswanaCommodity based tradeFoot and Mouth Disease (FMD)Livestock theftTransboundary animal disease managementVeterinary cordon fenceWildlife livestock interface
Introduction
Botswana is a cattle country and always has been. The beef sub-sector transcends many other sectors of the economy and contributes about 80 % to the overall agricultural gross domestic product (GDP). Under the dominant communal extensive grazing system, livestock, particularly cattle, are more than just a tradable commodity - they are an integral part of the socio-cultural landscape. However, Botswana's livestock sector, as with most other countries in sub-Saharan Africa, has experienced Foot and Mouth disease (FMD) outbreaks through the years - with official records dating as far back as the early 1930s (Walker 1934). The highly communicable disease affecting even-toed ungulates is caused by the FMD virus (FMDV), classified within the Aphthovirus genus as a member of the Picornaviridae family (Belsham 1993). It is listed as a notifiable disease by the World Organisation for Animal Health (Office International des Epizooties, OIE). Historically, Botswana had three regions where FMD outbreaks were likely to occur, namely the Ngamiland (now Zones 2a, 2b, 2c, 2d, 2e, 2f) and Chobe area (now Zone 1), the Boteti river area (now Zone 4a) and the Nata area (now Zone 3b) (Falconer 1972; Mokopasetso and Derah 2005) which are areas with concentrated African buffalo (Syncerus caffer) populations. The earliest recorded FMD case was in 1933 caused by a variant of FMDV type O (Walker 1934), and this has been the only outbreak caused by the type O serotype. From 1935 to 1947, there is a dearth of knowledge though it is suspected that outbreaks could have been due to the Southern African Territories (SAT) serotypes (Baipoledi et al. 2004). Eight outbreaks of FMD were further observed during the periods 1948 to 1970 (Falconer 1972), 1977 to 1979 and 1980 - all caused by SAT viruses 1, 2 and 3 or their combinations. Then two decades lapsed without any new outbreaks until 2002 to 2003 (Vosloo et al. 2002; Baipoledi et al. 2004).
Of late, however, outbreaks of FMD have been on the increase from 2006 to 2008, 2011 to 2012, to 2014 to 2015 (OIE 2015), even though some of these were in non-European Union (EU) export zones in northern Botswana. In order to realize accruable benefits derived from successful FMD control, Botswana together with other neighbouring states such as Namibia and South Africa has managed to secure OIE-certified FMD-free zones protected by a vaccination zone surrounding high-risk areas. Systems of elaborate networks of veterinary fences (approximately 10,000 km) and quarantine camps as well as disease-surveillance programmes coupled with compulsory and free vaccination campaigns have been put in place throughout the country for decades (Letshwenyo et al. 2004). This has largely facilitated access to regional and international beef markets like South Africa and as far as the EU and Norway. These achievements, supported by a strong legal framework, have been anchored on the Diseases of Animals Act (1977) and other subsidiary legislation such as Movement of Stock (restriction) Order as well as Quarantine and Compensation regulations. Other pertinent legislation includes the Control of Livestock Industry Act as well as the Livestock and Meat Industries Act.
Despite these commendable efforts which have largely contained the disease (Baipoledi et al. 2004; Mokopasetso and Derah 2005), the occasional outbreak of the transboundary FMD as well as the resultant economic cost and social disruption calls for a rethink in Botswana's approach. Research efforts have been directed more at the technical and less on the economical (e.g. Oarabile 1994; Kolanye and Mullins 2000) and social aspects of FMD outbreaks in Botswana, despite the recognized importance of community participation in veterinary service delivery in Africa (Catley and Leyland 2001). While estimates show that about 80 % of Botswana's beef exports are from communal grazing areas, unfortunately, communal livestock farmers with different production objectives are often seen and treated passively - only to be involved in FMD-vaccination campaigns and during the actual outbreak to contain and curb the spread of the disease. How local livestock farmers themselves perceive FMD, how it affects their enterprises and how they cope and adapt during and after outbreaks has received little attention in research circles, despite the great socio-economic importance of livestock to Batswana (citizenry of Botswana).
Perceptions or the range of judgments, beliefs and attitudes (Taylor et al. 1988) of respondents, priorities and human behaviour in general can be an important factor to consider, especially in disease dissemination and should be integrated in disease control planning (Chilonda and Van Huylenbroeck 2001; Scoones et al. 2010; Maree et al. 2014). Other studies have indicated that pastoralists do possess detailed knowledge about their livestock health problems (Rufael et al. 2008; Gabalebatse et al. 2013), as well as understanding of the pathology, vectors and reservoirs linked to the occurrence of disease (Ameri et al. 2009). Hence, some researchers (e.g. Shiferaw et al. 2010) further propose that the combined use of participatory appraisal and conventional methods may be essential for an ultimate disease control strategy. Therefore, this study set out to establish the constraints in FMD control as perceived by the affected agro-pastoral communities in the semi-arid environment of Botswana. This approach is in line with the adopted FMD control strategy which advocates for stakeholder involvement. Only by appreciating agro-pastoralists' perspective can a better understanding of FMD prevalence and persistence be realized and, in the same breath, its control and possible eradication from livestock regions of Botswana and southern Africa.
Study area
The study covered agro-pastoral communities in four villages (Mathangwane 21°00′S 27°20′E, Borolong 21°6′13″S 27°20′10″E, Matsiloje 21°18′07″S 27°53′01″E and Matopi 21°29′03″S 27°56′16″E) within veterinary Zone 6, an FMD-free zone without vaccination and a beef exporter to international markets (EU). The zone straddles both the Central and North East Administrative Districts of Botswana. Significantly, the zone shares a common border with Zimbabwe to the east. The zone further shares a common border with Zone 3c to the north and west (green zone OIE-recognized FMD-free zone without vaccination), Zone 8 to large parts in the south (green zone OIE-recognized FMD-free zone without vaccination) and Zone 7 also in the south (OIE-recognized FMD-free zone with vaccination). Lines of cordon fences separate these zones. The zone, like the rest of the country, is relatively flat and semi-arid, with low and increasingly variable rainfall averaging about 470 mm annually. Major ephemeral rivers are Tati, Shashe, Ntshe and Ramokgwebana.
The long-term maximum temperatures during winter (June to August) and summer (September to May) are approximately 23 °C and 35 °C, respectively, with minimums down to approximately 4 °C during winter nights. The area is dominated by Colophospermum mopane woody species, with other vegetation associations including species like Acacia tortilis, Acacia nigrescens and Combretum apiculatum. Also present are grass species like Panicum maximum, Urochloa mosambicensis, Aristida congesta, Eragrostis rigidior and Schmidtia pappophoroides (Monametsi et al. 2012; Madzonga and Mogotsi 2014; Dambe et al. 2015). Sparsely populated cloven-hoofed wild animals include the greater kudu (Tragelaphus strepsiceros), impala (Aepyceros melampus) and warthog (Phacochoerus africanus).
The area is characterized by the traditional livestock system (cattle posts or meraka) with communal grazing areas and shared water points. But exclusive ranches are also notably present, particularly in the North East District, which also happens to be the second smallest district in the country, thus leaving limited land for common usage. Cattle, goat and sheep farming are widely practised in addition to poultry and, to a negligible extent, piggery. Also present is one of the Botswana Meat Commission's (BMC) abattoirs in Francistown, with the sole mandate for all imports and exports of livestock and livestock products (BMC Act of 1965).
Methods
Sampling procedure
The survey involved four villages in total, namely Mathangwane and Borolong (Central District) as well as Matsiloje and Matopi (North East District), which all fall under Zone 6. Selection of villages took into consideration several factors. First, Matsiloje and Matopi are in close proximity to the Botswana/Zimbabwe border; thus, unique transboundary disease dynamics could be explored. Furthermore, livestock farmers in the two villages could have had direct experience with previous FMD outbreaks in 2002 and 2003. For the villages of Mathangwane and Borolong, although some distance from the border (approximately 75 and approximately 65 km, respectively) and of less exposure to transboundary pressures, the presence or absence of an outbreak even in seemingly distant localities affects the two villages to some extent as they also share common FMD status and control strategies as the rest of Zone 6. Secondly, the willingness of livestock farmers to partake in the study was also considered with help from the Department of Veterinary Services and the Department of Animal Production extension agents (under the Ministry of Agriculture). For example, in the village of Matshelagabedi (near Matsiloje), attempts to administer questionnaires failed as some visibly agitated livestock farmers declined to be interviewed, as they had earlier been informed of an FMD outbreak1 in their area and the subsequent decision to cull their cattle to contain the disease. The last consideration was the ease of logistical arrangements which was also instrumental in selecting Zone 6.
Livestock farmers (owners only) were randomly selected, and a total of 94 respondents were interviewed using a semi-structured questionnaire, with 52 in Borolong and Mathangwane while 42 were from Matsiloje and Matopi. The interviews were done during periods of relatively less labour demand (September) associated with agricultural activities such as calving or vaccination periods. The questionnaires were administered in the Setswana language by a team of enumerators, who had familiarized themselves with the questionnaire prior to the actual field survey. The questionnaire covered socio-economic profiles of respondents as well as the perceived constraints encountered in the control and/or eradication of FMD in their area. The chi-square test (χ2) was used to test for significant differences in constraints identified in the study areas, at p < 0.05.
Results
Socio-economic profile
Table
1
shows the characteristics of heads of households in the study area, where the majority were elderly males. Only a small proportion of respondents had tertiary education. In addition to cattle, surveyed households also kept fewer other livestock species while main sources of income varied among households.
Table 1
Characteristics of households in the study area (Zone 6), Botswana
Variable

Matsiloje + Matopi (n = 42) %

Borolong + Mathangwane (n = 52) %

Gender (head of household)

(a) male (b) female

(a) 59.5 (b) 40.5

(a) 69.2 (b) 30.8

Age (head of household)

≤35 years

7.1

5.8

36 to 50 years

14.3

13.5

51 to 60 years

9.5

28.9

>60 years

69.1

51.9

Education (head of household)

None

40.5

25.0

Primary

38.1

44.2

Secondary

16.7

21.2

Tertiary

4.8

9.6

Main income source

Crop sales

11.9

19.2

Stock sales

71.4

55.8

Informal employment

0.0

7.7

Government Old Age Pension Scheme

9.5

11.5

Full-time employment

2.4

3.8

Government Food Baskets

2.4

0.0

Other

2.4

1.9

Livestock owned

(a) cattle (b) goats (c) sheep (d) donkeys (e) other

(a) 100 (b) 85.7 (c) 26.2 (d) 23.8 (e) 7.1

(a) 100 (b) 75 (c) 11.5 (d) 4.9 (e) 17.3
Perceived constraints in FMD control
Constraints identified by livestock farmers are reflected in Figure
1
. A myriad of constraints ranged from the prevailing land tenure system (e.g. communal land use and inadequate grazing land), through institutional capacity factors (e.g. lack of research, inadequate field veterinarians and ineffective vaccination strategy), to local-level risk factors (e.g. apathy, stray livestock and fence damage). Overall, as many as 20 possible constraints were mentioned by livestock owners, with 13 being common to both study areas. Fence damage (
p
 = 0.002) and non-vaccination in neighbouring Zimbabwe (
p
 = 0.005) were significantly different between the border villages (Matsiloje/Matopi) and the more inland villages (Borolong/Mathangwane), while vaccine inefficiency was just marginally non-significant (
p
 = 0.056).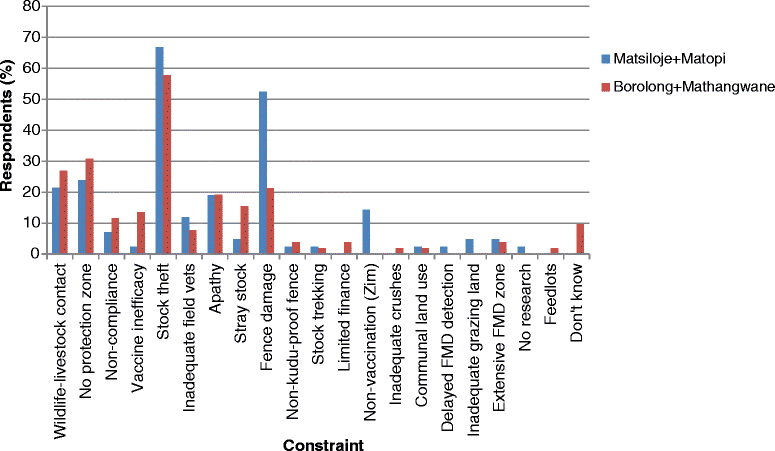 The most outstanding constraints in FMD control and possible eradication were livestock theft (62.2 %), veterinary cordon fence damage (36.8 %), lack of protection zones (27.3 %), wild animals (24.2 %) and general apathy among the surveyed communities (19.1 %).
Conclusion
Botswana has made great strides in the control of the highly contagious FMD over the years, mainly through systems of elaborate networks of veterinary fences, quarantine camps and compulsory and free vaccination campaigns supported by a strong legal framework. Recent incursions and outbreaks, however, threaten the sanitary status of the country and its high-value beef export market. The current study unveiled numerous barriers or constraints as perceived by communal livestock owners, who are key foot soldiers in the continuing battle against FMD. These constraints should be addressed through locally contextualized policy interventions with full engagement of all stakeholders, which will ultimately ensure the country's global competitiveness in livestock and related products, hence securing marginal rural agro-pastoral economies under a changing climate.
Footnotes
1
The FMD outbreak which started in April 2011 caused by FMDV SAT was eradicated by stamping out all 47,578 cattle and 25,232 small ruminants in the containment zone within Zone 6. The zone has since been disease free and restocked by November 2013 (OIE, World Organisation for Animal Health 2015). Compensation policy for cattle: Option 1: 100 % cash (owners of ≤10 cattle), Option 2: 70 % cash and 30 % restocking - with BWP1700.00 per animal irrespective of the age, condition or breed of the animal, but dairy cows were later adjusted to BWP7500.00 per animal (approximately USD1 = BWP10.88 as at July 7, 2016). Small-stock compensation policy: 100 % restocking.
2
In 2015, the use of ground chilli pepper, a non-lethal technique, on cordon fences to deter elephants was piloted around Matopi village by the Department of Veterinary Services, though no systematic evaluation has been carried out on its effectiveness.
3
Botswana is currently considering implementing a policy to immediately destroy any cattle on sight from Zimbabwe that stray into Botswana.
4
Since the study, Zone 6 has been demarcated into Zones 6a and 6b by approximately 180 km of 2.4-m-high fence. The surveyed villages of Borolong and Mathangwane are under Zone 6a, while Matopi and Matsiloje now fall under Zone 6b (protection zone) along the Botswana/Zimbabwe border. Zone 6b forms part of a series of contiguous protection zones stretching across the country from east to west, essentially protecting FMD-free without-vaccination zones in the south from any FMDV incursions from FMD-infected zones in the north - with a strong resemblance to Namibia's (in)famous Veterinary Cordon Fence (VCF) or the 'Red Line'.
5
A joint cattle-vaccination campaign along the border on the Zimbabwean side is ongoing with assistance from Botswana's Department of Veterinary Services.
Declarations
Acknowledgements
The authors are grateful to G. Ntsimanyana, K. Galesekwe (Department of Agricultural Research, Mahalapye), M. Koobonye (Department of Agricultural Research, Impala), P. Gabotlale and B. Letsholo (Internship Programme attachés, Impala) for the field data collection. J. Makore (Biometry Unit, Department of Agricultural Research, Sebele) guided the questionnaire design process. Dr. K. Botlhole and L. Mogaetsho (Department of Veterinary Services, Francistown) and the extension officers (Department of Animal Production, Francistown) are acknowledged for their valuable insight and identification of farmers in the study area, respectively. Chiefs (Dikgosi) of the four surveyed villages and farmers involved are greatly acknowledged for their cooperation, time and willingness to be part of the study. All field logistics were supported by the Department of Agricultural Research, Ministry of Agriculture. Valuable comments from reviewers also improved the manuscript.
Authors' contributions
KM conceived the research idea and study design, participated in the data collection and drafted the manuscript. OEK and KL commented on and improved the initial manuscript. All authors read and approved the final manuscript.
Authors' information
KM is a researcher in rangeland ecology and management particularly in semi-arid environments. OEK specializes in ecosystem management under semi-arid environments. KL is a veterinarian with emphasis on livestock disease control.
Competing interests
The authors declare that they have no competing interests.
Open AccessThis article is distributed under the terms of the Creative Commons Attribution 4.0 International License (http://creativecommons.org/licenses/by/4.0/), which permits unrestricted use, distribution, and reproduction in any medium, provided you give appropriate credit to the original author(s) and the source, provide a link to the Creative Commons license, and indicate if changes were made.
Authors' Affiliations
(1)
Animal Production and Range Research Division, Department of Agricultural Research, Ministry of Agriculture, Francistown, Botswana
(2)
Animal Production and Range Research Division, Department of Agricultural Research, Ministry of Agriculture, Gaborone, Botswana
(3)
Disease Control Division, Department of Veterinary Services, Ministry of Agriculture, Francistown, Botswana