Boma to banda - A disease sentinel concept for reduction of diarrhoea
Pastoralism
Research, Policy and Practice
2016
6:13
Received: 21 September 2015
Accepted: 1 June 2016
Published: 4 July 2016
Abstract
Diarrhoeal diseases can be debilitating, especially for children and young animals. In many rural areas, particularly pastoral communities, livelihoods are characterized by close interaction between household members and their livestock herds, and children often care for young animals, creating opportunities for the transmission of multiple zoonotic pathogens. Using a One Health approach, we first evaluated whether diarrhoeal diseases were a problem for pastoral households in Tanzania and then investigated their calf herds to identify the prevalence and risk factors for diarrhoeal disease and the shedding of the zoonotic pathogens Cryptosporidium and Giardia. Sixty percent of households reporting cases of human diarrhoea also had diarrhoea detected later in their calf herds, and calf herds shedding Cryptosporidium oocysts were six times more likely to be diarrhoeic. Because Cryptosporidium shares a similar transmission mode with a wide range of diarrhoeagenic organisms and calf diarrhoea outbreaks can involve multiple pathogens with mixed infections, it is possible that calf diarrhoea may be indicative of shared risk of zoonotic pathogens from environmental contamination. To mitigate the risk of transmission of faecal-borne zoonotic pathogens from herds to households (boma-livestock pens to banda –household building), we describe a conceptual disease early-warning method proposing diarrhoeic calves as animal sentinels. Such a calf warning system, combined with appropriate interventions designed to minimize exposure, could serve as a practical solution for reducing risks of diarrhoeal diseases among animals and people.
Keywords
ZoonosesDisease surveillanceDiarrhoea Cryptosporidium Giardia HealthOne HealthHALI ProjectTanzaniaAnimal sentinels
Background
For many in the developing world, diarrhoeal disease is a constant and debilitating part of life with devastating impacts on health, nutrition and economic productivity (Everhart 1994; UNICEF 2009). For children, it is especially threatening. Kotloff et al. (2013) found that children with moderate to severe diarrhoea are 8.5 times more likely to die when compared to children without diarrhoea, especially in the first two years of life. Yet humans do not bear the burden of diarrhoeal disease alone; young livestock, especially neonates, are highly susceptible and diarrhoea is a leading cause of calf morbidity and mortality worldwide (Kasle 2008; Wudu et al. 2008). Though diarrhoea is a preventable and treatable condition, options for people and livestock are limited in many rural areas by water quality and availability, sanitation infrastructure and access to medical/veterinary services (Richards et al. 1993; Cheneau et al. 2004; UNICEF 2009). Furthermore, diarrhoeal disease is often underreported due to lack of recognition or respondent bias, as discussing defecation is considered taboo in many cultures (Bongartz et al. 2011; Bwire 2011).
Diarrhoea in both humans and animals has a complex, multifactorial aetiology, involving pathogen exposure along with a wide range of environmental, management and nutritional factors (Donowitz et al. 1999; Barrington et al. 2002). Cryptosporidium is a common cause of protozoal diarrhoea in humans and calves worldwide, with significant morbidity and mortality in the developed and developing world, especially among the immunosuppressed (Fayer et al. 1998; Olson et al. 2004; Snel et al. 2009; Kotloff et al. 2013). In a recent multi-site study, Cryptosporidium ranked second among four pathogens associated with increased risk of death from moderate to severe diarrhoea in children in the first two years of life, with most deaths occurring outside health facilities and in rural areas (Kotloff et al. 2013). Human infection with protozoal pathogens has been associated with close contact with livestock (Hunter et al. 2004; Siwila et al. 2007), but exposure can be minimized through management practices targeting a reduction in transmission, including the isolation of sick animals, reduced contact with manure, water treatment/filtration and good hygiene (Barrington et al. 2002).
In the arid and semi-arid areas of sub-Saharan Africa, traditional pastoral and agro-pastoral livestock production is characterized by close contact between human and animal populations, representing a viable subsistence and livelihood strategy (Thornton et al. 2002). Although close contact may increase transmission of zoonotic pathogens, it encourages high visibility and awareness of herd condition, creating opportunities for passive disease surveillance, assessment of herd health and early disease intervention. Many pastoralist groups, such as the Maasai and Barabaig in East Africa, have developed effective ethnoveterinary diagnostic and surveillance practices, as disease treatment and control options are limited (Minja 1994; Jacob et al. 2004). In these systems, attention to calf health is a critical component of traditional husbandry practices, though little attention has been paid to calf illnesses like diarrhoea in disease surveillance.
Human and animal health are intrinsically connected in pastoralist culture, and both populations share similar risks of exposure to pathogens. Because many diarrhoeic pathogens like Cryptosporidium and Giardia are zoonotic, (organisms that can be transmitted between animals and people), monitoring herds for diarrhoeal disease may improve understanding of exposure risks. Animal sentinels have been proposed as practical substitutes for resource-intensive surveillance systems to detect and provide early warning of the presence of pathogens, changes in the prevalence or incidence of disease/pathogens over time and to trigger disease response and control efforts (Rabinowitz et al. 2009; McCluskey 2003). Because calves are both highly susceptible to diarrhoeal disease and are closely monitored and managed by caretakers, we believe they have the potential to function as early-warning sentinels for diarrhoeal pathogens in a pastoral management system.
As part of a long-term disease surveillance and monitoring project aiming to better understand the epidemiology and impacts of zoonotic diseases on people, animals and the environment in the Ruaha ecosystem of Tanzania, we surveyed pastoral households on human health risks to assess if diarrhoeal diseases were a problem. We then later conducted a focused and intensive evaluation of calves in a subset of these households to determine the prevalence of and risk factors for diarrhoeal disease and Cryptosporidium and Giardia shedding, while also assessing household animal care and hygiene practices through a targeted risk factor questionnaire. By considering the findings from the human health survey with those from the calf-focused investigation, we hoped to gain meta-insight on potential environmental and shared risks of zoonotic transmission between herds and households. In addition, we conceptually explored the potential for calves to serve as sentinels for diarrhoeal disease risk. Our aim is to propose some practical options for evaluation that might improve prevention of zoonotic pathogen transmission from herds to households (boma – livestock pen to banda – household building).
Study area
The study area, described in detail by Mazet et al. (
2009
), is located in the eastern portion of the Ruaha ecosystem of central Tanzania. The long-term study was conducted in rural villages in the Idodi and Pawaga Divisions of Iringa District, a semi-arid region where pastoral livestock production contributes significantly to livelihoods (Figure
1
). The target zoonotic pathogens for this study,
Cryptosporidium parvum
and
Giardia lamblia
, have been detected in local surface water sources and in faecal samples from wildlife and livestock inhabiting the area (Miller et al.
2010
).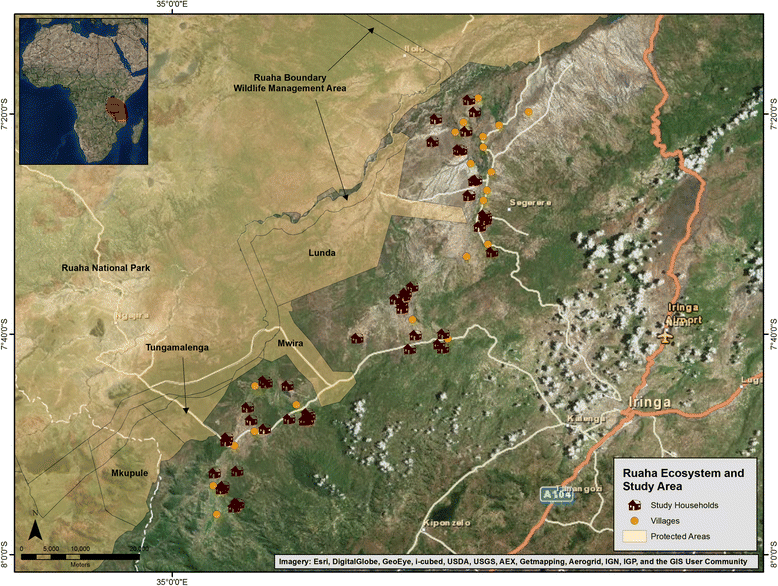 Results
Human health survey
Of the confirmed households from the 2006 to 2007 human health survey participating in the calf-focused survey (n = 44), 9 % (4/44) reported cases of human diarrhoea in the two-week period preceding the interview, two (50 %) of which involved children under the age of seven. Three (7 %) households reported a family member travelling to a local health centre for treatment of diarrhoea on their last visit (all three cases within the past 30 days), a journey ranging from 10 min to four hours on foot (mean = 90 min). Among the surveyed households reporting visits to a health centre (n = 34), diarrhoea emerged as the third most frequent symptomatic cause for visitation (9 %), behind fevers (44 %, 15/34) and malaria (24 %, 8/34).
Calf-focused survey
Forty percent (21/52) of households reported diarrhoea in their calf herds, while the trained interviewer observed diarrhoea in 54 % (28/52) of calf herds; in addition, 61 % (17/28) and 86 % (24/28) of diarrhoeic calf herds contained at least one animal shedding
Cryptosporidium
or
Giardia
, respectively (Table
1
). Calf herds containing at least one diarrhoeic animal were identified in 53 % (22/42) of households that reported sheltering of sick animals within the human living quarters. In addition, calves shedding
Cryptosporidium
or
Giardia
were identified in 41 % (17/42) and 74 % (31/42) of these same households, respectively (Table
1
).
Table 1
Prevalence (observed and reported) of calf diarrhoea and Cryptosporidium and Giardia shedding, and associated herd and household characteristics from the calf-focused survey (2008 to 2009)
Case description

Number

No. of households (prevalence)

Corresponding no. of households with

Calf diarrhoea

Cryptosporidium shedding

Giardia shedding

Diarrhoea observed in at least one calf in the herd

52

28 (53.9 %)

NA

17/28 (60.7 %)

24/28 (85.7 %)

Households sheltering young and sick animals inside the home

51

42 (82.3 %)

22/42 (52.4 %)

17/42 (40.5 %)

31/42 (73.8 %)

Households reporting women and children as the primary caretakers for young and small animals

52

45 (86.5 %)

26/45 (57.8 %)

20/45 (44.4 %)

36/45 (80.0 %)
Overall, 42 % (22/52) and 75 % (39/52) of the calf herds sampled contained at least one animal shedding
Cryptosporidium
oocysts or
Giardia
cysts, respectively. The odds of calf diarrhoea significantly decreased with increasing herd size (OR = 0.98, CI 0.96 to 0.99; Table
2
). None of the evaluated risk factors were statistically associated with
Giardia
shedding.
Table 2
Significant univariable logistic regression model estimates for risk factors for diarrhoeal disease in calf herds
| Risk factor | Unadjusted odds ratio | P value (0.05) | 95 % confidence interval |
| --- | --- | --- | --- |
| Herd size | 0.98 | 0.020 | 0.96, 0.99 |
| Cryptosporidium (herd positive) | 5.66 | 0.005 | 1.48, 25.45 |
Because
Cryptosporidium
shedding was significantly associated with calf diarrhoea, risk factors for
Cryptosporidium
shedding were assessed in a multivariable logistic regression model. Herds positive for
Cryptosporidium
were eight times more likely to have diarrhoea compared to herds not shedding
Cryptosporidium
(CI 1.98 to 33.94; Table
3
). In addition, households that reported moving their
bomas
when full of manure or in response to rain were 23 times more likely to have calves shedding
Cryptosporidium
than households that did not move their bomas (CI 2.40 to 220.17; Table
3
).
Table 3
Multivariable logistic regression model estimates of the association of risk factors with Cryptosporidium shedding in calf herds
| Risk factor | Odds ratio | Estimate | P value | 95 % confidence interval |
| --- | --- | --- | --- | --- |
| Intercept | 0.018 | −4.05 | 0.001 | 0.002, 0.19 |
| Diarrhoea | 8.21 | 2.11 | 0.007 | 1.98, 33.94 |
| Moving bomas | 22.99 | 3.14 | 0.007 | 2.40, 220.17 |
Several household-level management and hygiene factors were evaluated as potential protective measures to reduce the risks associated with diarrhoea and zoonotic disease transmission in both surveys. From the calf-focused survey, 82 % (42/51) of households reported sheltering young and sick animals inside the home, and 87 % (45/52) reported women and children as the primary caretakers for young and small stock. In general, 96 % (50/52) of these respondents reported hand washing as a consistent preventive practice when working with animals. Yet among those reporting hand washing, relatively few respondents reported hand washing when separately prompted about preventive practices during specific activities likely posing the greatest risk for exposure to faecal pathogens in calves, such as calving (46 %, 23/50), milking (14 %, 7/50) and working with manure (4 %, 2/50).
In the human health survey, 95 % (43/44) of households reported using surface water as their primary water source for human consumption, while only 39 % (17/44) reported treating water for household consumption. Later during the calf-focused survey, when asked about water use for their herds, 90 % (47/52) reported surface water use as the primary water source for livestock, with 83 % (43/52) also reporting surface water as the primary water source for their calf herds.
Individual calf sampling
Of the 262 calves sampled across all households, 17.2 % had clinically apparent diarrhoea. Calf shedding prevalence for Cryptosporidium was estimated at 9.9 % (CI 0.063 to 0.135) while Giardia shedding prevalence was estimated at 22.9 % (CI 0.178 to 0.28). Calves ≤3 months old were two times (CI 1.09 to 4.76) more likely to have diarrhoea than older calves (>3 months old). In addition, calves ≤3 months old were significantly more likely to be shedding Cryptosporidium (OR = 4.94, CI 1.61 to 20.34) and Giardia (OR = 2.68, CI 1.38 to 5.45) compared to older calves. Further, calf age and intensity of shedding Cryptosporidium oocysts rho = −0.149 (P = 0.0158) and Giardia cysts rho = −0.135 (P = 0.0281) were negatively correlated, providing evidence that younger calves also shed more oocysts and cysts. Faecal shedding intensity estimates for Cryptosporidium ranged from 100 to 106,000 oocysts per gram of faeces (median = 450), while Giardia ranges were higher, from 200 to 194,600 cysts per gram (median = 3,150). Median environmental loading rates in excreted faeces were estimated at 1,800,000 oocysts and 156,879,350 cysts per calf per day for Cryptosporidium and Giardia, respectively, for acutely infected calves.
Discussion
Human and animal health risks
The reported presence of diarrhoea in the human population, especially among children, as well as the evidence that individuals do seek treatment for diarrhoea at local health centres despite long walking distances, indicates that diarrhoea is a recognized health problem among pastoralists in Ruaha. It is likely that reported prevalence for human diarrhoea is also lower than actual prevalence, as individuals may be resistant to sharing personal health information, especially with regard to defecation, and may be unaware of the health status of family members for similar reasons.
The reported high prevalence of diarrhoea in livestock, combined with our observations that 54 % of sampled herds had one or more calves with clinical diarrhoea, shows that just as with people, diarrhoeal disease is an important veterinary problem. Reported calf diarrhoea underestimated actual prevalence determined by our trained interviewer by approximately 14 %, likely because the trained interviewer recorded all cases of clinically apparent diarrhoeal disease. As calf diarrhoea appears relatively common in these herds, attention to calves with diarrhoea may not be a common practice. The willingness to openly discuss animal diarrhoea, however, appears to bypass cultural sensitivity around the topics of faeces and defecation, indicating diarrhoea in animal sentinels may be a useful topic for introducing discussions of diarrhoeal disease risk in people, especially from zoonotic pathogens.
In this pastoral system, small stock and young animals are managed in close proximity to adult livestock
bomas
(pens), typically located adjacent to
bandas
(dwellings). The reported sheltering of young and sick livestock within the human living quarters for protection and observation, along with the care of these same animals by women and children, demonstrates the intimate connection between calves and susceptible caretakers (Figures
2
and
3
). As demonstrated, calf herds with diarrhoea were eight times more likely to be shedding
Cryptosporidium
and should be considered a human health risk, especially considering
Cryptosporidium
's low infective dose to people (as few as 30 oocysts or cysts, far less than what a naturally infected calf would excrete into the environment), the relatively high estimated faecal loading potential of a shedding calf and the high survival and resilience of
Cryptosporidium
oocysts in the environment (DuPont et al.
1995
; Zambrisky et al.
2013
; Ryan et al.
2014
). Further, younger calves have been described as more likely to be infected with and shedding the zoonotic species of
Cryptosporidium
,
C. parvum
, (Smith et al.
2014
). Because younger calves in our study were more likely to have diarrhoea, they may also be more likely to shed zoonotic parasites of public health concern compared to host-specific genotypes like
C. andersonii
that are more often shed by older animals.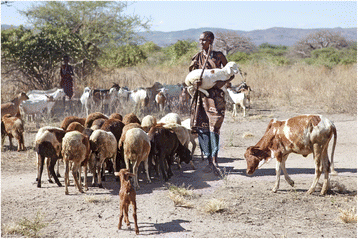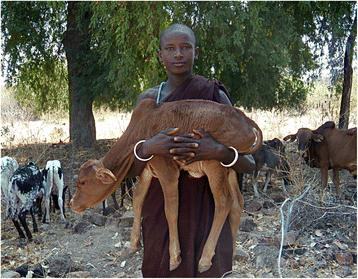 Calves as sentinels for diarrhoeal diseases
Because disease surveillance and health services for both human and animal populations in the study area are underdeveloped (Mfinanga et al.
2009
), community-based surveillance coupled with practical disease management options could be an effective next step for disease control. A calf-based sentinel method (Figure
4
) could provide utility as a household-level sentinel for diarrhoeal disease risk and potential transmission reduction by providing early warning of potential presence of pathogens, like
Cryptosporidium
.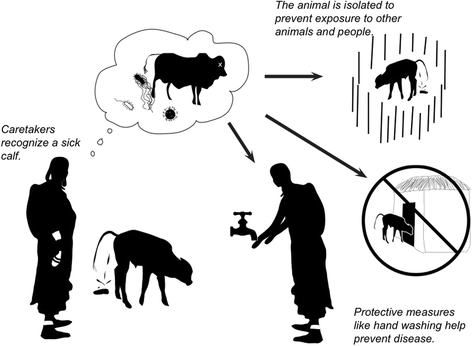 According to a conceptual framework developed by Halliday et al. (2007), animal sentinels must be susceptible and responsive to a zoonotic pathogen that is spatially or ecologically related to a target population, in this case household members. To be effective as an early-warning sentinel, response must occur prior to the exposure of the target population or must enable a rapid response to pathogen presence if exposure has already occurred (Halliday et al. 2007). While determining the point and timing of exposure (animals or humans) in the study community is out of the scope of this study, the Halliday framework still holds relevance for an animal sentinel concept in a pastoral management system. Calves, due to their inherent value and economic importance in the pastoral production system, are a highly visible group from a management perspective and are closely monitored by caretakers. In addition, among other livestock, the prevalence of diarrhoea in calf herds, especially young calves, was higher than that reported for adult animals, demonstrating a calf herd's greater sensitivity and therefore potential utility as an early-warning sentinel.
We assessed Cryptosporidium as a model pathogen for our risk reduction concept due to its transmission ecology, zoonotic potential and diarrhoeic effect on susceptible animals. Cryptosporidium was detected at relatively high prevalences at the herd level compared to other studies in the region (Tanzania Ministry of Agriculture and Food Security 2002; Kusiluka et al. 2005), and Cryptosporidium shedding was associated with an increased risk of diarrhoeal disease in neonatal calves. Because Cryptosporidium shares a similar transmission ecology to a wide range of zoonotic faecal-oral diarrhoeagenic organisms, it could serve as a proxy for many other diarrhoea-causing pathogens. It should be noted that we are not proposing a calf sentinel system as a solution for the surveillance or detection of diarrhoeagenic zoonotic pathogens, rather that the calf sentinel concept could be explored as practical option for visually identifying potential presence of zoonotic pathogens in order to implement risk reduction measures in areas where professional health and diagnostic services are unavailable.
Despite obvious limitations, this study demonstrates that diarrhoea observed in calves may be indicative of shared risk between animals and humans where zoonotic pathogens like Cryptosporidium are present in the local environment. Further, there may be utility in evaluating a syndromic-based sentinel method like the calf sentinel concept in areas under-served by public and veterinary health systems, so as to determine what impact the method could have in early disease identification, reporting, prevention and control. Because of taboos (Bongartz et al. 2011; Bwire 2011), it is possible that pastoralist households would more proactively monitor calves for visual signs of an increase in incidence of diarrhoea rather than communicate with one another about cases of human diarrhoea. If further studies evaluating the complex aetiology of diarrhoea in human and animal populations do indeed identify a shared zoonotic pathogen and transmission pathway, the calf sentinel system could be a very valuable alternative to unavailable health services. This system would enable the alerting of households and communities to the potential presence of infectious agents.
The use of any surveillance system is practical only if its economical application results in early detection and preventive response, leading to disease control (Doherr and Audige 2001). In sub-Saharan Africa, disease surveillance systems lack resources, capacity and coordination, all of which reduce their capability for disease detection and control (Nsubuga et al. 2002; Shears 2000). Furthermore, these disease surveillance systems are often costly and impractical to implement in rural areas and, as a result, are often passive and dependent on medical and veterinary centre caseload (Shears 2000; Halliday et al. 2007). To be effective, passive surveillance systems require high stakeholder participation, as well as trust and communication with official government surveillance networks (Doherr and Audige 2001). These are challenging elements to encourage in rural areas and among pastoralist communities. Sentinel surveillance, on the other hand, could encourage disease detection at the source, drastically improving early warning and minimizing potential impacts of infectious diseases. Empowering households with the knowledge and appropriate tools to recognize and respond to public health threats like calf diarrhoea could lead to disease reduction and improved health and livelihoods.
Diarrhoeal disease control strategies for pastoral areas
In our study, the practice of moving bomas was significantly associated with Cryptosporidium shedding and was reported as a response to precipitation and as a preventive disease measure. We suggest that movement of the boma may instead be a practical response to disease. Manure management, including possibly more frequent movement from faecally contaminated areas, is recommended as a disease prevention and control strategy when coupled with basic sanitation measures, especially as so few respondents reported hand washing following work with manure. It should also be noted that 33 % of households reported no access to improved latrine facilities, using the surrounding environment for defecation. While not investigated in this study, human faeces can also contribute to pathogen contamination and shared transmission risk among animals and household members, and adoption of safe stool disposal practices (latrines, burying, etc.) has been shown to decrease diarrhoeal disease incidence (Curtis et al. 2000). Therefore, safe disposal of human faecal waste, along with basic sanitation measures, such as hand washing with soap following defecation and before eating and after working with animals and manure, are highly recommended practices.
From a herd management perspective, isolating diarrhoeic animals, especially young calves, from the remainder of the herd and household members is recommended to minimize environmental exposure. Isolation measures could be implemented through the construction of smaller individual animal pens or stables. The sheltering of sick young animals inside the home should also be discouraged, as it may increase the risk for human pathogen exposure.
The vast majority of households in our study relied on surface water for both herd and household use. Given that both Cryptosporidium and Giardia have been identified in water sources in the area, water may play a role in diarrhoeal disease transmission and is especially critical to address from a public health perspective (Graczyk et al. 1997; Tumwine et al. 2002). To best minimize the waterborne risk of transmission, it is recommended that appropriate options for water treatment at the point of use be made available to households and that water supplies for the household and livestock be kept as separate as possible to prevent contamination.
Finally, we recommend that future studies investigating zoonotic pathogens in pastoral areas incorporate surveillance of both people and animals, as well as assessment of environmental influences, to better characterize the shared health and transmission risks between these closely interconnected populations. Additional research is needed both on the presence and prevalence of disease among pastoral populations; more research is also needed on the molecular epidemiology of the zoonotic pathogens that pastoralists share with their livestock and other animals. Because disease controls and intervention options in these pastoral areas are often limited, emphasizing applied and transdisciplinary approaches to disease detection, prevention and control will go a long way in improved targeting of interventions, extension efforts and policies designed to work with actual limitations and resource constraints.
Conclusions
Our study represents one of the first attempts to investigate diarrhoeal diseases among pastoral livestock producers using a One Health approach. This multi-disciplinary approach is uniquely positioned to assess health risks from the environment, animals and people, enabling the identification of more comprehensive and potentially effective prevention and control strategies.
Our findings show that diarrhoea is both a human health and veterinary problem in the study area and that diarrhoeic calves pose a risk to human and animal health.
Managing diseases that can be shared between animals and people in marginalized environments with poor access to professional health services, like pastoral areas, requires novel and practical approaches along with efforts to evaluate their potential. We propose that calf sentinels may be a low-cost and easily implementable concept for further evaluation to reduce diarrhoeal disease risks for animals and people. While we encourage additional efforts to explore animal sentinels for disease risk reduction, complementary education interventions should also be encouraged. These education interventions to improve awareness of shared risks associated with zoonotic diseases, like those shown in our study, would improve knowledge of the causes of disease in animals and humans, along with transmission pathways, prevention and control strategies. Linked risk reduction and education interventions could also strengthen linkages between households and formal medical and veterinary reporting networks, potentially leading to improved disease communication and health information flows between health professionals and the communities they serve.
Declarations
Acknowledgements
Permission to conduct research was granted by the Tanzanian Commission for Science and Technology (COSTECH), Dar es Salaam, Tanzania (RCA 2008/129). Human subjects and animal handling protocols were permitted through the University of California, Davis, Institutional Review Board Protocol #200816605-1 and Animal Care and Use Protocol #12394. This research was supported through a Jim Ellis Mentorship Program for Graduate Students Award and an award for the Health for Animals and Livelihood Improvement Project, both through the Global Livestock Collaborative Research Support Program (GL-CRSP:), funded by the Office of Agriculture, Bureau for Economic Growth, Agriculture and Trade, United States Agency for International Development (USAID: https://www.usaid.gov/), under terms of Grant No. PCE-G-00-98-00036-00.
The opinions expressed herein are those of the authors and do not necessarily reflect the views of USAID. The funders had no role in the study design, data collection and analysis, decision to publish or preparation of the manuscript. This study was made possible thanks to the efforts of the HALI Project in Tanzania, especially Harrison Sadiki, Asha Makwete and Erasto Katowa. Special thanks also to all household participants for their generous hospitality and goodwill and to Alison Kent for the sentinel figure, Montague Demment for his council and support and Misty Richmond for her photography.
Open AccessThis article is distributed under the terms of the Creative Commons Attribution 4.0 International License (http://creativecommons.org/licenses/by/4.0/), which permits unrestricted use, distribution, and reproduction in any medium, provided you give appropriate credit to the original author(s) and the source, provide a link to the Creative Commons license, and indicate if changes were made.
Authors' Affiliations
(1)
One Health Institute, School of Veterinary Medicine, University of California, Davis, Davis, USA
(2)
California Department of Fish and Wildlife, Rancho Cordova, USA
(3)
Faculty of Veterinary Medicine and Public Health, Sokoine University of Agriculture, Morogoro, Tanzania
(4)
Health for Animals and Livelihood Improvement (HALI) Project