Pastoral livelihoods of the Fulani on the Jos Plateau of Nigeria
Pastoralism
Pastoralism: Research, Policy and Practice
2014
4:20
Received: 16 September 2014
Accepted: 22 October 2014
Published: 29 November 2014
Abstract
The Jos Plateau is an important cattle-producing area in Nigeria, with a high concentration of pastoral Fulani. In recent decades, pastoralist studies have focused on arid and semi-arid areas, with few based in the sub-humid zones, such as the Jos Plateau. There have been significant socio-economic and agricultural changes in this area over time which makes it necessary to assess current pastoral livelihood strategies. A pastoral livelihood analysis of 66 individual households/herds across 30 villages was conducted, using participatory methods and structured questionnaires. The majority of pastoral households are in the middle or better off wealth categories and only a few are poor in terms of livestock holdings. However, the majority are poor in terms of land holdings. Livestock sales remain the major source of income, but only 30% of households rely on this as their sole source of income. Sale of crops, milk and off-farm activities contributed income in other households. Comparison with previous livestock productivity levels on the Jos Plateau shows that natural resource conflict has increased, with negative effects on productivity, although vulnerability to shocks has decreased over the years. Overall productivity has decreased and calving rates were particularly low. The pastoral Fulani community is relatively well-off, compared to similar populations across West Africa. However, the high proportion of wealth concentrated in livestock and large numbers of land-poor households indicate that there is still a degree of vulnerability to the risks of drought/dry season, disease and conflict in pastoral livelihoods in the area.
Keywords
PastoralFulaniSustainable livelihoodsCattleLivestock productivityNigeriaJos Plateau
Background
Small-scale livestock production is a major contributor to the economies of sub-Saharan countries, especially for the rural populations. It also plays an essential role in food production, and the protein provided by livestock products is an important component of this. There are 120 million pastoralists worldwide, 50 million of these in sub-Saharan Africa where they constitute 12% of the rural population (Rass [2006]). The Fulani are the primary pastoral group in Nigeria with a population of approximately 15.3 million. The Fulani first settled on the Jos Plateau around 1910, attracted by the low levels of disease and abundant grasslands, and are present in large numbers till today (Blench [2004]).
The ability of pastoralists to fulfil their role as food producers is directly dependent on the viability of their livelihoods and the factors affecting their livelihood strategies. The livelihoods of pastoral people depend on three things: first, access to assets such as land, livestock, pasture, water, animal health services, community networks, markets, credit and education; second, the environment in which these assets are combined for production and consumption, specifically the political, organisational and institutional infrastructure within which they operate, which affects their ability to use these assets to achieve positive livelihood outcomes; and third, the dynamic context of risks (human and animal disease, marginalisation, drought, civil conflict and competition for natural resources) and seasonal and continuous trends that affect assets and their environment and determine the vulnerability of livelihoods (Rass [2006]; Eldis.org [2010]). Vulnerability is a measure of the lack of resilience to risks and seasonal and long-term trends. Therefore, it is not only an important feature of poverty but also a potential cause. Vulnerability is closely linked to asset ownership - the more assets people have, the less vulnerable they are. The greater the erosion of assets, the greater the level of vulnerability - poor herders are more likely to end up with an unviable herd size than wealthier herders, even when they lose the same relative amount of livestock (Rass [2006]).
The literature on pastoral livelihoods and customs focuses on pastoralists located in the arid/semi-arid zones but less emphasis on those located in the sub-humid zones such as the Fulani of the Jos Plateau (Catley [2000]). Recent changes in population, land use, socio-economic climate and tsetse and trypanosomiasis risk on the Jos Plateau have had significant effects on pastoral livelihoods on the Plateau. Little information is available on the current state of pastoral livelihoods or the drivers for the epidemiology of trypanosomiasis in this area. Therefore, a longitudinal research project was carried out between 2007 and 2008 to provide a comprehensive summary of the epidemiology of bovine trypanosomiasis on the Jos Plateau; determine which social, economic, ecological and cultural factors influence animal health and disease control by herders; provide an overview of current pastoral livelihoods including quantitative analysis of animal productivity and profitability to herders and examine the effects of recent changes in socio-economic and security factors on pastoral livelihood strategies. Results on the epidemiology of trypanosomiasis and social factors affecting it have been published in Majekodunmi et al. ([2013a], [b]). This paper is concerned with livestock productivity and the current state of pastoral livelihoods on the Jos Plateau.
Study area
The Jos Plateau (Figure
1
) in north central Nigeria covers an area of 8,000 km
2
at an average altitude of 1,280 m. It consists of younger granite of volcanic origin, and the terrain is characterised by numerous rocky, flat-topped hills and crater lakes. The Jos Plateau, formerly open savannah woodland but now mostly grassland, is a highly populated, intensively cultivated area. It was historically free of tsetse flies and trypanosomiasis. The absence of trypanosomiasis and abundant pasture attracted large numbers of cattle-keeping pastoralists. The area now holds over a million cattle and plays an important role in the national/regional cattle industry. However, beginning in 1982, there have been increasing reports of tsetse flies and African animal trypanosomiasis (AAT) on the Plateau (Majekodunmi et al. [
2013a
]).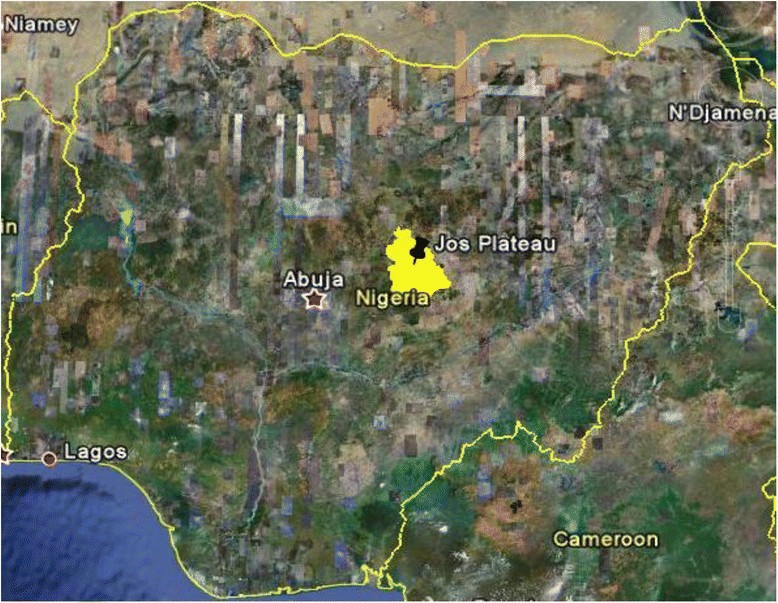 The Plateau shows high ethno-linguistic diversity, without any of the large-scale political units that characterise Yoruba- or Hausaland. In pre-colonial times, the Plateau was populated by a great variety of small ethnic groups living in hamlets with a complex clan organisation and ritual kingship systems speaking an assortment of 'Plateau' languages and a few Chadic languages related to Hausa. Therefore, no single language or people were dominant, although the largest ethnic groups were (and still are) the Birom, Ngas and Tarok (Gunn [1953]; Blench [2004]). These tribes lived mostly in the natural fortresses provided by the hills, and the central plain of the Plateau was largely uninhabited. However, after the advent of the British at the turn of the century, hill tribes were resettled on the central plain. Soon after, the establishment of the tin mining industry attracted workers and traders from across the country. In the early nineteenth century, low human populations, absence of tsetse and mosquitoes and unlimited grassland made the Jos Plateau one of the most attractive environments for cattle in northern Nigeria. These favourable conditions drew Fulani pastoralists from the semi-arid regions who established themselves across the Plateau. From the 1970s onwards, the Fulani also settled on the lowland plains. Currently, the Jos Plateau is a highly populated cosmopolitan area, with inhabitants from across the country with a significant Muslim/Hausa presence (Fricke [1979]; Awogbade [1983]; Blench [2004]). Rural areas are mostly inhabited by farmers of the original Plateau tribes with a significant minority of settled Fulani herders.
Jos: conflict and civil strife
The population of Jos city is composed of 'indigenes' from Plateau tribes (mostly Christians of the Birom, Anaguta and Afizere tribes), and Hausa-Fulani Muslim 'settlers' comprise a significant minority along with other settlers from across the country (Blench [2003]). The conflict in Jos stems from competition between Muslims and Christians, 'settlers' and 'indigenes', respectively, for political power and representation in government. The Plateau tribes, who are mostly Christians, claim 'indigene' status and ownership of Jos city as the original inhabitants of the land. The Jasawa (Hausa Muslims of Jos) are currently classed as settlers which places them at a disadvantage in terms of social, political and economic benefits such as scholarships, places in state schools and employment in the civil service. The Hausa population in Jos wish to claim indigeneity in Jos, based on their long-standing settlement (fourth or fifth generation in some cases), and demand adequate representation in government and politics. This is vehemently opposed by the 'indigenes' who wish to keep these resources for themselves and feel that the settlers already have enough of an advantage over them in terms of numbers and affluence.
This tension has led to recurring violence in Jos North Local Government Area (LGA), since 1994. In August of 2001, a Hausa Muslim was appointed as the poverty eradication coordinator in the area. Tension escalated until September 2001 when it boiled over into riots that engulfed the whole city and was replayed in rural areas. In one week, over a thousand people were killed and tens of thousands of Muslims (including pastoralists) fled, never to return (Bawa and Nwogwu [2002]). These were reported as religious riots, and those fomenting violence on either side were quick to incite their followers on religious grounds (Human Rights Watch [2001]). There had been relative peace in rural areas of the high Plateau since the violence of 2001 and 2002. In November of 2008, the violence was repeated in disputes over the local government elections in Jos North. More than 780 people were killed in the ensuing riots (Higazi [2011]). But unlike in 2001, the 2008 riot did not lead to violence in the countryside. There were also outbreaks of violence in November 2009 to January 2010. In December 2010 to January 2011, several churches were bombed during midnight mass on Christmas Eve and widespread riots followed. This time, the violence did spread into the rural areas on the Plateau (Higazi [2011]; Krause [2011]). Most of this violence was directed against Muslims - Hausa and Kanuri residents in historic tin mining settlements and adjacent Fulani agro-pastoralist communities - and most were driven out at this time. After a few months, the Fulani regrouped in certain areas and there were repeated attacks on Birom villages. Those affected on both sides lost their homes, farms, livestock and other assets. This current phase of rural violence began in January 2010 and has continued intermittently since then in three of the 17 local government areas in Plateau State: Barkin Ladi, Riyom and Jos South. The loss of life during this period has been even greater than that in 2001 to 2002, and the conflict has become protracted in these areas despite military interventions (Higazi [2013]).
Off the Jos Plateau, the other major centres of conflict in Plateau State are Langtang and Wase local government areas on the lowland plains some 200 km south-east of Jos. The Tarok people are the indigenous tribe in this area, but there are substantial settlements of Hausa farmers and Fulani pastoralists (Blench [2004]). The Tarok have maintained good relations with these settlers for a long time and are now themselves substantial cattle owners, often as a result of sending their sons to be trained in herding by the Fulani. The Tarok, moreover, have a long tradition of military service, and many of their leaders are ex-generals. Apparently, a fight broke out in Yelwa at the end of June 2002 between Christian and Muslim residents resulting in the burning of churches. It quickly spread to other communities in the area and degenerated into protracted guerrilla warfare with each side conducting armed reprisal raids on the other until the end of 2004 (Blench [2004]). Cattle rustling by the Tarok was rife during this period, and of the 1.2 million cattle recorded in Wase LGA, an estimated 500,000 were lost to rustlers (Higazi [2008]). In May 2009, state security forces stormed five villages in Wase LGA and hundreds of Fulani were forcibly loaded into trucks and driven 'back' to Bauchi, Gombe, Katsina and Jigawa states. Insecurity has discouraged both farming and herding in many areas with serious effects on livelihoods and food supply (Blench [2004]).
Methods
To determine trypanosomiasis prevalence at 95% confidence, a longitudinal two-stage stratified cluster sampling design was used where randomly selected cattle were the ultimate sampling unit and villages were clusters. Thirty individual villages were chosen using a 15 km × 20 km grid applied over the study area as shown in Figure
2
. A structured questionnaire, incorporating various participatory rural appraisal (PRA) techniques, was administered to livestock owners who participated in the trypanosomiasis survey. This allowed us to gather data for quantitative analysis of animal productivity and profitability to pastoralists; determine which social, economic, ecological and cultural factors influence animal health and disease control by herders and investigate knowledge, attitude and practices of animal husbandry and disease control.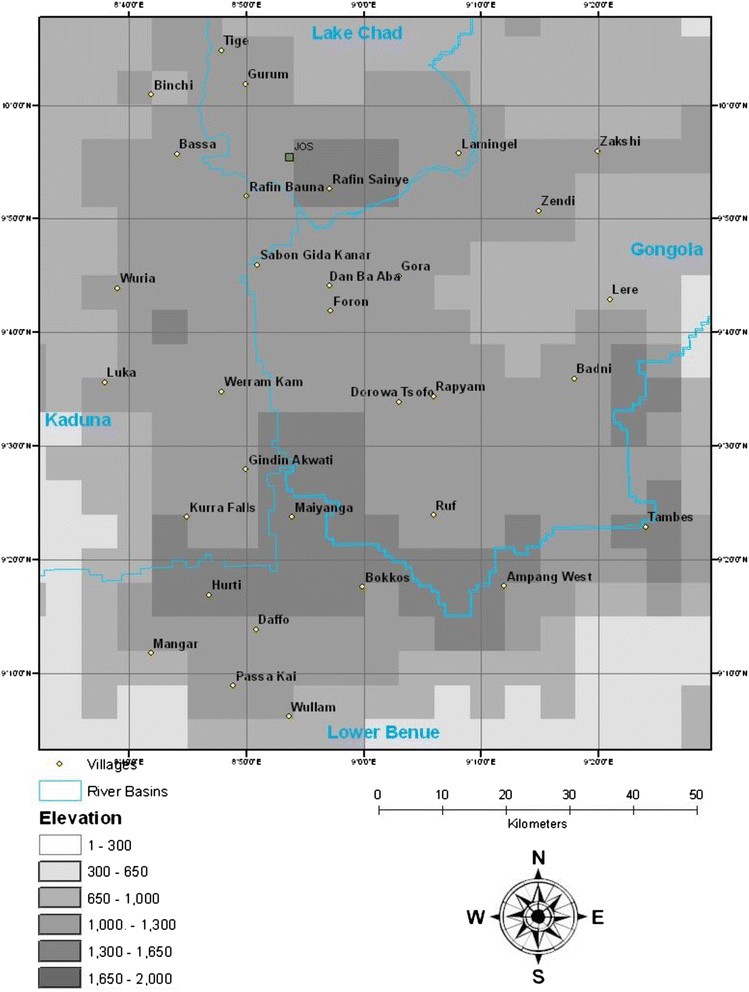 Structured questionnaires are a standard method for collecting survey data. However, large-scale surveys and long questionnaires can be biased, unreliable and difficult to administer and analyse. PRA uses a range of qualitative sample survey methods to gather information by allowing local people to share and analyse their knowledge and experiences and to make plans based on this information (Chambers [1994]). It is quicker and more cost-effective than long-term studies and uses a wide range of multidisciplinary information. It enables on-the-spot assessment and direct response to actual village-level problems. It also facilitates collection of standardised field data for use in more sophisticated databases. These qualitative methods may be used on their own or alongside more formal quantitative methodologies. Structured questionnaires incorporating several PRA techniques were administered to livestock owners in individual interviews and focus group discussions focusing on animal husbandry, pastoral livelihoods and the factors affecting them. Household/herd information was collected from 66 individuals for land ownership, mortality, herd dynamics and productivity to allow quantitative analysis of the data.
Households were assigned to wealth groups according to the categories devised by Famine Early Warning Systems Network for pastoral households (FEWS [
2004
]) as shown in Table
1
.
Table 1
Pastoral household wealth grouping criteria (FEWS NET 2004/5)
| Wealth group | Household size | Livestock | Area planted |
| --- | --- | --- | --- |
| Poor | 3 to 5 | 5 to 10 cows, 10 to 26 shoats | 1 to 2 ha with household labour |
| Middle | 7 to 8 | 15 to 50 cows, 35 to 100 shoats | 3 ha with household labour |
| Better off | 8 to 13 | 50+ cattle, 100+ shoats | 5 ha with household labour and hired hands |
Conclusion
This survey of pastoral livelihoods of Fulani herders is set against a backdrop of agricultural change and general insecurity. The survey showed that the majority of pastoral households in the study area are better off or in the middle wealth categories and only a few are poor in terms of livestock holdings. However, many households are poor in terms of land holdings. Income diversity is significant but as many as 30% of households still rely on one source of cash revenue: livestock sales. Pastoralists are less vulnerable to livestock disease but increasingly vulnerable to the risks of conflict and poor access to natural resources. Cattle productivity parameters are more stable, but the overall productivity has decreased and reproductive rates were particularly low. The amount of wealth concentrated in livestock, number of land-poor households and those still reliant on one source of income suggest that there is still a degree of vulnerability to the risks of disease, drought/dry season and conflict in pastoral livelihoods in the area.
This information gives us an improved understanding of factors affecting pastoral livelihood strategies and lifestyle choices, which is useful for targeting improvements and interventions and providing a solution to the current volatile situation. The target is clearly not poverty or livestock disease, although there is room for improvement on both. The target should be to increase productivity and sustainability and reduce vulnerability. The primary approach to achieving this is to settle the issues surrounding security, natural resource use and sustainable nutrition for cattle. The current extensive production system has clearly become unsustainable, and the extent to which Fulani pastoralists can adapt their livelihood strategies to integrate with prevailing conditions will determine the viability of their livelihoods in the future.
Authors' information
AOM is an epidemiologist at the University of Edinburgh, working on the control of parasitic and zoonotic diseases. AF is a veterinarian at the Nigerian Institute for Trypanosomiasis Research. CD is principal livestock technologist with the Nigerian Institute for Trypanosomiasis Research. APMS is a livestock and health systems economist. SCW is the Director of the Global Health Academy and Assistant Principal for Global Health at the University of Edinburgh.
Declarations
Acknowledgements
We would like to thank Augustine Igweh, Everestus Yanan, Musa Sule and the Nigerian Institute for Trypanosomiasis in Vom, Nigeria, and The Plateau State Ministry of Agriculture for their assistance facilitating this project. We would also like to thank Dr K. Picozzi and Dr M. Thrusfield for their contributions to the wider project. Our sincere appreciation goes to the community leaders of the study villages on the Jos Plateau.
Funding
This study was supported by the UK's Biotechnology and Biological Sciences Research Council (BBSRC) under the 'Combating Infectious Diseases in Livestock for International Development' (CIDLID) scheme (AOM, SCW, APMS); the European Union's Seventh Framework Programme (FP7/2007-2013) under grant agreement no. 221948, Integrated Control of Neglected Zoonoses (ICONZ) (SCW, CD, APMS); the DfID Research Into Use Programme (SCW, APMS) and a European Science Foundation Senior Investigator(s) award Investigating Networks of Zoonosis Innovation (INZI) (SCW).
Authors' Affiliations
(1)
Division of Pathway Medicine and Centre for Infectious Diseases, School of Biomedical Sciences, College of Medicine and Veterinary Medicine, The University of Edinburgh, Chancellor's Building, Edinburgh, UK
(2)
Nigerian Institute for Trypanosomiasis Research, Vom, Nigeria
Copyright
© Majekodunmi et al.; licensee Springer. 2014
This article is published under license to BioMed Central Ltd. This is an Open Access article distributed under the terms of the Creative Commons Attribution License (http://creativecommons.org/licenses/by/4.0), which permits unrestricted use, distribution, and reproduction in any medium, provided the original work is properly credited.