Nomadic pastoralism in southern Iran
Pastoralism: Research, Policy and Practice
Pastoralism: Research, Policy and Practice
2013
3:11
Received: 7 December 2012
Accepted: 7 March 2013
Published: 3 May 2013
Abstract
The nomadic pastoralist system in Baft district in Kerman province is well known in Iran for producing cashmere from Raeini goats. However, there is little information on the production system. Interviews were carried out with 30 Siahjel nomad families of Raen origin in proximity of about 20 km to Baft city in 2010 to characterise the production system in terms of family labour force, work sharing, livestock numbers, management and marketing practices, and diseases. The nomads move their livestock over large distances within the rangelands of the region from May to November, and the majority migrate south during autumn and winter. Of the nomad families, 87% live with and manage their animals together with one or more other related families. All household heads are males. All family members are involved in raising livestock; males and hired labourers dominate the physically harder jobs like shepherding and breeding, while women are involved in milking and caring. Of the animals, 80% are owned by adult or young unmarried males, none by daughters. Average proportion of goats and sheep per family flock are 89% and 8%, respectively, which indicates that Siahjel nomads mainly rely on goats. Adult breeding females constituted the largest group within the goat herds. The rationale for keeping a high number of male goats may be related to their greater production of cashmere. Diseases accounted for 57% of adult and 88% of young animal deaths. The most prevalent diseases were enterotoxaemia, foot-and-mouth disease, pneumonia, agalactia and diarrhoea. Animal sales, meat, cashmere and milk production are the major reasons for keeping goats. Rangeland is considered as the main source of feeding (85% of total annual feed intake); the remaining 15% is provided by stubble grazing. However, the herds do not produce enough meat, milk and cashmere to sustain the life of the nomad families, and thus, they often have to sell part of their stock which will further decrease their income.
Keywords
NomadRangelandGoatsSheepDairy productsCashmereWool
Background
Nomadic livelihoods are based on livestock and their products, which can be consumed or sold. Nomadic pastoralists often cover great distances with their livestock (Figure 
1
), following pasture availability (Blench
2001
). The majority of nomadic pastoralists do not have permanent settlements and consequently use other mobile homes such as tents.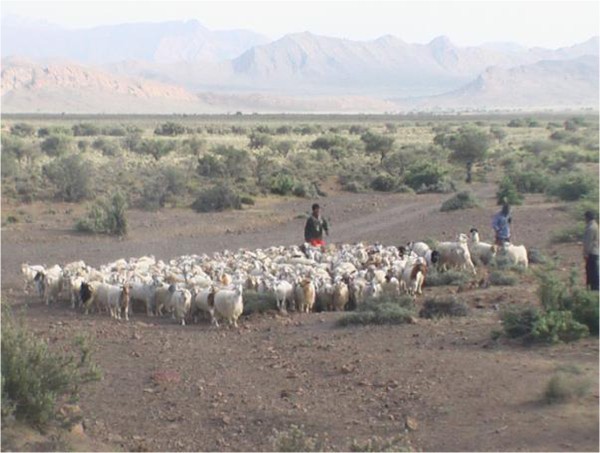 The pastoral nomads of Iran are scattered over an extensive habitat of over 963,000 km2. The general demographic dispersion pattern in nomadic societies of Iran indicates the following percentages of nomad population in the provinces of Fars (12%), Kerman (9.6%), Khuzestan (9.2%) and West Azerbaijan (8.6%). Overall, nomads represent about 1.9% of Iran's total population (Emadi 1995; Badjian et al. 2011). The nomadic livestock production systems in Iran have not received adequate attention regarding legal protection of land rights, extension support to improve animal breeding, animal nutrition and health, and regarding access to credit and market opportunities. Instead, the government has directed its efforts towards sedentarization of the nomads (Emadi 1995).
In the Persian language, nomads are known as ashayer. Historically, the pastoral nomads of Central Asia (e.g. Iran, Afghanistan and Pakistan) migrated in caravans annually following major routes; for example, from the central and southern deserts to highland pastures of the mountains of northern and western Iran during the summer, returning to the warmer desert areas during the winter. Nomadic systems of Iran are characterised by low population densities, displacement of livestock between grazing areas (cities and provinces) in different seasons, weak linkages to markets and public services and, for many, multiple co-resident family units (clusters) (two to five households staying together). Livestock is often the largest non-land asset they own and predominates as a source of livelihood. The nomads' knowledge of their physical environment and their livestock has been collected and refined by them over centuries.
Of the 25 million goats in Iran, 5 million are cashmere producing (Ministry of Agriculture
2004
), and the remaining are meat- and milk-producing types. The main breeds of cashmere-producing goats are Raeini, Nadoushan, Birjandi, Abadeh and Abasabadi kept in Kerman, Yazd, South Khorasan, Fars and Razavi Khorasan provinces, respectively (Figure 
2
). Of all the goats, 40% are kept by nomads in about 59% of the total area of the country. The exact quantity of cashmere production and export from Iran is not known, but it can be estimated that five million cashmere goats produce about 2,000 tons of raw cashmere annually.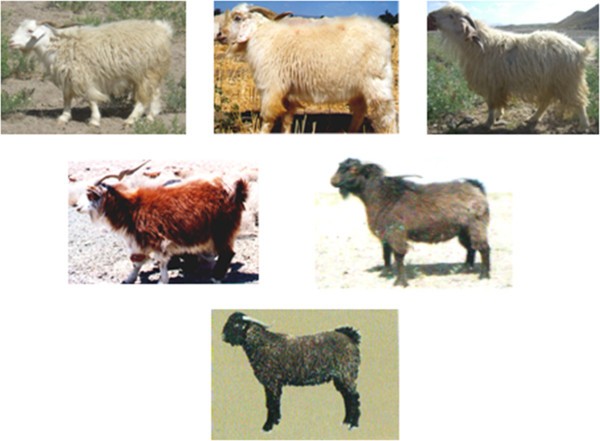 Cashmere is the fine, undercoat fibre (down) produced by cashmere goats in some of the most arid parts of Central Asia, including China, Mongolia, Iran and Afghanistan. Cashmere is a luxury fibre regarded as one of the most expensive natural fibres in the world. The price of this luxury fibre is high but is subject to wide fluctuations in the international markets leading to price increases or decreases by 50% or more in a short period of time (Figure 
3
). The characteristics of cashmere such as hard-wearing durability, resilience or springiness, moisture absorption, comfort, fineness and smoothness make it ideally suited to many applications in the apparel and textiles.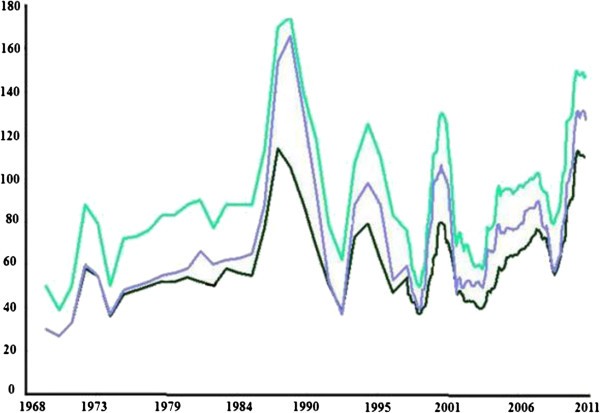 Presently, data on the characteristics of nomadic pastoralists of Iran are very limited, in particular, on the extensive Raeini goat systems of Kerman Province. In order to develop appropriate support services and policies to assist these pastoralists, this study characterises the Raeini pastoralist system based on formal questionnaires and field observations.
Study area
This study was undertaken in Kerman province, Baft region in the southern part of Iran (Figure 
4
). Kerman province is a highland region with <250 mm annual rain. Summer is hot (up to 35°C) and dry, and winter is moderate. Baft is a region in the southeast of Kerman province, which is 2,270 m above sea level with a latitude of 29°17
′
N and longitude of 56°36
′
E. In this area, most nomad households belong to the Siahjel sub-tribe of the Raen tribe. This region has two main livestock breeds: the Raeini cashmere-producing goat and the carpet wool-producing Kermani sheep.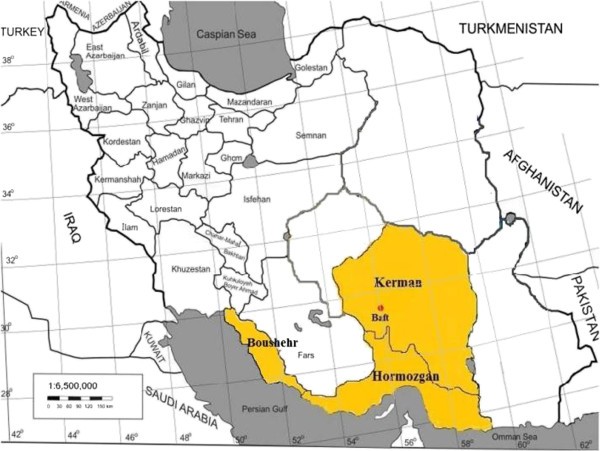 Male Raeini goats have an average live weight of 35 kg and females, 30 kg (Figure 
5
). They produce on average 507 g of cashmere of different colours (Figure 
6
) with averages of 56.5% down yield, 19.5 μm (micron) fibre diameter and a staple length of 54.2 mm (Ansari-Renani et al.
2012
). Kermani sheep produce on average 2.0 kg of wool with 70% efficiency, a staple length of 150 mm and a fibre diameter of 27 μm (Sattari
1975
).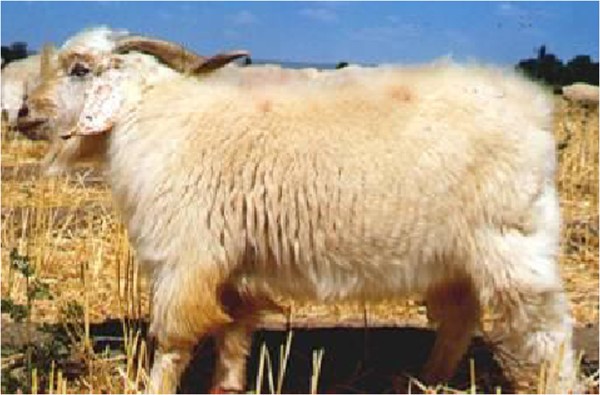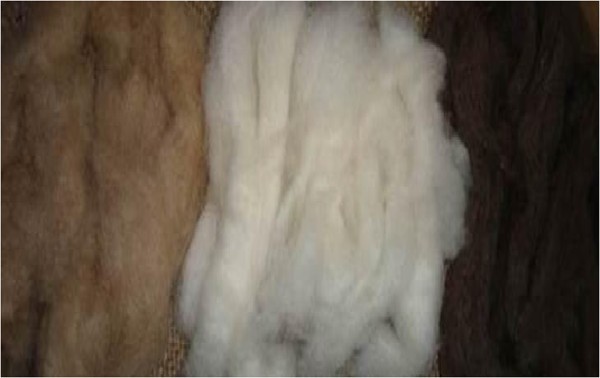 Methods
A total of 30 nomad settlements were chosen at random within ±20 km of Baft city in Kerman province (Figure 
7
). Information was gathered primarily through in-depth interviews with men and women in the Persian language from January to July 2010. Four periods of six to seven days of fieldwork were conducted within the Baft region. Each interview lasted approximately three hours and consisted of about 50 predetermined questions. A structured questionnaire was completed for each individual family of settlement heads including family composition and labour allocation structure; herd structure and management, nutrition, health, breeding and reproduction; cashmere production, marketing; milk processing and dairy products. The responses to those questions were tallied, and the percentages of the various responses were calculated. Minimum, maximum, standard deviation and standard error values were measured using SAS package.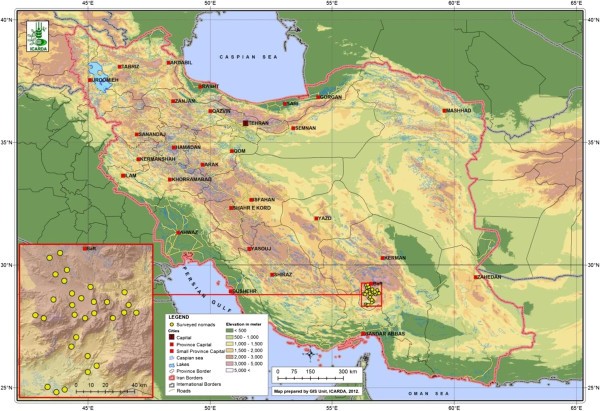 Conclusions
The nomads themselves stress the fact that life in this nomadic region has become very hard due to current economic situations. Our results indicated that more than 90% of nomad family household heads have relied on other means of subsistence and additional jobs to compensate for unpredictable losses of livestock. The Raen nomads have emphatically noted that their livestock do not produce enough milk, cashmere and meat to sustain them throughout the year. Thus, the nomads have to often sell part of their stock, which is their capital. This can have dire consequences, since they constantly are under threat of losing part of their herds due to environmental factors, and smaller herd size makes it more difficult to rebuild a herd after a disaster. As a result of lacking support, as well as increasing environmental challenges such as degradation of rangelands and droughts, the nomadic pastoralists have been declining in number in the last decades and have been forced to search for wages in urban settings.
The pastoral areas of Kerman province support only a small human population that is widely spread across physically isolated locations. The nomads are less educated and tend to experience poorer service delivery and declining employment opportunities than in other regions. They also lack a political voice because they are remote from the seats of power. These factors limit their access to basic infrastructure, undermine their ability to obtain social services and, in some cases, reduce their rights to own or access land. Traditional livestock production and grazing management strategies have already been altered in the past several decades in Baft region, resulting in more market-oriented goat production.
The goal for Iran's agriculture has been to increase grain production especially wheat, which has resulted in the conversion of large areas of marginal rangeland to crop land as rain-fed grain production, which conflicted with the goal of maintaining rangeland ecosystem health and stability. It is concluded that the pastoral nomad areas have been negatively affected by three sets of policy-related issues: population pressures, market distortions, and industrial uncertainties. These factors have interacted with the adoption of new technologies, including the opening of additional water wells and animal health programmes, supplementary winter fodder/feed from agricultural by-products and cultivation of improved pasture which, in many cases, has led to an increase in livestock numbers, thus leading to rangeland degradation.
Recommendations
Growing demand for healthy (e.g. organic) livestock products of meat, milk, skin and fibre from local, domestic, regional and global markets will continue to be the main driver of a nomadic livestock system. Nomadic pastoralists can play an important role in a necessarily sustainable production of livestock products if investments are targeted and implemented in areas of most probable positive returns. Policies and investments are needed to be pro-nomads, and emphasis is needed to empower them and to develop their capacities to participate more fully in the modern economy.
Sustained nomadic pastoralism will depend upon finding solutions to the constraints. These solutions will include technical and institutional innovations to serve nomadic pastoralists. Research needs to be responsive to what is changing, in order to maximise research contribution to sustaining nomadic livestock systems. Future scenarios of pastoralist livestock systems can be used to explore important uncertainties and assess the impact of different technologies, policies, and institutions on livestock production systems and on the nomad people. Monitoring indicators of key drivers over time, as well as their impacts, can build the capacity of research and development organisations to respond effectively in a rapidly changing context.
To achieve these goals requires a deeper appreciation for the complexities associated with the role that rangeland and livestock play in the livelihood strategies of the nomads and in nomadic household nutritional and health dynamics. It also means recognising the context in which nomad households operate, especially with respect to their participation primarily in informal markets and their weak capacity in the public sector. Decisions about nomadic pastoralism must take into account both socio-economic and environmental dimensions. The different perspectives on these two dimensions need to be bridged to achieve consensus on priorities.
Our lack of knowledge about nomadic pastoralists implies the need for carefully designed and empirical research, including environmental and social considerations. Such research could possibly be combined with a systems modelling approach to untangle the complexity and lead to practical guidelines and best practices for nomadic livestock intervention design.
Some lessons have already been learned and successes exist, but further research is needed to (1) develop more effective grazing and nutrient management of rangelands, (2) develop more efficient livestock management and (3) determine the biological and socio-economic implications of the transition to more effective production. At the same time, we need to move beyond the conventional state-led provision of services and develop new institutional innovations and strategies that explicitly consider the needs of the nomads.
Authors' information
HRAR a small ruminant specialist at the Animal Science Research Institute (ASRI), Karaj, Iran. BR is a small ruminant specialist at the International Center for Agricultural Research in the Dry Areas (ICARDA), Addis Ababa, Ethiopia. JPM is a small ruminant breeder at the Instituto Nacional de Tecnología Agropecuaria (INTA), Bariloche, Argentina. SM is a Ph. D student doing his studies on small ruminants at Mashad University, Iran. SMSM is a M. Sc. graduate specialist on small ruminant nutrition.
Declarations
Acknowledgments
We are grateful for the financial support provided by the International Fund for Agricultural Development (IFAD) for this study. Our gratitude is extended to the Iranian Animal Science Research Institute, the Agriculture and Natural Resources Center of Kerman province and ICARDA office in Tehran for the support of this project. Special gratitude is also given to all the cashmere producers in Baft region who shared and contributed their knowledge and information with the authors.
Authors' Affiliations
(1)
Animal Science Research Institute (ASRI), Karaj, Iran
(2)
International Center for Agricultural Research in the Dry Areas (ICARDA), Addis Ababa, Ethiopia
(3)
Instituto Nacional de Tecnología Agropecuaria (INTA), Bariloche, Argentina
(4)
Agriculture and Natural Resources Research Center, Kerman, Iran
(5)
Animal Science Department, Agriculture College, University of Mashad, Mashad, Iran
Copyright
© Ansari-Renani et al.; licensee Springer. 2013
This article is published under license to BioMed Central Ltd. This is an Open Access article distributed under the terms of the Creative Commons Attribution License (http://creativecommons.org/licenses/by/2.0), which permits unrestricted use, distribution, and reproduction in any medium, provided the original work is properly cited.