Policies in support of pastoralism and biodiversity in the heterogeneous drylands of East Africa
Pastoralism: Research, Policy and Practice
Pastoralism: Research, Policy and Practice
2012
2:14
Received: 27 October 2011
Accepted: 5 March 2012
Published: 28 September 2012
Abstract
Research and practice are increasingly demonstrating the environmental benefits of pastoralism and the opportunity for sustainable development of pastoral communities through a combination of livestock and biodiversity-related business. To take full advantage of the potential biodiversity-pastoral synergies, it will be crucial to put in place supporting policies. They need to be embedded in the context of overall pastoral development. However, rangelands and pastoral societies in drylands are heterogeneous, and development options cannot be assumed to be uniform. Factors such as aridity, access to markets and population pressure influence the constraints and the opportunities for both pastoral and non-pastoral communities. We describe the differential challenges to development along these gradients and identify investment priorities if the policy objectives were to support the complementarities between pastoralism and biodiversity conservation.
Keywords
HeterogeneityDrylands
Background
In recent years, it has become more evident to researchers that livestock mobility produces positive environmental externalities: environmental benefits such as biodiversity conservation and stimulated pasture growth. Understanding and promoting these benefits, and thus feeding back positively on the system, have been shown to make good economic sense (McGahey et al. 2008; Davies et al. 2010). Herd mobility is not only essential for effective risk management, it also enables pastoralists to harness the environmental variability and enhance livestock production (Swallow 1994; Nori 2007; Krätli and Schareika 2010).
Mobility can be driven by many factors, including seasonal availability of (or requirement for) resources, evasion of seasonal stresses such as livestock disease, access to services such as markets and avoidance of conflict.
The ecological case was made most emphatically with the 1993 publication Rangelands at Disequilibrium (Behnke et al. 1993). This publication argues that the extreme uncertainty of resource availability in dryland environments demands a mobile, opportunistic management strategy (see also Scoones 1995). The publication also outlined the phenomenon of ecological flux, which provides a compelling argument against perceived rangeland degradation by pastoralists. In Managing Mobility in African Drylands, Niamir-Fuller (1999) argues that where mobility and customary institutions remain functional, pastoral rangelands are generally observed to be in good environmental condition.
The ecological case is now being reinforced with research into the intimate relationships between herbivores, including domestic livestock, and their environment. Grazing ungulates and grasslands appear to have co-evolved to the point that they provide mutually beneficial services (Stebbins 1987), with herbivore action promoting growth of grasses, dispersal and fecundity of seeds, and overall nutrient and water cycling in rangeland ecosystems. However, the periodicity of grazing and its intensity, rather than cumulative grazing pressure, appears to be the most important factor determining sustainability of grazing. Research appears to show what pastoralists have long argued: that grasslands can suffer from long-term under-grazing as much as from overgrazing, but periodic bursts of intense grazing pressure can be beneficial (Savory 1999; Briske et al. 2008; Vetter 2005). Other research has shown that pastoralists have an intimate relationship with their environment and a rich knowledge that enables them to both protect and exploit their environment and conserve the rangelands' biodiversity on which they depend (McGahey et al. 2008; Aboud et al. 1996).
In summary, well-managed extensive livestock production on communal land is one of the most appropriate uses of the drylands in Africa (
Behnke et al. 1993
;
Scoones 1993
;
ILRI 2006
;
UNDP 2006
;
Neely et al. 2009
), both from an ecological and an economic standpoint. The evidence that pastoralism plays an important role in biodiversity conservation is persuasive, and the opportunities for pastoralists to benefit from conservation are also convincing (
Norton-Griffiths and Said 2010
;
FAO 2009
). However, rangelands and the pastoral societies making use of them are heterogeneous, and development options thus cannot be assumed to be uniform. Using spatial information, socio-economic analysis and a review of current policy, this paper identifies investment priorities for different dryland zones in Eastern Africa if the policy objective were to support the mutual benefits between pastoralism and biodiversity. We hereby focus into the dryland areas with an aridity index below 0.65 in Ethiopia, Kenya and Tanzania which include arid, semi-arid as well as sub-humid zones (Figure
1
). We use the term pastoralism to refer to extensive production of herbivorous livestock using pasture (or browse) in which herd mobility is a central management strategy. In line with the Secretariat of the Convention on Biological diversity (
2005
), we refer to biodiversity as the variability among all living organisms found in the drylands. It includes diversity within species, between species and of ecosystems in which they live. Wildlife are but part of the species diversity that contribute to biodiversity.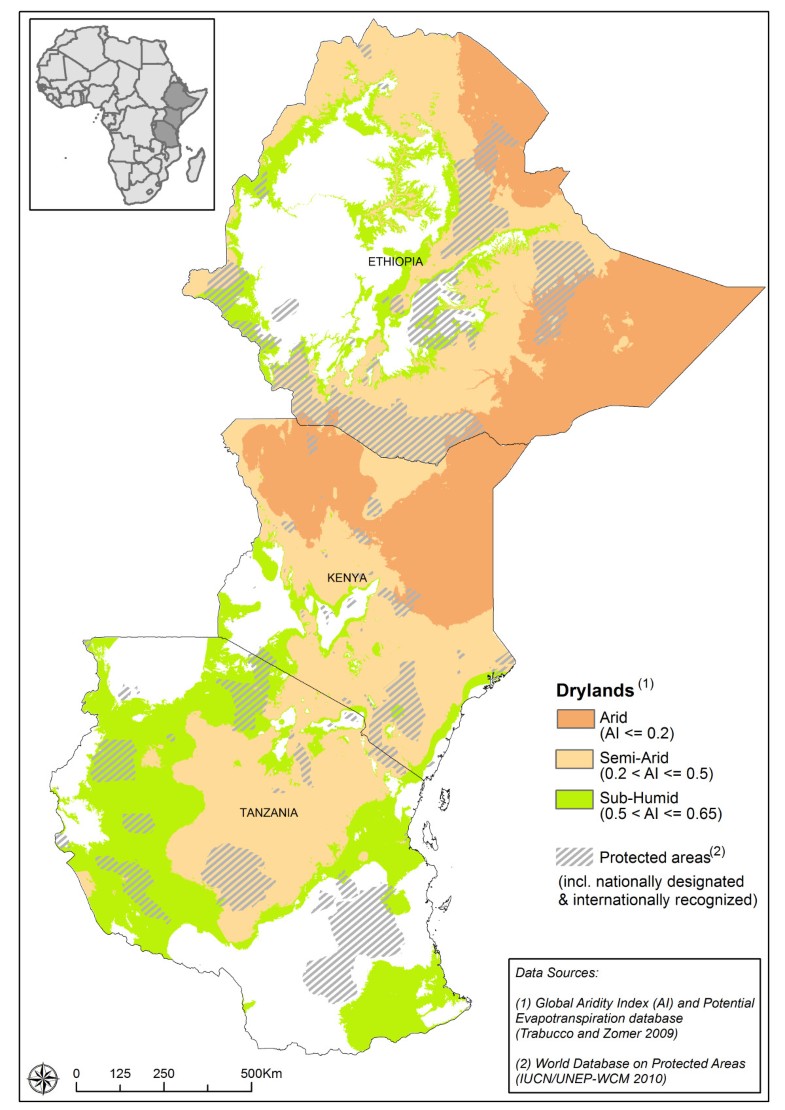 The drylands in East Africa contribute considerably to national economies and to society, as they support agriculture, livestock rearing, tourism and wild resource harvesting, and play a critical role in ensuring national food sufficiency (
Nassef et al. 2009
). The bulk of the meat, milk and other livestock products consumed in the Horn of Africa region comes from the drylands (
Kirkbride and Grahn 2008
). At the same time, these drylands are home to many unique plant and animal species, which are adapted to the seasonality and extreme unpredictability of precipitation. These adaptations enable them to provide important environmental services such as the conservation of land, water and biodiversity (
Mortimore 2005
). Some species are also endowed with natural chemicals, for example, the resins (gum arabic) excreted by the acacia tree species that are used in industries. As a result, drylands can provide a range of goods and services, many of which are not effectively measured or sustainably or optimally exploited (
Davies and Hatfield 2008
). For example, in Uganda, natural products from savannah woodlands and bushlands contributed up to US$30 ha
−1
per year
−1
to the economic well-being of households (
Bush et al. 2004
). The drylands also support a great diversity of large mammals that have significant global and local cultural value. According to (
UNEP 2007
), Ethiopia contains 277 mammal species, 626 bird species and 6,500 plant species. (
UNEP 2007
) estimates mammal diversity in Tanzania and Kenya to be even higher, with 364 and 400 different species, respectively. Figure
2
shows the mammal richness in Eastern Africa as extracted from the African Mammal Databank (
Boitani et al. 1999
). It indicates high mammal species richness both in the drylands and the humid areas.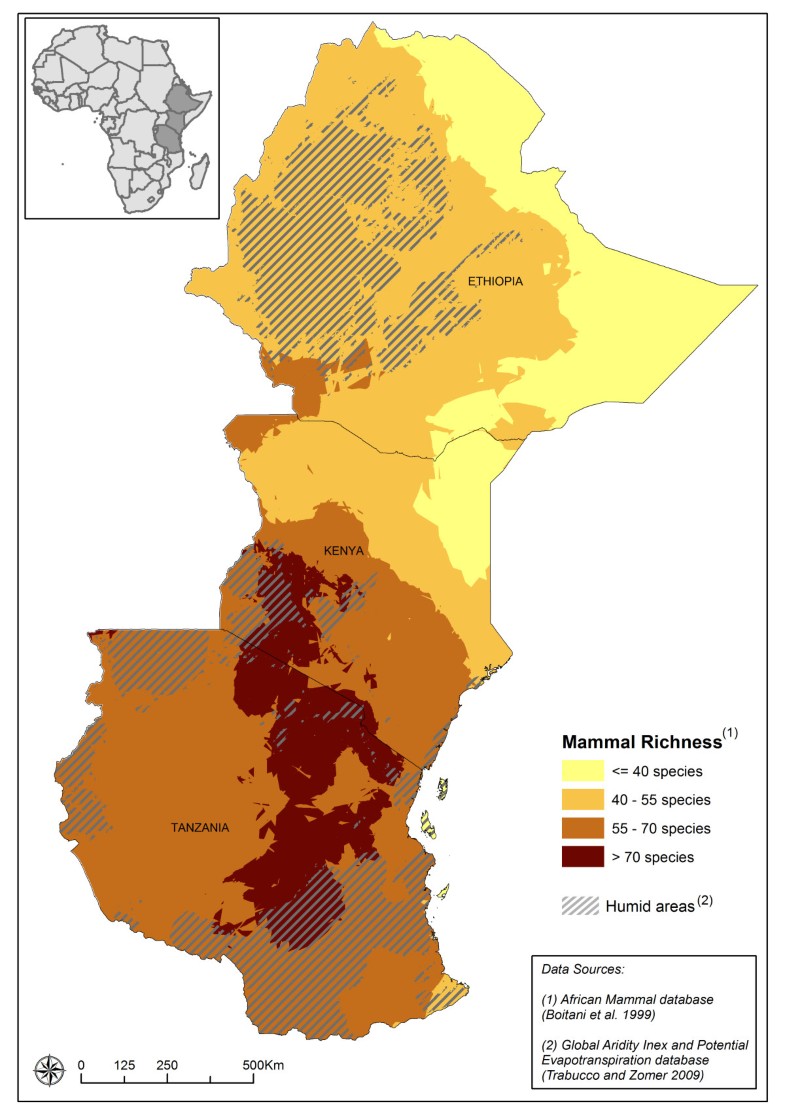 There has been some debate regarding the competition between livestock producers and biodiversity. Some researchers suggest that pastoral land use has created some of the most biologically diverse savannah ecosystems in the world (Fratkin 1997; Homewood and Rogers 1991; Little 1996) and that high intensities of livestock grazing do not adversely affect wildlife populations (Saberwal 1996). This is in contrast with the traditional conservation narrative which describes wildlife populations as threatened directly with extinction by human exploitation and indirectly by habitat degradation and fragmentation that resulted from increased human populations and their demands for development (Campbell 2002). Many people associate grazing animals with overgrazing and soil degradation. The Global Assessment of Soil Degradation (Oldeman et al. 1991), for example, estimates that 680 million ha of rangeland have become degraded since 1945, and (Dregne et al. 1991) argued that 73% of the world's 4.5 billion ha of rangeland is moderately or severely degraded.
However, savannah ecosystems are not the natural wildernesses that some conservationists believe (Little 1996). Over the 5,000 years since pastoralism emerged as a land use system in sub-Saharan Africa, pastoral natural resource management and herding strategies have modified ecosystems to such an extent that removal of pastoralism can be detrimental to grazing ungulates and rangeland diversity (Lamprey and Waller 1990). Pastoralist rangeland management practices that include the use of fire and periodic grazing to promote the growth of palatable grasses and reduce the encroachment of bushes have created conditions favourable for wildlife. In some locations, there is evidence of higher diversities and populations of wildlife in pastoral areas adjacent to national parks, than in the parks themselves (ILRI 2006).
There is an increasingly robust case for pursuing conservation objectives through pastoralism rather than seeing conservation and pastoralism as mutually exclusive pursuits. Positive relations between biodiversity and pastoral livelihoods have existed over the long term, and a picture of a harmonious co-existence has emerged (ILRI 2006).
Pastoralists have developed elaborate land-use strategies for conserving resources, and there are examples of grazing regimes, stocking regulations and pasture conservation within many pastoral societies (Ruttan and Borgerhoff Mulder 1999; McGahey et al. 2008). There is also increasing demonstration that conservation can play a significant role in sustainable development in the drylands. Indeed, pastoralists in industrialised countries increasingly rely on conservation-related incomes to bolster their livestock enterprise and to provide a diverse income portfolio in times of financial stress (WISP 2008). In some countries in Eastern Africa, the revenue from big-game tourism is comparable with the contribution of pastoralism. Kirkbride and Grahn (2008) report that tourism brings in annual returns of $900 million to $1.2 billion to Tanzania's economy and represents 13% of Kenya's GDP. There are a number of examples of benefit sharing from national parks, wherein the park authorities effectively compensate neighbouring pastoralists for tolerating wildlife on their land, thereby securing dispersal areas outside the national parks and keeping wildlife corridors open (Horan et al. 2009; Rodríguez et al. 2012). There are also numerous examples of pastoralists initiating conservation-related businesses, by creating favourable conditions on their land for investment by tourism ventures (Manyara and Jones 2007; Groom and Harris 2008; Homewood et al. 2009). Payments to livestock herders for the ecosystem services generated through their land uses are currently being made in lands adjacent to Kenya's Maasai Mara National Reserve. The pastoral landowners leasing their land to the Olare Orok Conservancy, for example, currently receive a payment of US$43 ha−1 year−1 (Bedelian in press).
Tourism is not the only way to benefit from biodiversity: conservation and efforts are underway to promote a range of other conservation-based incomes. These include marketing of natural products that are found in the drylands, such as gums, resins and medicinal plants. Environmental services can also be marketed, although there are few precedents to draw on yet from in the Eastern and Central African regions.
Discussion
An optimised use of the dryland areas to conserve biodiversity as well as encourage continuation of pastoralism in Eastern Africa necessitates careful regional land use planning, taking into consideration trade-offs at the landscape scale. The impacts of different livelihood options will have to be evaluated against different objectives, such as increasing food production, enhancing livelihoods (in terms of, for example, equity, health, income or food security), and maintaining biodiversity or environmental sustainability, and weighted accordingly.
Another challenge is presented by spatial and temporal scales. Interventions with positive outcomes at the local level often have disastrous effects when implemented at a larger geographical scale. Short-term benefits can be outlived by long-term negative consequences. Small-scale cropping for example offers the opportunity of a relatively stable income addition for pastoralists. Often it is, however, practised in key dry season grazing areas and around water points. In that case, it negatively affects the ability of herders to access key resources during periods of need, making pastoralism less sustainable over time, as well as generating local disputes and destructive conflicts over these key resources (Little 2009). Long-term negative outcomes include loss of biodiversity, soil compaction, the emergence of new pests and diseases, and nutrient mining (Watson and van Binsbergen 2006). The protection of wildlife through the delineation of national parks often excludes these areas from exploitation and restricts pastoral mobility, while only few of the benefits flow back to the pastoralist communities (Homewood et al. 2009; Kabiri 2010). In addition, the development of pastoral livelihoods typically involves a mix of interventions. The complementarities between different forms of land use practices therefore need to be taken into account. Policy and investment should support a diverse range of complementary land uses, as opposed to just one or the other land use option. It is possible that the aggregate values of multifunctional rangelands - pastoralism, biodiversity conservation, rangeland products and so on - can best be exploited by optimising their combined production, rather than maximising the production of one or the other at the cost of the remainder (Aboud et al. 2012).
The concept of heterogeneity can help planners and decision makers thinking through the types of investments and supporting policies needed, when evaluating the wide variety of livelihood options and land use systems. The differences along different axes favour certain investment options and define policy constraints that need to be addressed. Many more criteria could be evaluated and bring out other important factors. 'Pastoralism and biodiversity' remains an agro-ecosystem that requires system-based holistic planning. Independent of the level of aridity, population density and accessibility, there must be emphasis on landscape-scale land use planning. The complementarities between pastoralism and biodiversity are not guaranteed. They require special attention and investments and policies supporting these overlapping land uses. Examples from Kenya and Eastern Africa (Aboud et al. 2012; Flintan 2012) illustrate some of the ways forward: secure land rights, investment in local institutions, investment in ecotourism and investment in harvesting natural products such as henna or gum arabic. The future of the drylands will in the end largely depend on the development paradigms, we as a society, decide to follow. Will there be breakthroughs in payment schemes for ecosystem services in these areas (Reid et al. 2004)? The answers to these questions together with global trade and power relationships will have significant impacts on how some of these regions will develop and how much advantage will be taken from the potential complementarities between pastoralism and biodiversity.
Investments in infrastructure produce improved services for people and develop markets, but in the long term as investors buy large areas of land that can be put into alternative production, this could be at the expense of grazing land and biodiversity (Cotula et al. 2009; Oakland Institute 2011). If at the same time, payments for ecosystems services (PES) could be put in place for carbon, wildlife and the protection of water sources, pastoralists could perhaps manage livestock populations to optimise the whole ecosystem for the conservation of biodiversity. Care needs to be taken that these payment schemes do not lead to inequity as only the well-educated or more resourceful have the information to access payments for ecosystem services. Experience in Kenya, for example, shows that money generated by parks and community sanctuaries from tourism revenue mostly go to local elites, foreign tour investors or the government (Norton-Griffiths and Said 2010; Thomson and Homewood. 2002; Sindiga 1995). The participation of poor households in PES is limited by, among others, high transaction costs, institutional and technical barriers, lack of information, and weak capacity for negotiation (Iftikhar et al. 2007; Kosoy et al. 2005; Miranda et al. 2003; Zbinden and Lee 2005). This last issue again brings out the need to include communities in the planning. Pastoralism and pastoral lifestyles are unique and tailored to inhabit and use the drylands as efficient as possible, through use of traditional knowledge system and cultures. This resilient and adaptive knowledge of the pastoral people should be incorporated in the national policies and strategies where appropriate.
Conclusion
If the political agenda is to support the complementarities between pastoralism and biodiversity, there are a number of key investment and policy priorities. Ecologically and economically sustainable livestock production in the drylands requires public investment in transport and market infrastructure, credit facilities, health and education adapted to mobility in combination with policies supporting environmental protection. Drylands are, however, not homogeneous areas but contain diverse bio-physical and socio-economic realities. Land use planning and livelihood strategies, investments and policies need be matched to this diversity. Drylands are also highly complex systems operating at a different scale. Trade-offs at landscape need to be carefully examined when designing development strategies.
The case for pastoralism and biodiversity as a package has been made by others (e.g. Aboud et al. 1996; Neely et al. 2009; Norton-Griffiths and Said 2010), and this paper offers some options for realising this synergy. However, policies can endorse this complementarity, but a great deal more is required, particularly in terms of private investment, access to financial services, and training and education. More detailed research and experience-sharing are required to improve our understanding of the conditions under which the 'pastoralism and biodiversity' goals can be practically realised on the ground.
Endnotes
aThe Samburu 'special five' - reticulated giraffe, long necked Gerenuk antelope, Grevy's zebra, Somali ostrich and Beisa oryx - deliberately contrasts with the popular 'big five' that is the flagship of Kenyan wildlife industry - lion, leopard, rhino, elephant and buffalo.
Authors' Affiliations
(1)
International Livestock Research Institute, Nairobi, Kenya
(2)
International Union for Conservation of Nature, Nairobi, Kenya
(3)
Association for the Strengthening of Agricultural Research in Eastern and Central Africa, Entebbe, Uganda
(4)
Department of Natural Resources, Egerton University, Njoro, Kenya
Copyright
© Notenbaert et al.; licensee Springer Ltd. 2012
This article is published under license to BioMed Central Ltd. This is an Open Access article distributed under the terms of the Creative Commons Attribution License (http://creativecommons.org/licenses/by/2.0), which permits unrestricted use, distribution, and reproduction in any medium, provided the original work is properly cited.