Lessons on the relationship between livestock husbandry and biodiversity from the Kenya Long-term Exclosure Experiment (KLEE)
Pastoralism: Research, Policy and Practice
Pastoralism: Research, Policy and Practice
2012
2:10
Received: 7 November 2011
Accepted: 27 January 2012
Published: 28 September 2012
Abstract
Although livestock and wildlife share most of their ranges worldwide, little controlled experimental research has been done on their interactions. Since 1995 we have been manipulating the presence of cattle and large wild ungulates in a Kenyan savanna rangeland in order to better understand the nature of competition and coexistence between these two guilds of herbivores and how they affect biodiversity. In a replicated experiment in which different combinations of cattle and wild herbivores are allowed access to large-scale plots, we have been monitoring the impacts of these herbivores on vegetation, on the wild herbivores, and cattle themselves, and on a variety of other taxa. We have also been conducting experimental research to examine other ways in which livestock management in eastern Africa might affect biodiversity. These include studies on the impacts of fire, livestock corrals, and changes in tree density. This research has revealed the following patterns. (1) Cattle suppress many species of wild herbivores, presumably through competition for their shared resources. The nature of this competition, however, is contingent on rainfall and the presence of other herbivores. (2) Wild herbivores both compete with and facilitate cattle, depending on rainfall. (3) The pastoral practice of housing livestock nightly in protective corral enclosures ("bomas") over time produces long-lived nutrient hotspots preferred by both livestock and wild herbivores. (4) Fire, frequently used by pastoralists in the past, is valuable for improving grass quality, with benefits for many species of wild herbivores. (5) Pastoral practices that reduce woody cover, including burning and boma construction, create local habitat patches that are preferred by wild herbivores, apparently for their greater anti-predator visibility. (6) Despite competition between livestock and wild herbivores, coexistence between these two guilds can be managed, and there are several positive (facilitative) pathways between livestock husbandry and wild herbivores and other biodiversity.
Keywords
CompetitionEncroachmentLandscapeFireBomaKraalCompatibility
Introduction
The relationship between pastoralism and biodiversity has been the subject of much discussion, but relatively little experimental research. The traditional view is that the relationship is largely antagonistic. An alternative view is that pastoralism in Africa (and much of Central Asia) has been compatible with biodiversity for hundreds and even thousands of years and does not necessarily cause degradation (e.g., Homewood and Rodgers 1984). Currently, there is a growing consensus that pastoralist livestock husbandry practices (at least at moderate intensity) are less damaging to rangeland resources than previously thought (Boyd et al. 1999; Reid 2012). Indeed, recent research has suggested that moderate livestock densities may even be beneficial to biodiversity (Gregory and Sensenig 2010; Soderstrom and Reid 2010; Augustine et al. 2011; Woodroffe 2011; Reid 2012). Here, we briefly review these alternate views and then summarize the scientific evidence emerging from projects associated with the Kenya Long-term Exclosure Experiment (KLEE) that shed light on the relationship between livestock (and various practices associated with livestock husbandry) and biodiversity (particularly wild ungulates) in the savannas of eastern and southern Africa.
Pastoralism and biodiversity
It is widely believed that rising numbers of pastoralist-owned livestock have led to rangeland degradation (Herlocker 1996) and a loss of biodiversity (Prins 1992,2000; Reid 2012). In particular, livestock are blamed for the documented declines in large mammalian wildlife species in Africa (Ottichilo et al. 2000; Georgiadis et al. 2007; Ogutu et al. 2009,2011). Pastoral practices in Africa have also been associated with increased bush encroachment (Archer 2010) and invasive weeds (Witt and Nongogo 2011).
At the same time, there are several pathways by which native biodiversity negatively impacts the enterprise of livestock production (Dunham et al. 2003; Sitters et al. 2009). First, wildlife competes with livestock, consuming forage resources, altering livestock behaviors, and reducing livestock productivity (Odadi et al. 2011). Second, pastoralists lose livestock—ranging from sheep and goats to cattle and camels—to wild predators (Atickem et al. 2010; Zimmerman et al. 2010). Lastly, there are complex disease interactions among wildlife, livestock, and other domestic animals, with negative repercussions for all of these guilds (see Grootenhuis 1999; Osofsky et al. 2005; Kock et al. 2010).
Despite these conflicts between biodiversity and livestock, the fact that African savannas have until recently maintained both thriving pastoral economies and densities of large mammalian wildlife (including both herbivores and predators) greater than anywhere else on earth is testament to their potential compatibility (
du Toit et al. 2010
;
Reid 2012
). Moreover, much of the argument that livestock and wildlife are incompatible is based on inference and anecdote, rather than experimental evidence. Our research, based on several replicated, large-scale experiments, suggests various positive and negative relationships between livestock husbandry and biodiversity. Specifically, our experimental work explores four broad topics:
(1)

Livestock and wild ungulate herbivores share a common resource base, but there have been no experiments detailing how this plays out for both herbivore guilds in terms of direct and indirect competition and possible facilitation (positive interactions).

(2)

Livestock in large parts of eastern and southern Africa are often housed in temporary corrals (bomas) each night that, once abandoned, develop into long-term ecosystem "hot spots", with a variety of possible consequences for wild herbivores and other taxa.

(3)

Extensive burning of rangelands has until recently been commonly practiced by pastoralists (and commercial ranchers). Burned areas have the potential to provide important grazing habitats for many species of wild herbivores.

(4)

Boma construction, burning, and other human activities such as fuelwood harvesting, reduce tree densities. Conversely, woody plant cover is increasing in many rangelands, a change that has been attributed both to heavy grazing and increasing atmospheric CO2. Variation in tree density may have profound implications for wild herbivores in these mixed-use landscapes.
Through reviewing our findings about these interactions among wild herbivores, livestock, and various practices commonly employed by pastoralists, our purpose is to illustrate the diversity of positive and negative interactions and suggest how pastoralism and biodiversity conservation may be compatible.
Caveat
Pastoralism as a livelihood in Africa can take a number of forms, ranging from a truly nomadic to a mostly sedentary lifestyle, and from low to high stocking densities. Pastoralists keep a variety of different livestock, including cattle, sheep, goats, camels, and donkeys. Thus, "pastoral management" can mean many different things. Moreover, most pastoralist systems are dynamic, responding to changing conditions brought about by bio-physical factors such as rainfall, as well as socio-economic factors such as access to markets, security issues, or changes in land tenure or lifestyle often imposed by outsiders. Our intent here is not to discuss "pastoralism" as a fixed management system. Further, we acknowledge that no controlled experiments can mimic land management as practiced by diverse people across large areas of land. Rather, we illustrate some of the possible impacts that may be brought about by particular activities in which many pastoralists in eastern Africa (and to some extent southern Africa) engage. These activities include livestock grazing (here, we focus on cattle grazing), constructing corrals where livestock spend the night, using fire to improve or manage forage for livestock, and cutting wood for domestic use or commercial charcoal production.
Laikipia and KLEE
We have been studying the interactions among livestock, wild ungulate herbivores, and the land they share at the Mpala Research Centre and Ranch in Laikipia, Kenya, since 1992 (Figure
1
). The landscape in this region is a semi-arid savanna dominated by perennial grasses and
Acacia
trees. This region is rich in wildlife and also supports numerous private cattle ranches as well as Maasai and Samburu pastoralists living on "group ranches". Common wild ungulate species in this region include elephant, plains zebra, Grant's gazelle, impala, eland, oryx, hartebeest, and buffalo. Common large predators include lion, leopard, cheetah, and hyena. The region is also home to critical populations of endangered African wild dog, Grevy's zebra, and black rhinoceros. Unlike other parts of Kenya, this region has seen an increase in the populations of many wildlife species in recent decades (
Georgiadis 2011
; M. Kinnaird et al., unpublished data). Although these increases have largely occurred on privately owned ranches, innovative conservation and tourism partnerships between these ranches and pastoralist communities raise hope that these trends will continue into the future (
Sundaresan and Riginos 2010
).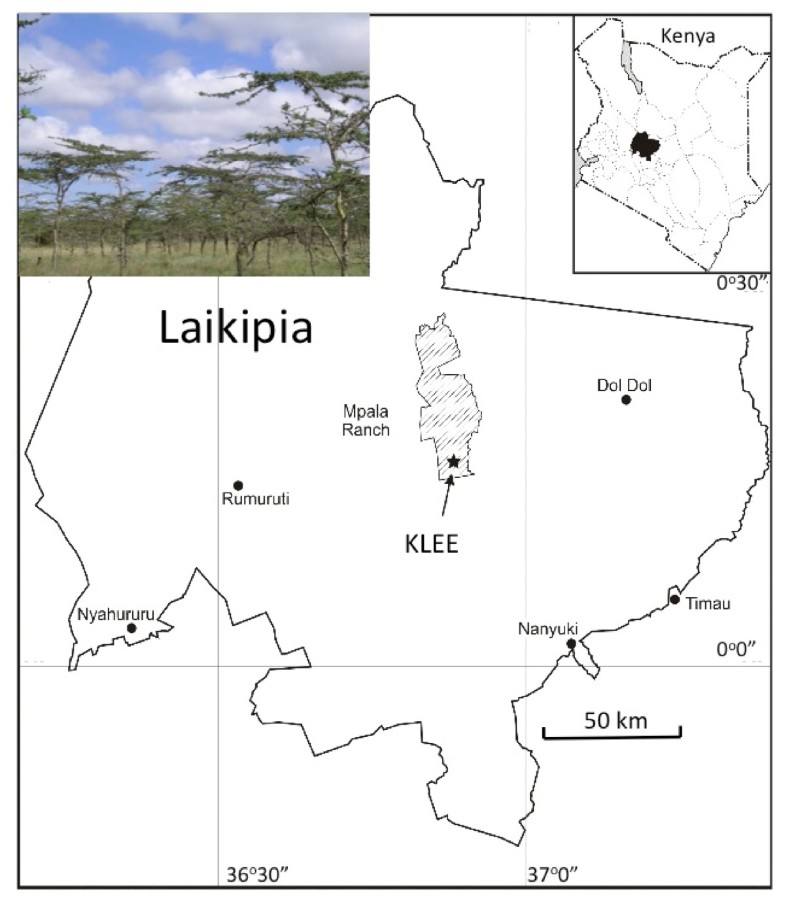 The focus of this study in this system is the Kenya Long-term Exclosure Experiment (KLEE). This large-scale, experiment consists of eighteen 4-ha plots that were established in 1995. The plots allow six combinations of (1) cattle, (2) wild herbivores >15 kg, and (3) mega-herbivores (elephants and giraffes), replicated across three blocks. These three herbivore classes are labeled C, W, and M, respectively, in Figure
2
(with "O" representing no large herbivores). Wild herbivores are allowed to come and go freely (except where they are experimentally excluded). Dung surveys suggest that wild ungulates use areas inside and outside of the plots at similar rates. Cattle use of the plots is regulated through regular "cattle runs", where herds of approximately 120 cattle are individually herded into designated plots approximately 6 times per year, which approximates the (moderate) stocking densities and return intervals of cattle on the ranch (0.15–0.20 cattle/km
2
). For details of the experimental design, see x(
du Toit et al. 1998
).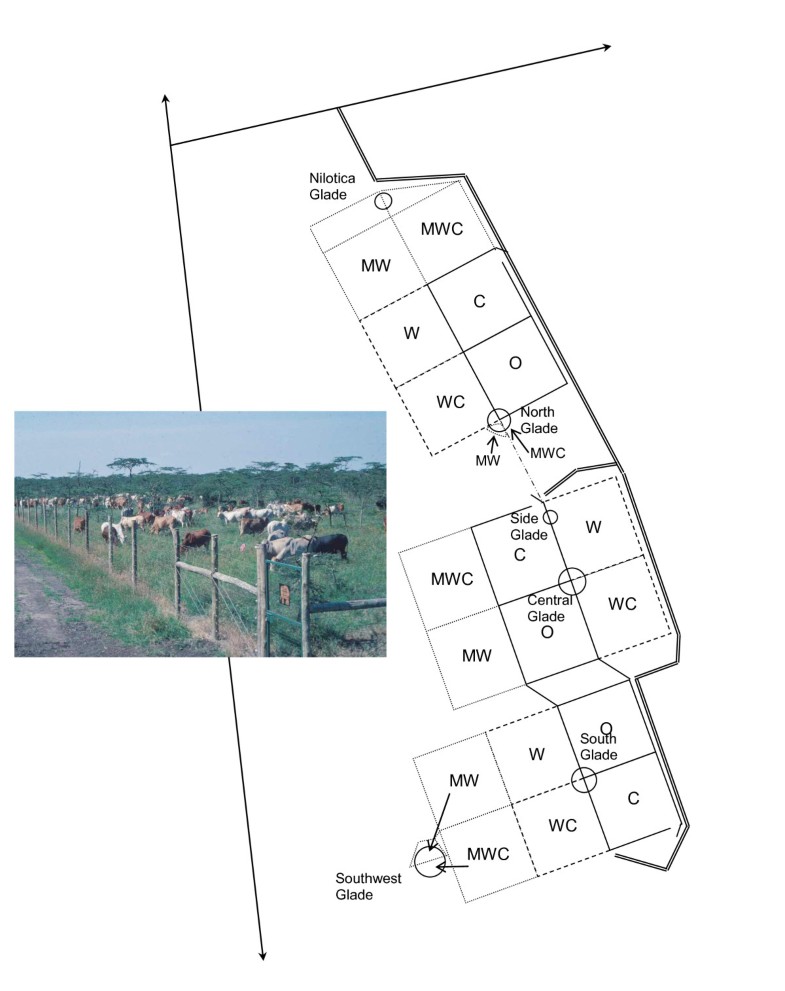 KLEE represents the first controlled, factorial, experimental study in any ecosystem of the interactive effects of different domestic and native herbivores on each other and on their shared ecosystem. This study has also been extended to include several other experiments in the same landscape that manipulate fire, bomas, and tree density. Descriptions of these experiments are given below.
Discussion
Our results confirm that the relationship between livestock husbandry and wildlife is complex. On the one hand, we provide some of the first evidence from replicated, controlled experiments that cattle do reduce habitat use by native herbivores (even at moderate cattle stocking densities), and that wild herbivores can reduce livestock productivity. This competition extends to browsing and mixed-feeding herbivores, suggesting that estimates of competition based on dietary overlap may underestimate its strength; even partial overlap on minority components of the diet may be important (limiting). On the other hand, our research has begun to reveal a wide variety of more positive relationships between livestock and wild herbivores. This includes not only direct facilitation of wild herbivores by cattle (particularly during the wet season), but also several indirect benefits brought about by livestock management activities, particularly the use of bomas and fire as well as various management impacts on woody cover.
More generally, our findings suggest that pastoralists (as well as other land or livestock managers) can minimize negative interactions and maximize positive interactions through two means: first, by minimizing competition between wild herbivores and livestock during the dry season; and second, by maintaining or increasing habitat heterogeneity. Minimizing competition might be achieved through avoiding critical wildlife habitat during dry times. A more heterogeneous landscape may also afford more refugia for wildlife in times of drought. Realistically, however, it may be difficult to minimize competition and land degradation unless pastoralists destock during or in anticipation of dry periods and then later restock. Drought index insurance programs (Hazell and Hess 2010) and slaughter off-take programs (Zwaagstra et al. 2010) may provide incentives to destock where conventional, commercial market sales are not a feasible option.
Habitat heterogeneity can be maintained or increased through the mechanisms we have discussed above—fire, bomas, and altering tree cover—but only if the location, and ideally size and spacing, of these impacts varies in space and time. For example, as our research has illustrated, the increasing use of semi-permanent boma sites can be a cause of landscape degradation, whereas a more traditional shifting pattern of boma locations, durations, and spacing can minimize negative impacts on the land while increasing habitat heterogeneity and creating nutrient-rich hotspots that benefit both wildlife and livestock.
It is important to keep in mind that our results have emerged from a moderate to high productivity landscape where livestock (mostly cattle) are kept at moderate stocking rates. Our conclusions about the direct competitive and facilitative interactions between cattle and wild herbivores may take a different form in other contexts. For example, we would expect competition between cattle and wild herbivores to be more intense (and facilitation weaker) in a less productive system, or one with higher stocking densities. Competitive and facilitative dynamics may also take a different shape in systems where sheep, goats, camels, or other livestock species dominate. However, our findings on how bomas, changes in woody cover, and to some extent fire (depending on the productivity of the system and its resilience) can benefit wild herbivores would apply across a wide variety of landscapes and livestock systems.
From our interactions with pastoralists in Kenya and Ethiopia, it is clear that most are aware of the various positive and negative ways in which their activities can affect wildlife. However, few appear to be using these means to intentionally encourage wildlife, ecosystem health, or biodiversity. This is in part because the incentives to do so are absent or poorly developed, although this may be changing as outsiders are coming to value the services that rangelands can provide (see below). However, a more fundamental challenge for the future coexistence of wildlife and livestock is how to ensure moderate levels of grazing given a variety of constraints on livestock management. "Moderate grazing" typically means that 35–50% of the palatable forage is consumed before the area is allowed to recover (Holechek et al. 1999). In the past, smaller populations of mobile livestock ensured a more moderate grazing regime with adequate time for plants to recover. Today, pastoralists are more constrained in their movements and management options due to higher human and livestock populations and a variety of other factors beyond their control (e.g., land subdivision, colonial, and post-colonial land settlement schemes). These constraints will be coupled with continued increases in human population, improvements in veterinary practices, and growing expectations for large increases in the standard of living—posing a multitude of challenges for future livestock–wildlife coexistence. Even today, examples of pastoralists coexisting with wildlife (i.e., situations in which wildlife populations are not declining) are few and far between. Even the highly productive Mara/Serengeti and Ngorongoro ecosystems are experiencing large wildlife declines (Ogutu et al. 2011), probably because human and livestock densities are higher than they were historically. Wildlife increases in the Laikipia ecosystem are, at present, largely occurring on properties where livestock densities are more moderate (M. Kinnaird et al., unpublished data).
More optimistically, however, a number of initiatives and possible future scenarios give hope that pastoralists and wildlife can continue to co-exist in Africa as they have for centuries. Wildlife-based tourism enterprises (at present supported by external sources) on pastoralist-owned or -managed lands are operating with some success (both in terms of income generation and wildlife conservation) in various parts of East Africa, including Laikipia and the Maasai Mara. For example, in Laikipia and adjacent Samburu District, pastoralists on a number of group ranches have set aside conservation areas within their ranches. These areas are not grazed by domestic livestock year-round but rather are left for wildlife and as a reserve for livestock in the event of a drought. In the future, there may be formal markets for other types of ecosystem services—such as carbon sequestration or even provision of clean air and water—in pastoralist lands (World Initiative for Sustainable Pastoralism 2008).
Changing management systems and lifestyles may also portend new hope for wildlife and pastoralists to co-exist. Some previously mobile pastoralists who were encouraged to become sedentary and take ownership of small parcels of land by governments (Mwangi and Ostrom 2009) are now aggregating their holdings and returning to patterns of seasonal migration more similar to those of the past (Mwangi 2007). Particularly in arid and semi-arid ecosystems, pastoral mobility affords a more resilient and potentially more productive livestock system and is less likely to cause land degradation than a more sedentary, year-round grazing regime (Western et al. 2009a, b; Hesse and Cavanna 2010). In southern Kenya, wildlife populations fared far better where pastoral mobility was maintained compared to adjacent areas that were subdivided and settled (BurnSilver et al. 2008; Western et al. 2009a, b), and sedentarization had mixed effects on livestock production, being particularly detrimental on low-productivity sites (Boone et al. 2005; BurnSilver et al. 2008). Although the KLEE experiment was not designed to ask questions about livestock mobility, it does provide one example of wildlife coexisting with cattle in an area where cattle are grazed episodically rather than continuously. Mobility may also help to create or maintain greater landscape heterogeneity and reduce dry-season competition between wild herbivores and livestock. The possibility that traditional management practices such as seasonal migration and deliberate burns may in time be reinstated raises many possibilities for a sustainable relationship among people, livestock, and wildlife.
Additionally or alternatively, human populations in rural rangelands may decrease in years to come as people choose to move to urban centers (Young 2006) and a greater proportion of family income is generated from non-farm activities (Reid 2012). This may ease the livestock grazing pressure on the land, with benefits for wildlife. However, the demographic and economic shift away from pastoralism might not reduce overall livestock pressure on the land if, for example, urban residents (particularly the more well-to-do) continue to keep herds of livestock at their rural homes, as is the case in many parts of eastern and southern Africa. Conversely, supplemental income from wildlife may encourage greater tolerance for biodiversity and, along with more equitable sharing of benefits from livestock and greater empowerment of local communities in the national and international arena, could also help foster continued co-existence between wildlife and pastoralists (Reid 2012).
Yet another possibility is that the long-term (>50 years) future of pastoralism in Africa will be so radically different from historical and contemporary pastoralism that many projections will be moot. For example, in Botswana and Kenya, rangeland landowners are increasingly absentee and hire third party pastoralists to manage their livestock—raising a whole new set of management issues. Nevertheless, livestock production in African's arid and semi-arid ecosystems—whatever form it takes—is likely to continue for the foreseeable future. Finding a path that reconciles this production with other societal values (biodiversity, ecosystem services) will remain an ongoing challenge. Current research is revealing that this challenge need not be insurmountable.
Declarations
Acknowledgments
We would like to thank Frederick Erii, John Lochikuya, Matthew Namoni, Jackson Ekadeli, and Patrick Etelej for their invaluable assistance in the field. We also thank Margaret Kinnaird, Michael Littlewood, and the Mpala Research Centre and its staff for their logistical support. The KLEE exclosure plots were built and maintained by grants from the James Smithson Fund of the Smithsonian Institution (to A.P. Smith), The National Geographic Society (4691–91), the African Elephant Program of the U.S. Fish and Wildlife Service (98210-0-G563) (to T.P. Young), and the National Science Foundation (LTREB BSR-97-07477, 03–16402, and 08–16453) (to T.P. Young, C. Riginos, K.E. Veblen, and K. Caylor). The boma, fire, and tree density research were also supported by the NSF LTREB grants, as well at NSF Graduate Research Fellowships (to R.L. Sensenig, K.E. Veblen, C. Riginos, L.M. Porensky, and M.L. Wilkerson) and NSF Doctoral Dissertation Improvement Grants (to R.L. Sensenig, C. Riginos, and L.M. Porensky). Rodent research was funded bY NSF (CAREER) and the National Geographic Society (to F. Keesing). We also thank Cary Farley and two anonymous reviewers for their helpful comments on the manuscript.
Authors' Affiliations
(1)
Department of Botany, University of Wyoming, Laramie, USA
(2)
Mpala Research Centre, Nanyuki, Kenya
(3)
Department of Plant Sciences, University of California, Davis, USA
(4)
Wildland Resources Department, Utah State University, Logan, USA
(5)
Department of Biology, Goshen College, Goshen, USA
(6)
Department of Biological Sciences, University of Nairobi, Nairobi, Kenya
(7)
Department of Biology, Bard College, Annandale-on-Hudson, USA
Copyright
© Riginos et al.; licensee Springer. 2012
This article is published under license to BioMed Central Ltd. This is an Open Access article distributed under the terms of the Creative Commons Attribution License (http://creativecommons.org/licenses/by/2.0), which permits unrestricted use, distribution, and reproduction in any medium, provided the original work is properly cited.