Colonial and post-colonial changes and impact on pastoral women's roles and status
Pastoralism
Research, Policy and Practice
2017
7:13
Received: 22 May 2016
Accepted: 26 January 2017
Published: 2 June 2017
Abstract
The colonial experiences of pastoralist women have been largely ignored in the literature on Africa. The paper focuses on pre-colonial, colonial and post-colonial periods to locate the impact of colonization on pastoral women's roles and social status using the example of Borana women of northern Kenya. In this study, it is demonstrated that while the pre-colonial women of the Borana did not enjoy full position of status relative to men, colonialism reinforced the differences between the roles of men and women, contributing further to the waning of Borana women's pre-colonial roles and status. The paper explores the process by which Borana society was brought into contact with the colonial economy and commercialization of their pastoralist activities. It sheds light on the impact of this integration on women's roles. The paper concludes with areas for further research on Borana women's roles in the post-colonial era.
Keywords
ColonizationPastoralistWomenNorthern KenyaBoranaGender rolesSocial policy
Introduction
Though the discourse of inequalities and marginalization of pastoralists is well-documented in literature on pastoral societies, case studies of pastoral women's experiences with colonization have received little attention. It was only recently that the previously ignored responses by pastoral societies to the changing socio-economic and political situations have begun to get some scholarly attention. At the same time, case studies regarding how women experienced changes did not - with exceptions -For example, Hilarie Kelly 1992, Gudrun Dahl 1987, Aud Talle 1987, and Jean Ensminger 1991 explore how roles, rights and gender relations have changed over time within pastoral production. Even so these studies have examined the status and roles of women as if they are a recent phenomenon when such roles have been part of a long tradition. Women played roles ranging from herding small stock to economic roles of processing the primary products of milk, meat and skins and exercised considerable power and influence over the distribution and exchange of these products (Kipuri and Ridgewell 2008).1
However, this changed during the 1890s colonization of Africa. During the almost seven decades (1890-1963) of British rule in Kenya, the colonial government introduced socio-economic and political policies to facilitate the integration of Kenyan societies into the colonial economy. For pastoral societies in northern Kenya, British authorities challenged the legitimacy of pastoral institutions through state-imposed policies of compulsory destocking, grazing controls and restriction of movements. This process gradually led to the integration of pastoralists into the colonial economy. The study seeks to understand the process that brought the Borana into the colonial economy, the impact of the integration on the pastoral economy and, specifically, the impact on Borana women's roles and status. As will be shown later, in Borana society, we cannot speak of total equality of women and men, but the roles played by different genders were based on age, gender relationship and ones' social status. The Borana women, like other pastoral women, discharged their roles based on the principles outlined above. They also participated in women's-only traditional organization with women's roles and rights within the society. However, Borana women's lost status deteriorated during the 1890s colonization as was true with women in other societies. While it cannot be argued that colonization was the only factor in the loss of women's roles, I argue that it was the interplay of factors, among them, colonialism, in conjunction with the spread of Islam and Christianity, which added to the forces that reduced Borana women's roles, positions and status in their society. The history of Christianity in northern Kenya has been explored by Tablino 2004, but it is important to note that unlike other parts of the colony, in northern Kenya, Christianity did not establish a significant presence until the final decades of colonial rule. Although missionary presence dates back to the early twentieth century, Christianity started taking root in northern Kenya only in the 1950s and 1960s.2 It is to be understood that Christianity reached Africa generally in the context of the European's moral duty to change the traditional religious practices and beliefs of Africans. While both men and women were affected, it fell largely on women who dominated religious and ritual practices as a venue to assert their roles. However, Borana women's status deteriorated following colonization beginning in the 1890s, as was true for other societies (Kuwee Kumsa 2004).3
First, the article reviews the current literature on pastoralist women's roles and Borana women in particular to illustrate some of the major works that have been done. The second goal is to examine the pre-colonial roles and status of pastoral women using the example of the Borana of northern Kenya. This contextualization is especially important as it does justice to the normally ignored experiences and roles of pastoralist women in their societies. The third goal is to provide a brief historical background of the Borana, and the fourth aim is to examine the impact of colonization on Borana women's roles. The process of colonization which subsequently led to commercialization of pastoralism and gradual integration of the Borana into the colonial economic system is crucial in understanding the impact on women's roles and Borana gender ideology. The paper concludes by situating pastoral women's roles within the post-colonial changes in Kenya and suggests areas for further research on Borana women's history.
Literature review
The experiences of pastoralist women have been largely ignored in the historical literature on Africa.4 This is striking when comparing works on pastoral women with those on women in non-pastoral societies. The former have been largely excluded from the body of historical literature (Hodgson 1999).5
One group of scholars offers an exception to this exclusion. Ethnographers and anthropologists took the lead in providing information on pastoral societies in general. For example, Elliot Fratkin and Kevin Smith elucidate the changes in the socio-economic and political environment influencing pastoralists. They discuss sedentarization processes, population growth and government policies as factors responsible for the altered lives of the pastoralists and the changing responsibilities of women (Elliot Fratkin and Kevin Smith 1995 and 2013).6 An analysis of the changing roles of pastoral women is also offered by Layne Coppock, María Fernández-Giménez and Jeannie Harvey, who examine collective actions by the pastoralist women of northern Kenya. The authors argue that factors such as population growth and settlement in towns have influenced the formation of collective self-help groups (Solomon Desta et al. 2013 and 2016).7Another study proposes that camel milk, capital and gender link women's changing roles with trading activities, specifically the milk trade (Anderson et al. 2010).8 While literature on women's ownership varies widely according to Naomi Kipuri and Belinda Straight, Bonnie Kettel argues that women have rights over livestock and their and husbands do not have rights over the disposal of such herds. However, Richard Hogg and Richard Waller disagree with this view, while Peter Little notes that in some pastoral societies, women have access only to herds gifted to them by their brothers or the ones that they came exercise full control milk and milk products (Hogg 2000; Kipuri and Ridgewell 1978, Little 1987; Kettel 1986).9
Other relevant sources include a number of theses and dissertations.10 For example, Michele Nori details the changes and livelihoods impacting northeastern Somali society. This work looks at some of the roles that women play in the livestock trade, marketing and other local commercial activities including the hotel business and the selling of khaat, a plant stimulant consumed by most men in northern Kenya (Nori 2010).11 Such works provide important information for understanding the experiences of pastoralist women by addressing gender issues and the contribution of women to pastoral production.
Studies on gender issues among the Borana were conducted by Gudrun Dahl who describes the socio-economic consequences of historical and contemporary forces on the Waso Borana and the impact on the various sector of Borana society. Her use of historical perspectives to understand the gendered aspects of power relations allows for a comprehensive analysis of external forces such as colonialism and statehood along with their contribution to the family and society.12 Another work by Dahl details the deeper meanings associated with Borana women's roles in building huts and their responsibilities associated with milking and milking containers. The significance of these roles, according to the author, goes beyond their everyday use and symbolizes women's cultural powers and identity within Borana society (Dahl 1990).13 Studies examining the impact of the Shifta war on the Borana pastoral economy make a broad reference to women (Khalif and Oba 2013).14
There is a large body of literature on pastoralists that address various aspects of the society but very little on women. Some mention women in passing, and even so, they have not paid attention to traditional sources for glimpses into how gender ideologies changed in the colonial period and effects on women of the Borana. However, these studies are germane to gaining an understanding of broader issues of change in colonial and post-colonial periods. The study draws from these works, and the paper especially seeks to contribute to the colonial historical literature on pastoral women.
The place of women in Borana society
The pre-colonial history of the Borana has been discussed elsewhere, for example by Paul Baxter in 1954, so there is no need to repeat it here. It is important to note that the history of the Borana of northern Kenya is part of the general history and culture of Borana Oromo who are currently distributed in Ethiopia.15 The Borana are a pastoralist group found in southern Ethiopia and northern Kenya and form part of the larger Oromo linguistic group originating in Ethiopia. European colonization and the reign of Menelik II of Ethiopia in the 1890s divided the Borana between British East Africa and the Abyssinian Empire. The Borana are custodians of an egalitarian culture, a uniquely democratic socio-political and economic institution known as Gadaa. The Gada system has been discussed in detail by Asmarom Legesse and Marco Bassi (Legesse 1973; 2006; Bassi 2005).16 Gada organized the Borana society in terms of generation and age. However, the Gada institution is different from the age-set system (hariya). Whereas a member of an age-set group is recruited based on age per se, the Gada system is based on a generational set and recruits all male children irrespective of age into a single named generation set (Goto 1972).17 The leader, Aba Gada, is democratically elected in a general assembly called Gumi Gayo every eight years.18 The assembly is responsible for formulating rules for the Borana community, which are then executed by the Aba Gada and the council members. The council members amend rules and regulations where needed. Gada also preserves traditional customs by socializing men to assume political, cultural and economic responsibilities and pass them on to each successive generation. It is only men who participate in warfare and political election of Gada classes and camp leaders as well as age sets.19
Despite its egalitarian principles, the Gada politico-military structures actively excluded women. However, women wielded power and control indirectly. They formed part of the decision-making process among several groups within the Gada system based their husbands' age-set.20 The roles and relations between men and women were primarily organized according to age and gender. This is well illustrated in the Borana polygamous household where senior wives enjoy more privileges than junior wives.21 The Gada egalitarian system collective accorded women status and a venue to perform their roles. These roles were discharged through an organization that ran parallel to Gada known as Siiqqee, which existed generally in all Oromo groups. Details on practices and functions of Siiqqee have been presented by Kumsa and Hussein Jaylain among Oromo women of Ethiopia, while Hilarie Kelly has written on the practices of the Orma Oromo women of Kenya under the name gaas eyba (Kumsa 1997; Kelly 1992; Jeylain 2004.22 This study provides only a general overview. The literal meaning of Siiqqee is a stick, a marriage stick that stands for the rights (mirga) given to women within Gada institution. The Siiqqee stick is a symbolic rallying point for collective action.23 Siiqqee serves to function as 'a check and balance mechanism' to regulate men's power in the Gada organization. Citing Leggesse, Kumsa writes that the two separate domains (Gada and Siiqqee) had a strong functional interdependence and one was not valued any less than the other,24 meaning that roles played by men and women complemented one another and their importance was not based on power differences between the female domestic sphere and the male public sphere but rather on the balance between male and female expectations in Oromo society. This balance must be maintained since the absence of which is equated is equated with disharmony, and in response women must stage what is called a Siiqqee rebellion to restore back social harmony within the society. Under extreme circumstances, women would resort to what Kumsa called Godaansa Siiqqee (Siiqqee trek) deserting their households for men to take care of all household responsibilities. For women to return to their homes, the offender causing the imbalance must pay fines or carry out certain rituals and taboos to rectify the breach of norm between the parties concerned. Further violations of women's social rights may lead to the suspension of the offender from roles in the Gada council (Kumsa 2004; 2014; Bartels 1983).25
Moving from a general overview to more specific roles, Borana women wielded power and control in the domestic sphere where they had de facto control over vital resources. Apart from the primary duties of child rearing, cooking, collection of water and firewood and building of huts, they participated in activities related to livestock keeping and management. They cared for small animals at the homestead and were in charge of milking. These responsibilities fall under what is called women's domains of stationary resources. On the other hand, men built kraals and defended camps as well as natural resources such as water and religious shrines under men's domain of mobile resources (Waaqayo 1991).26
Although men exercised greater formal power and authority in the political realm, women influenced political decisions through backstage roles. For example, Mario Aguilar and Laurel Aguilar's study on Waso Borana has documented Borana women's involvement in political affairs of their society and elections of local political leaders. Though they played backstage roles, Borana women mediated among themselves in their women's group and in consultation with a senior woman for whom to vote as the leader of their community. Aguilar writes, 'women seem to be silent and even passive, nevertheless they have forwarded their ideas through a senior woman, sitting in the inner circle of the meeting….….Women organize themselves before the meeting, not to riot, but to look for the right person in order to keep the Peace of the Boorana [sic].' 27
Borana women also discharged their roles in various ways namely the use of jokes or plays referred to as qoosaa-taapaa. As one of the elements of oral literature, jokes, plays and/or any other verbal expressions are important tools for communicating gender ideologies (Lorber 1996).28 The use of jokes or plays by women is traced within this gendered context of language use. According to Fugicha Waqo, the use of jokes or plays challenges prevailing power relations and the male-centred social order in Borana society. The jokes or plays were told during weddings and child-naming ceremonies; Waqo argues that 'women qoosaa-taapaa humorously assails male crudity. On this occasion, the women constitute themselves into a group that challenges the traditional social order which privileges the men, by recounting the follies of men in their daily experiences.' (2003)29 I suggest that the Borana women's use of jokes espoused a discourse of power in which they were able to place themselves in an alternative gender hierarchy. It further tells us something about their power of language and their immense cultural knowledge underlying the discursive jokes or plays that they perform.
Apart from
qoosaa-taapaa
, Borana women use folk songs to indirectly express their feelings about men's injustices or to react to unwise decision taken by the men-folk. Songs serve different purposes and are performed in different historical, social, cultural and political contexts to praise or ridicule. This study focuses on the latter; the use of songs by women of the Borana to negotiate male-female power differential in everyday situations. For example, Waqo has shown how Borana women use jocular songs, not necessarily directed to a specified individual, but as a criticism of 'pervasive social realities within the Borana community.'
30
Then the use of songs is to pass judgement and expected values within society and, specifically to the interest of this study, to express issues that permeates gender roles and relations. One of the songs that speaks to the roles and powers of women within Borana society is described below by Waqo:
Isa daaddu hikuu wa dhageete Sooddaan duuban baate wa dhageete Sooddaa tun maan jeette wa dhageete Aada bona jedhe wa dhageete Isa baare haraabu wa dhageete Harbori rakate wa dhageete Harbora incacabsani wa dhageete Baare incacabsani wa dhageete Ark isa inkutani wa dhageete Isa moora baasu wa dhageete Sareen shondu buute wa dhageete phe (group burst into laughter and disintegrates for some time).
Translation:
As he is untying a food container, did you hear? His mother in-law caught him, did you hear? She asked what was happening, did you hear? It is the norm of drought he said, did you hear? As he licked the container, did you hear? His bracelet got stuck, did you hear? The bracelet cannot be broken, did you hear? The container cannot be smashed, did you hear? His hand cannot be cut, did you hear? As he melts the fat, did you hear? Dog snatch his member, did you hear?31
This song, while telling us more about limited food resources and environmental vagaries of drought, a common theme in pastoral societies, ridicules men for trespassing into women's food control domain. Women leverage the taboo that prohibits men from handling food in a way that confers power to them. Control and distribution of food, for example milk as already indicated, reflects women's performance of power and assertion of their roles. Similarly, through control of food resources, Samburu women have been shown to negotiate power issues within their community and even with the elders who enjoy exalted status (Holtzman 2002).32
Additionally, Legesse elaborates that women's use of folk and work (Karile) songs not only lightens the burden of their chores but they use such songs to pass their remarks or direct criticisms about men's ill-advised decisions that they overheard in men's assemblies.33 It can be argued that women's use of songs plays more of a role than simply calling males to conformity. It is a way for women to further assert their roles. Studies elsewhere have shown, for example, how Sahelian women use songs to 'subvert that idea that women lack voice' (Sidikou and Hake, 2012). 34 Songs and other genres of literature recorded from oral sources can provide narrative construction and insights into gender relations. This can go a long way in reconstructing African women's history within a specified cultural context. However, recent study has lamented on the lack of attention to such genres and especially the use of songs as a 'form of verbal art'.35 With the exception of a few scholars, among them Fugicha (2003) and Hussein (2004), scholars of the Borana and Oromo in general are also guilty of neglecting oral sources such as songs in reconstructing past status of women. According to Hussein, even Legesse whose seminal work focused on Borana Gada and issues related to gender roles did not exhaustively look at oral traditions for clues on women's past influential roles.36
In summary, whether through use of songs, women's group, jokes or plays, the Borana case study indicates various socio, economic and political roles women played in their society. These roles, while determined by age, class, religion and marital status, gave pastoral women status and power as was the case with other African women in pre-capitalist African societies (Swantz 1985).37
At the margins of colonial enclave: The pastoralists of northern Kenya
The history of colonization of pastoral societies in the nineteenth century has been discussed in detail by Gufu Oba and others and cannot be replicated here in any detail, and I therefore will discuss what is deemed the most important to this study.38 The Borana were the dominant force in southern Ethiopia and northern Kenya from the sixteenth century up until the dawn of twentieth century. They co-opted the Gabra, Rendile and Ajuran neighbours and people with whom they shared common borders to form the worr Liban (people of Liban) alliances. At times, some of the groups were assimilated into different Borana clans and given access to shared grazing lands and water resources.39 While considerable shifts in alliances, power and displacement among various groups shifted the alliances by the nineteenth century, the outbreak of bovine pleuropneumonia, rinderpest, smallpox and drought, weakened the Borana (Oba and Tikki 2013).40 The ecological disasters coincided with the Abyssinian colonial expansion from the north and the British from the south (Schlee and Watson 2009).41 Abyssinian rule was imposed in 1897 when a garrison was established at Arero in Liban. The Abyssinian military dealt ruthlessly with the Borana resistance, ranging from beatings to confiscation of their cattle. Indirect rule was introduced, and the Borana qalu (religious leaders) and ritual experts were absorbed into the Abyssinian administration, mainly to help with the collection of taxes. Moreover, the Borana were forced to provide labour in transporting the rations of the Abyssinian soldiers over long distances and to build their houses at the garrisons (Bizuneh 2008).42 The Kenyan colonial administrators' annual report is replete with incidences of harassment and looting of livestock as well as killings and kidnappings of Boranas by Abyssinian authorities.43
Kenya became a British protectorate in 1895 and colony in 1920. However, border issues with the Abyssinian Empire, security issues and control of movements by pastoral groups took the best part of a decade. In 1903, the British colonial administration ordered its engineers, under the command of Archibald Butter and Captain Philip Maud, to survey the boundary between British East Africa and Ethiopia. The survey culminated in the creation of a 'Maud Line' that was recognized in 1907 as the de facto Kenyan-Ethiopian border and renamed the 'Red Line'.44 The Northern Frontier District (NFD) was added to the British protectorate in 1910.45 However, the 'Red Line' boundary agreement left many vital resources on the Ethiopian side of the border which complicated the situation further. The Ethiopians prevented the Borana from accessing water on their side of the boundary agreement (the 'Red Line'), and the Abyssinian incursions and raids on British subjects including the Borana continued (Oba and Tikki 2000). 46
In 1909, the Borana came to grapple with a new challenge. The new waves of Somali immigrants into Borana territories in the early twentieth century exacerbated the situation for the Borana. This development led to the contraction of Borana territories causing conflicts between the Borana and the Somali immigrants. The British had earlier created the 'Galla-Somali line,' to keep Somalis to the eastern side, while keeping the Borana and the rest to the west of Mount Marsabit.47 However, their interaction was not only based on conflicts. It was during the course of the Somali westward movements that the Borana conversion to Islam in the colonial period occurred from 1920 to 1950. The Borana of Isiolo, who were far removed from the centre of Gada, converted to Islam leading to the transformations of many aspects of their Gada practices.48 While the details on how and the process of Borana conversion are not within the subject of this study, it suffices to say that religious cultures are one of the forces in understanding factors that affect people's lifestyles (Aguilar 2009).49 This weakened the Gada contributing to the disintegration of socio-political structure of Gada, and the socio and political powers and women enjoyed within the Gada system waned explained by Baxter 1954; Shongollo 1978; Hassen 1990.50 By extension, distorting led to the distortion of Borana social relations and gender ideology which affected traditional bases of the authority, status, and the material circumstances of women.
NFD was occupied by pastoralists and remained closed since partition. It was not considered an integral part of the British domain, and the major reason for the occupation of northern Kenya was to keep away the Abyssinian Empire that was progressively advancing south into British East Africa.51 For the most part, it was designated a 'special area', and colonial policies controlled movements into and out of the district. By 1919, there were scattered small retail shops in Marsabit and Garba Tulla, operated by Arabs, Indians and Swahili merchants since the colonial government discouraged pastoralists from entering business including trade in livestock.52 Before the Second World War, available employment opportunities were in government administration. However, as will be detailed later, these positions were only accessible to men. Although the colonial government extended its power into northern Kenya among pastoral societies, there was no intent to spread its socio-economic and educational development agendas to this region. Generally, pastoralist activities were considered as going against the prevailing social order (i.e. the colonial economy based on settled agricultural production), and colonial authorities did not see pastoralism as a productive form of land use (Manger 1996).53
By 1926, the Outlying District Ordinance decreed the closure of the frontier to curtail movements in and out for security reasons.54 Ten years later, the Special District Ordinance of 1934 demarcated tribal grazing areas for each ethnic group in the frontier. This brought to an end movement by pastoral groups that often spanned colonial national boundaries as the case with the Borana and others who often shift livestock from northern Kenya lowlands to the highlands of Ethiopia during droughts.55 Restrictions imposed on livestock movements curtailed livestock production and the very basis of Borana identity. Livestock ownership is a symbol of not only wealth but also accompany their socio-cultural ceremonies of marriage, child naming and circumcision rituals (Hogg 1992).56 It can be argued that the restrictions placed on livestock production undermined the Borana personal and collective identity based on livestock.
Even after World War II, when the development plan for the colony was drawn, the promise to provide grazing, water, livestock marketing and healthcare did not materialize generally in the NFD.57 Like the rest of the colony, educational activities were carried out by missionaries but they were very limited. The Bible Church Missionary Society (BCMS) and the Africa Inland Mission (AIM) whose activities focused on missionary education and provision of health services converted Borana and Burji communities in Marsabit, and the Samburu of Wamba and Maralal. The children of the converts enrolled at an elementary schools established by the missionaries.58
By the end of the colonial period, pastoral societies did not experience meaningful socio-economic changes unlike the rest of the colony concentrating most services only in the regions occupied by white settlers.59 The policies of marginalization continued in the post-colonial Kenya government as will be examined in the section under post-colonial development. However, it is significant to note that the post-colonial government, like its predecessor, adopted policies intended to change their way of life as they continued to adjust to changes in population increase, loss of pastureland, and even civil wars.60
Study area
The study focused on the Borana of northern Kenya who are mainly found in the Moyale, Marsabit and Isiolo areas as shown in the map (Figure
1
). The terms Northern Frontier District (NFD), northern Kenya and Arid and Semi-arid Lands (ASALs) have been used to refer to areas settled by pastoral societies in Kenya. In this study, the names NFD and northern Kenya are used interchangeably to refer to both geographical classifications and socio-economic and po/litical constructs. The NFD is a political construct dating to the colonial period, and it is a product of policies that continued during the post-colonial period which are responsible for the region's continued inequality with the rest of Kenya. The northern regions were barely studied during the colonial period apart from popular visits by big game hunters and adventurers and explorers (Stroomer
1995
).
61
A systematic study of the arid regions began only in the 1970s. Northern Kenya accounts for 80% of Kenya's total land area of 582,646 square kilometer.
62
Although sparsely populated, the region's ethnic composition is diverse. Apart from the Boranas there are also Somali, and Turkana who mainly reside in the town of Isiolo. In Marsabit district are mainly Borana, Samburu, Somali, Rendile, Gabra, and Burji ethnic groups. People of Indian and Arab ancestry who are involved in trading activities also reside in Marsabit. Most people including the Borana are pastoralists, and herding is practised by 80% of the population.
63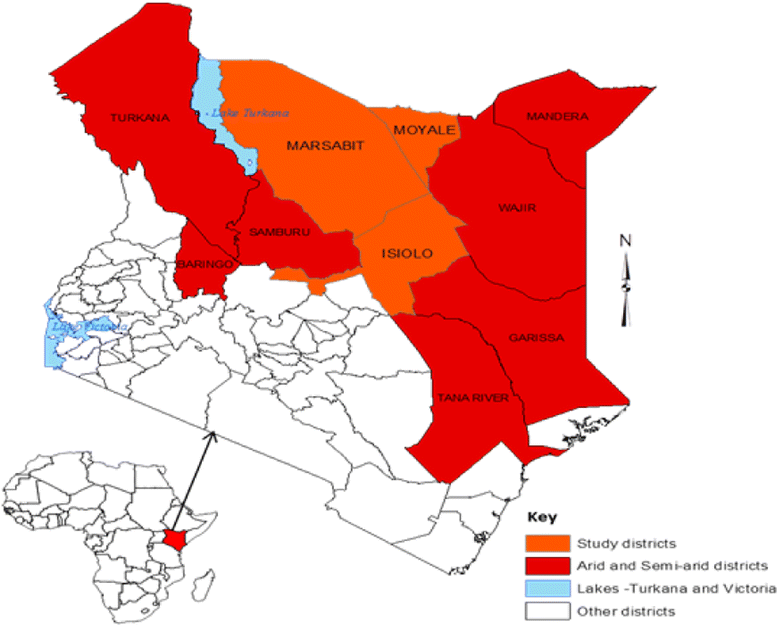 Methods
This study takes its approach from historical studies, development studies and gender theories to provide a framework with which to analyse Borana women's roles and status. While the major approach remained historical, to trace the history of the Borana and northern Kenya and to understand the process that introduced changes in Borana society and women's roles, the anthropological approach was useful in describing Borana socio-cultural, economic and political organizations. The research is based on analysis and synthesis of diverse sources. Primary sources consisted of the Kenya National Archives (KNA materials collected through two separate periods in 2013 and 2014). The study relied on using traditional sources such as colonial archival, previously unexplored travel memoirs, in an attempt at teasing out ideas that speak to gender roles and relations in Borana society within the broader socio-economic and political forces of the past century. The materials also helped in understanding the colonial administration of the NFD, including social, economic and political policies developed to 'administer' northern Kenya. Secondary literatures consulted are books and articles in journals together with other published sources that address various aspects of the Borana society. These sources are germane to gaining an understanding of broader issues pertaining to discourse of socio-economic and political marginalization in post-colonial era.
Conclusions
This study explores the role of pre-capitalist Borana women and how these roles changed with colonization, among other factors. The ideology of Gada, based on gender and age, regulated powers and relationships between men and women. It demonstrates that while the status of Borana women was not completely equal to that of men, the incorporation of the Borana into the colonial state bolstered the elements of pre-existing inequality. Specifically, creation of male native authority, commercialization and commodification of livestock, and the implementation of post-World War II social reforms blurs the social status women enjoyed before while enhancing male economic and political authority relative to that of women. Together, these processes shifted the female domestic and male public spheres as previously understood. This contributed to marginalization of Borana women because of their social position as pastoralists, colonized subjects, and females as was the case with other pastoral women. In the post-colonial era, pastoral societies have undergone further changes due to urbanization, an increase in population and the state-imposed policy of sedentarization that is attempting to integrate the pastoral economies into national and international markets. As indicated before, recent research among the Borana and pastoral women of northern Kenya done by the likes of Khalif, Coppock and others looked at women in the context of development policies, democratic movements, activities of non-governmental organizations and civil societies. While the extent to which these movements have liberated women from oppressive structures is debatable, what is clear is that women in developing countries in general have been further brought under the forces of globalization and yet their struggles remain isolated and localized.120 This raises further questions: with the advent of democratic movements and polices of equalization, what does oppression mean for women and pastoral women in particular? This study further questions the significance of state and global-centred approaches of many studies that have been done in general on pastoral societies and especially women. My tentative take on this is that such approaches minimize the roles of women as historical actors. A future case study of Borana women of northern Kenya will address these questions by broadly situating their experiences in social, economic and political changes and, most importantly, in the Borana cultural context to reconstruct women's roles in post-colonial era. This will bring a better understanding of the agency of women such as the Borana who have been omitted from the historical record.
Declarations
Acknowledgements
I would like to thank Wright State University's College of Liberal Arts for the Postdoctoral Fellowship program. Special thanks to Drs. Opolot Okia and Noeleen Mcllvenna for their feedback during the early stage of writing this article, and for their support throughout my postdoctoral program. I would also like to acknowledge African and African American Studies Program and History Department, many thanks particularly to Drs. Lynette Jones and Jonathan Winkler for their support. Last, but not the least, the writing of this article would not have been complete without the many hours I spent at the faculty writing groups. I enjoyed the collegial atmosphere of the group, and I would like to thank support provided by Noeleen Mcllvenna, Carol Mejia LaPerle, Deborah Crusan, and Sirisha Naidu.
Competing interests
The author declares that she has no competing interests.
Declarations
I hereby declare that I am the sole author of this manuscript and neither the article nor portions of it have been previously published elsewhere.
Open AccessThis article is distributed under the terms of the Creative Commons Attribution 4.0 International License (http://creativecommons.org/licenses/by/4.0/), which permits unrestricted use, distribution, and reproduction in any medium, provided you give appropriate credit to the original author(s) and the source, provide a link to the Creative Commons license, and indicate if changes were made.
Authors' Affiliations
(1)
Wright State University, Dayton, USA
References
A. Primary sources

I. Kenya National Archives documents

II. Other published primary sources

Republic of Kenya. Kenya Ministry of Education annual report, 1979.Google Scholar
Republic of Kenya. Development policy for the Arid and Semi-arid Lands, ASALs. Nairobi: Ministry of Reclamation and Development of Arid, Semi-Arid Areas and Wastelands, 1992.Google Scholar
United Nations. The World's women 1995: Trends and statistics. New York: United Nations, 1995.Google Scholar

B. Secondary and published sources