Piebald Camels
Pastoralism
Research, Policy and Practice
2017
7:3
Received: 6 October 2016
Accepted: 14 January 2017
Published: 20 February 2017
Abstract
Animal breeds are the diverse outcome of the thousands-year-long process of livestock domestication. Many of these breeds are piebald, resulting from the artificial selection by pastoralists of animals bearing a genetic condition known as leucism, and selected for their productive, behavioural, or aesthetical traits. Piebald dromedary camels have not been studied or discussed before, and their same existence is often overlooked. Based on fieldwork in Western Sahara, direct observations across Northern and East Africa and the Middle East, and a literature review, we address the morphological and behavioural traits, geographical distribution, taxonomy, and material and cultural importance of piebald (painted) camels. They are a hundreds-year-old camel breed used for caravans, as mounts, and for aesthetical and cultural reasons across Sudan, Niger, Mali, Mauritania, Western Sahara, and Morocco. While they are increasingly bred out of a pastoral context for tourism and entertainment in the Canary Islands, mainland Europe, and the USA, in part of their original African range, piebald camels are under threat due to wars, droughts, and demise of pastoral livelihoods. More research is needed about these 'beautiful and dignified' animals.
Keywords
Livestock breedsLeucismPaint dromedary camelsPastoral nomadsSahara
Have you ever seen a piebald mahri1 before?;

Have you ever seen a camel with such grace, lightness, and stature?

Have you ever seen anything more beautiful and dignified?

(Al-Koni 2008)
Introduction
A breed is a group of domesticates that has specific characteristics or traits artificially selected by man and transmitted through inheritance (Driscoll et al. 2009; Larson and Fuller 2014). Breeds are the diverse outcome of the thousands-year-long process of livestock domestication (Francis 2015). They have been selected in accordance to productive, cultural, and aesthetical traits and are often a key element of pastoral livelihoods and identities. Breed diversity is nowadays endangered by processes of livestock intensification and cultural homogenization (Faye et al. 2004), and as such, its study is a fundamental step for breeds' conservation. Among the thousands of breeds from tens of domesticates existing in the world, several are piebald, i.e. spotted, painted, or patched of white and solid colour. Many of these piebald breeds are the result of a selective breeding for a genetic condition known as leucism.
Animals' colouring is the result of either presence or absence of the pigment melanin in the skin, hair, and eyes. Among the known conditions affecting melanin production and animal colouring are albinism, melanism, and leucism; the latter resulting from defects in pigment cell differentiation and/or migration from the neural crest to the skin, hair, or feathers during development (Cieslak et al. 2011; Wilkins et al. 2014). In its most common form, leucism results in irregular patches on the body surface expressing as white on an animal that otherwise has normal colouring and patterning (Rook et al. 1998; Cieslak et al. 2011); when this happens, the animal is 'pied' or 'piebald' (also 'paint', 'spotted', or 'speckled').2 Some leucistic animals also exhibit coloration of the irises that matches the surrounding skin (blue eyes for pink skin, brown for dark).
Leucism and piebald colorations occur sporadically in the wild, as they usually reduce the individuals' selective fitness providing less colour protection from predators (Woolf 1991). But recessive conditions in domesticates have been propagated voluntarily or not by humans since the very beginning of the domestication process, and changes in size and colour are among the first effects (Epstein 1955; Trut et al. 2009; Ludwig et al. 2009). Voluntary propagation includes the selective breeding of specific phenotypes for their religious, ritual, social, or subsistence/economic value. Involuntary propagation relates to the genetic and physiological links existing between tameness (a goal of early domesticators) and colour phenotypes (Wilkins et al. 2014; Cieslak et al. 2011; Price 2002) and to the effects of genetic drift in domesticates' isolated populations (Zeder 2012). There is a general agreement that a wide variation of colour phenotypes were brought about by domestication, 'but it is still largely unknown how color phenotypes were distributed in domesticated animals in earlier times, which roles they played for humans during these times and when they first occurred' (Cieslak et al. 2011).
The piebald leucistic phenotype is known in a variety of domesticates, including Tobiano and Appaloosa horses (Brooks and Bailey 2005; Brooks et al. 2007), Belgian Blue and Shorthorn cattle breeds (Seitz et al. 1999), goats, and sheep, as well as dogs, cats, and pigs (Cooper et al. 2005; Giuffra et al. 1999). Several piebald animals have evolved into valued breeds, where Holstein cows and Dalmatian dogs are among the most notable examples.
Some of the genetic mutations related to the piebald character bear pleiotropic effects such as deafness, developmental disorders of the eyes and night blindness, and osteopetrosis (Stritzel et al. 2009; Bellone 2010; Wilkins et al. 2014). Because the development of the optical system is highly dependent on the presence of melanin, depigmentation has an effect on the development of the visual system (Grandin and Deesing 1998; Wilkins et al. 2014). Congenital stationary night blindness has been reported in a variety of spotted and piebald animals (e.g. Appaloosa horses; Sandmeyer et al. 2007). Animal breeders throughout the world have since early times recognized that a lack of body and eye pigmentation may be accompanied by neurological defects. A relationship between depigmentation and congenital deafness has been found, among other domesticates (Webb and Cullen 2010), in dogs (e.g. Dalmatian dogs with extensive white depigmented areas are most likely to be deaf; Strain 1996) and in llamas and alpacas (Camelids), where it is associated with pale blue eyes (Gauly et al. 2005).
A great deal of research has been conducted on the genetics, behavioural, and productive aspects of piebald breeds among several species (e.g. horses, dogs). In spite of this, the same existence of piebald camels has been largely overlooked, even in the scientific literature on camels (Wardeh 2004). Little and scattered information is available on piebald (painted) dromedary camels, and to the best of our knowledge, no single article has ever been written about them. The only author that has addressed their existence is Bulliet (1975), while too often it has not been properly acknowledged. For example, in the most recent and otherwise comprehensive book on animal domestication (Francis 2015), while discussing the correlation between coat colour and camel domestication, the author states that 'In the United States, paint camels – white and brown, like pinto horses – have been produced, but paint camels are virtually absent in Arabia and North Africa.' Though it is true that there are no painted camels in Arabia and East Africa, we contend that they indeed exist in North Africa since hundreds of years, and that the USA is just the latest country where they have been introduced after their diffusion westward from central-eastern Sahara, where they probably originated.
This paper departs from and contributes to the study of human-animal relationships and domestication from an historical and anthropological perspective (Bulliet 2005; Francis 2015; Hurn 2012). Most research on camels revolves around their potential as milk and meat producers and associated conditions (e.g. diseases) (Farah and Fischer 2004), whereas relatively less studies have been carried out on the productive and cultural links between pastoral populations and camels. In general, camel breeds are not as differentiated and classified as in other livestock species and their classifications are often derived from names of ethnic groups or geographical breeding regions rather than based on phenotypic characters (Dioli 2016). Therefore, camel breed study could help their conservation and support camel pastoralists (Kakar et al. 2011). Studies on the cultural relevance of piebald livestock (e.g. cattle) have already proven to be useful in describing complex human-animal relationships particularly in regard to livestock management (e.g. in genetic selection) and cultural identity (e.g. founding myths, cultural identity, and social values) (Coote 1994). In this paper, we address piebald camels' physiological, genetic, and behavioural characteristics; their geographical distribution; taxonomy; and material and cultural roles among pastoral populations. Then, we discuss piebald camels' origin and diffusion through Africa and out of Africa, we address trends in piebald camels' husbandry, and we invite further research about and support to these 'beautiful and dignified' animals.
Study area
The area under study includes large parts of the Sahara desert where camels are bred, with a focus on Western Sahara and the Sahrawi pastoralists (Figure.
1
, Table
1
). The Sahara is bordered by the Atlantic Ocean on the western edge, the Atlas Mountains and the Mediterranean Sea to the north, the Red Sea on the east, and the Sudan and the valley of the Niger River on the south. Half of the Sahara receives less than 25 mm of rain per year, while the rest receives up to 100 mm per year. Most of the Sahara is characterized as rocky hamada, a type of desert landscape defined by barren rocky plateaus. Large areas are covered by sand and dunes. The central part has extremely limited vegetation, while the northern, southern, and western reaches of the desert, and the highlands and mountain areas (e.g. Aïr, Hoggar, Saharan Atlas, Tibesti Mountains), have sparse grassland and desert shrub, with trees (mainly
Acacia
species) usually along the dry riverbeds (Julivert
2003
). Across most of the Sahara, the dromedary camel (
Camelus dromedarius
L.) is the main livestock species. It was progressively introduced to large areas of the Sahara beginning about 2,500 years ago, and it provides pastoralists with milk, meat, and transport, as well as with a means of utilization of the local desert environment (Gauthier-Pilters and Dagg
1981
).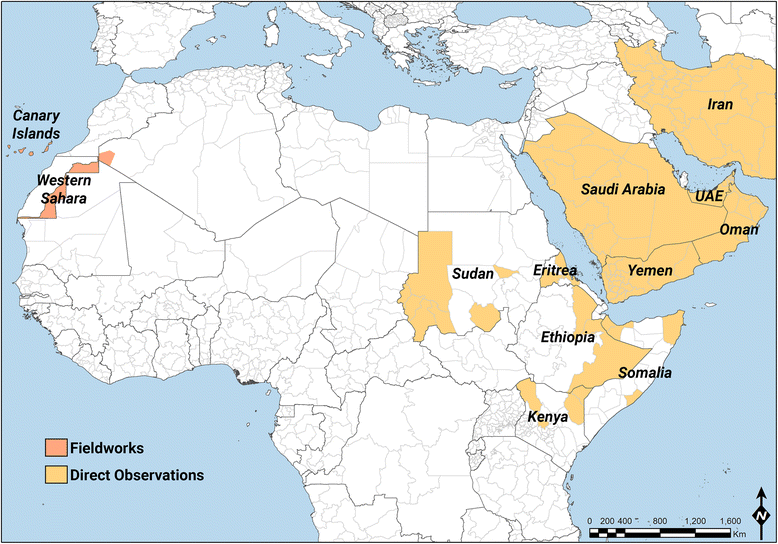 Table 1
Location, duration, and time periods of fieldwork and direct observations
Time period

Duration

Country

Region

Type of study

1981 to 1991

10 years

Kenya

North west

North east

Direct observations

1992 to 2013

3 years

Somalia

Middle Shebelle (Jowhar)

Awdal (Borama)

Bari (Bosaso)

Woqooyi Galbeed (Berbera)

Somaliland

Puntland

Direct observations

1998 to 2001

3 years

Ethiopia

Afar

Dire Dawa

Somali (Jijiga, Ogaden)

Direct observations

2003 to 2006

3 years

Eritrea

Anseba (Keren)

Gash-Barka (Barentu, Tesseney)

Northern Red Sea (Nakfa, Massawa)

Direct observations

2004

Weeks

Western Sahara

Fieldwork

2006

Weeks

Kingdom of Saudi Arabia

Direct observations

2006 to 2007

Weeks

Canary Islands

Fuerteventura

Lanzarote

Direct observations

2007 to 2009

1 year

Sudan

Darfur

Khartoum (Omdurman)

South Kurdufan (Nuba)

Direct observations

2008 to 2010

Months

Western Sahara

Fieldwork

2009 to 2010

3 months

Yemen

Direct observations

2010

Weeks

Iran

Direct observations

2010 to 2011

Months

United Arab Emirates

Direct observations

2012

2 weeks

Oman

Direct observations

2012

Months

Kenya

North west

North east

Direct observations

2016

Weeks

Kingdom of Saudi Arabia

Direct observations
In-depth fieldwork was conducted in inland Western Sahara, northern Mauritania, and the part of Algeria to the south and south-east of the Hamada of Tindouf, which are the customary nomadic territories of Sahrawi pastoralists. Across this area, the climate is continental: summer daytime temperatures pass 50 °C, while winter night-time temperatures may drop to 0 °C. Rainfalls are torrential, unpredictable, and patchy, with an average annual rainfall of 30 to 50 mm and recurrent droughts. Generally occurring from the end of the summer through autumn, these rains are driven by the extreme northerly penetration of the African Monsoon from the south or are associated with the Atlantic Westerlies (Brooks et al. 2005). Biogeographically, we can distinguish two main areas: Zemmur to the north and Tiris to the south. The first runs east-west between northern Western Sahara and northern Mauritania: it is characterized by gravel plains with occasional surface of sandstone and granite in its eastern and central parts and by higher relief and hilly terrain in its western part. All Zemmur, and especially its central and western areas, is drained by inactive or occasionally active river channels that flow west into the Saguia el-Hamra, a large ephemeral river. After the rains, Zemmur displays a savannah-like environment dominated by Acacia-Panicum vegetation, while flowering prairies may appear on flat gravel areas. The southern sector, known as Tiris, is more arid and characterized by flat sand and gravel plains from which characteristic black granite hills arise in either clusters or in isolation. In Tiris, there are no dry riverbeds, and hence, vegetation is mostly herbaceous and adventitious and includes large areas covered by halophytic plants (Soler et al. 1999). For a background on the Sahrawi refugees and nomads and on their camel husbandry, see Volpato and Howard (2014) and Caro Baroja (1955).
Methods
The data analysed in this paper are drawn from three types of sources: (i) a review of scientific and grey literature about piebald camels and related topics, (ii) direct observations, and (iii) fieldwork carried out between 2008 and 2010 in the Sahrawi refugee camps of west Algeria and in Western Sahara.
Fieldwork included semi-structured interviews (n = 32) with Sahrawi camel owners (26 of them had piebald camels in their herds) about morphological, physiological, and behavioural characteristics of piebald camels and their uses and cultural values. Interviews were conducted in Hassaniya (the Arabic language with Berber substrate spoken by the Sahrawi), recorded and translated into Spanish by local research assistants. Interviews were recorded and transcribed with the help of the same research assistant to minimize translation errors and clarify information. Transcripts were then entered into NVivo qualitative data management software, and codes, concepts, and categories were generated during analysis. In every case, prior informed consent was obtained verbally before the interview was conducted, according to the ethical guidelines adopted by the American Anthropological Association (2009) and by the International Society of Ethnobiology (2006).
Besides fieldwork in Algeria and Western Sahara, direct observations on the presence (or absence) and distribution of piebald camels have been conducted by the authors in the Canary Islands (2006 to 2007), Sudan (2007 to 2009), Kenya (2012, 2015), Ethiopia (1998 to 2001), Eritrea (2003 to 2006), Somalia (2013), Yemen (2009 to 2010), Oman (2012), UAE (2010 to 2011), Kingdom of Saudi Arabia (2006), and Iran (2010) (Table 1). The areas where fieldwork and direct observations have been conducted are represented in Figure 1 with a focus on Africa, where piebald camels are found. While fieldwork included interviews about piebald camels, direct observations are reports from the authors on piebald camels' presence in the areas where they have worked or conducted research and did not include interviews about piebald camels.
Conclusions
This study has addressed the history, geography, and anthropology of piebald camels. Based on fieldwork among the Sahrawi of Western Sahara, direct observations across north and east Africa and the Middle East, and a literature review, the case illustrates how piebald camels are an integral part of the story of the camel and of camel pastoralists in Africa and how piebald breeds are an interesting case to understand the dynamic relations of pastoralists with their livestock. Piebald camels probably originated in the eastern Sahara hundreds of years ago from a mutation that was picked up and selected for by local pastoralists who already had a preference for piebald livestock. In the ensuing centuries, piebald camels spread westward throughout Africa while being adopted by distinct pastoral tribes and groups across present-day Sudan, Niger, Mali, Mauritania, Western Sahara, and Morocco. They were bred for their alleged docility, for resistance to heat and thirst, and for their aesthetical value and were used in caravans and as mounts, as well as for subsistence purposes (e.g. milk and meat production) and for cultural reasons (e.g. as marker of cultural identity). During the last decades, piebald camels have been exported to the Canary Islands, Europe, and the USA, where they are used out of a pastoral context in the touristic and entertainment industries due to their perceived beauty and tameness.
The findings of this study are significant for understanding trends related to breeds and breeders in contexts of historical and contemporary change in pastoral systems. The findings also contribute to providing insights into the more general process of human selection for piebald colorations in domestic animals. This process can have different drivers and motives in different socio-ecological contexts and time. Piebald camels are under threat due to wars and droughts that kill herds and undermine pastoral livelihoods, e.g. in Darfur. They are threatened by increasing commodification of camels and camel products and consequent herd homogenization towards breeds with high marketing value, e.g. in Niger. Piebald camels and their husbandry have seen a resurgence during the last two decades as a symbol of political and cultural identity, in Western Sahara. Further studies are needed to fully elucidate the biology and history of piebald camels and their roles and dynamics in the present and in historical time. Fieldwork in other geographical areas (other than Western Sahara) where piebald camels are bred would be of great help in this sense. Also, a genetic study may help to identify different strains and to reconstruct piebald camels' temporal and geographical evolution and diffusion. A research into old written sources, mainly of Arabic origin, could help clarify the timing when piebald camels came to the Saharan Africa. Further studies would also be interesting to understand the place of piebald camels as an aesthetic locus among desert pastoralists. Such studies could make an interesting contribution to the field of anthropology of aesthetics.
We have pointed out that, in distinct breeding areas, piebald camels are subjected to negative trends, which increase the possibility of losing important genetic traits as well as the associated biocultural diversity (e.g. genetic, knowledge, and management). If these negative trends prevail, we risk losing the results of centuries-old engagement of humans in piebalds' breeding. The full story of piebald camels may be lost before having the chance to be told.
Declarations
Acknowledgements
We are very thankful to many Sahrawi refugees and nomads for their patience, kindness, and hospitality during the interviews. We also thank the Italian NGO Africa'70 and the Sahrawi Veterinary Services of the SADR (Sahrawi Arab Democratic Republic) for logistical support and cooperation. We thank Alessandro Broglia, Davide Rossi, Saleh Mohamed Saleh, and Sidahmed Fadel for helping during fieldwork and Anna Littlejohn for editing the manuscript. Our thanks go also to Prof. Richard Bulliet for his insights on piebald camels and his comments on the manuscript.
Funding
Funds were granted to GV by the Ceres Research School of the Wageningen University, The Netherlands, as part of his PhD research on recovery and adaptation of subsistence practices and ethnobiological knowledge among the Sahrawi refugees. ADN was supported by the BBSRC DTA grant (1094618 and BBS/E/I/00001642) and by the BBSRC Institute Strategic Programme Grant on Livestock Viral Diseases to The Pirbright Institute, UK.
Authors' contributions
GV and partly ADN carried out the fieldwork in Western Sahara. Observational studies in Arabia, Sudan, and the Horn of Africa were conducted by MD, while GV and ADN compiled direct observations in Kenya. GV, MD, and ADN composed the literature review and drafted the manuscript. All authors read and approved the final manuscript.
Competing interests
The authors declare that they have no competing interests.
Ethics approval and consent to participate
In every case, prior informed consent was obtained verbally before the interview was conducted, according to the ethical guidelines adopted by the American Anthropological Association (1998) and by the International Society of Ethnobiology (2006).
Open AccessThis article is distributed under the terms of the Creative Commons Attribution 4.0 International License (http://creativecommons.org/licenses/by/4.0/), which permits unrestricted use, distribution, and reproduction in any medium, provided you give appropriate credit to the original author(s) and the source, provide a link to the Creative Commons license, and indicate if changes were made.
Authors' Affiliations
(1)
Center for Integrative Conservation Research, University of Georgia, Athens, USA
(2)
Independent Veterinarian, Alfaz del Pi, Spain
(3)
The Pirbright Institute, Woking, UK