Spatio-temporal dynamics of forage and land cover changes in Karamoja sub-region, Uganda
Pastoralism
Pastoralism: Research, Policy and Practice
2014
4:6
Received: 28 February 2014
Accepted: 30 April 2014
Published: 30 May 2014
Abstract
Spatio-temporal dynamics of pastoral grazing resources influences the pastoral production system. Obtaining timely and reliable information on the status of these resources will support planning and early response to climatic variability. This study in Karamoja pastoral sub-region of Uganda identified herbaceous and woody forage species in different grazing land cover types, quantified forage in different grazing land covers, analyzed long-term land use/cover change (from 1986 to 2013) and determined the relationship between Normalized Difference Vegetation Index (NDVI) and herbaceous biomass. Results showed that the sub-region has over 30 grass species that provide forage. During the wet season, woodlands, grasslands and thickets and shrublands recorded a wet weight of 1,342.5 ± 104.5 kg/ha, 857.5 ± 29.4 kg/ha and 501 ± 43.9 kg/ha, respectively. In the dry season, 542.5 ± 57.6 kg/ha, 273 ± 6.4 kg/ha and 140 ± 9.2 kg/ha were realized in the woodlands, grasslands and thickets and shrublands, respectively. However, in the transitionary season, 276, 512.5 and 529.2 kg/ha were obtained in the woodlands, grasslands and thickets and shrublands accordingly. Similar trends were observed in dry matter biomass in the respective land cover type. Seasonality, land cover type and location accounted for the variations in the observed forage quantities. Analysis of land cover and land use change revealed a tenfold increase in croplands in the last 13 years. The expansion of crop cultivation is attributed to interventions by the Government of Uganda and development partners to promote food security in the sub-region. Heightened bushland encroachment was similarly observed in the last 13 years. The study also found a significant positive relationship between NDVI and herbaceous biomass, indicating that remote sensing offers reliable resource assessment and monitoring options for informing planning and interventions in semi-arid areas.
Keywords
Dry matterBush encroachmentAbove-ground herbaceous biomassHeterogeneity
Background
Livestock rearing has continued to play a significant role in the economy and welfare of Uganda. About 71% of households in Uganda owned livestock in 2008 (MAAIF and UBOS 2010). Previous estimates were of livestock and livestock products accounting for over 5% of the gross domestic product (GDP) and about 14% of the agricultural GDP as well as a range of valuable services and products for domestic and export markets (FAO 2005). Newer estimates show that livestock contributes up to 3.2% to national GDP, larger than the GDP derived from either cash crops or fishing. Further, the share contribution of livestock to Uganda's GDP is steadily rising (Behnke and Nakirya 2012). For the poorer livestock keepers of Uganda, livestock is hailed for its multiple benefits including facilitating saving, providing security, asset accumulation, financing planned and uncertain expenditures, providing a diversity of products and maintenance of social capital (Ashley and Nanyeenya 2002). The  cattle corridor' of Uganda is the most important livestock herding region in the country. This semi-arid region runs diagonally across Uganda from southwestern (Ankole sub-region) to northeastern Uganda (Karamoja sub-region). Livestock herded in this region by pastoralists and agro-pastoralists accounts for over 90% of the national livestock herd. In Karamoja, livestock is interwoven in the socio-cultural fabric of the people. Livestock influences relationships and determines self-worth and existence in a community, and livestock are central in traditional ceremonies and rites of passage, in particular, marriage (Grade et al. 2009). Karamoja's livestock alone constitute about 10% of the national livestock herd, 20% of the national cattle herd, 16% of goats, 60% of all horses, 97% of all camels and 91% of all donkeys in Uganda (MAAIF and UBOS 2010).
Like most of the pastoral groups in eastern Africa such as the Turkana of Kenya, Toposa of Sudan and the Nyangatom, Rendille and Borana of Ethiopia, the Karamojong practice mobile livestock herding. Men, often energetic youth locally known as karachunas, and their livestock seasonally move between wet and dry season grazing areas (Grade et al. 2009). During such times, women, children and elders remain behind in the manyattas (semi-permanent homesteads). It is therefore evident that the Karamojong still exercise a self-provisioning form of livestock rearing - pastoralism (Weber and Horst 2011). This form of livestock rearing largely depends on the availability of natural resources on the range which are managed primarily by livestock and fire (Bassett and Crumney 2003). The use of these primary management tools has enabled pastoralists to manipulate grazing regimes and circumvent patchy vegetation. In so doing, they have been able to effect subsequent changes in land cover over time (Weber and Horst 2011) as well as survive the harsh realities of climatic variability.
A growing concern among scientists (e.g. Lambin et al. 2003; Oba 2012; Nelson 2012) focused on pastoral regions is how the current trends in land use and land cover are affecting the grazing resource base. These shifts in land use are largely externally driven and have set in motion a myriad of other challenges including restricted mobility of pastoral herds, reductions in grazing lands and increased conflicts, especially those between farming and pastoral communities (Campbell et al. 2003; Nelson 2012; Oba 2012). The fact that changes in land use and land cover affect forage availability has implications for the viability of the pastoral livestock production and therefore livelihoods of pastoral communities in the region. The consequence of diminishing grazing lands is exemplified by livestock losses and exit of pastoralists among the pastoral Rufa'a Al Hoi ethnic group of the Blue Nile State in Sudan (Ahmed 2009). Similar trends have been reported in Burkina Faso among the Fulani pastoral communities (Tenuche and Ifatimehin 2009; Madu 2012). In eastern Africa, land use and land cover change dynamics are evident in privatization of pastoral land and sedentarisation in pastoral communities (Lesorogol 2005). In Uganda, livestock keepers in Kaliro district have experienced shortage in forage (Tabuti and Lye 2009) due to conversion of communal grazing lands for agriculture. Such processes exacerbate the vulnerability of pastoral groups to the vagaries of nature, particularly the devastating impacts of climate variability that include livestock losses and reduced livestock productivity (Nyariki et al. 2009; Kirwa et al. 2012; Nelson 2012).
Unlike other rangeland ecosystems in the east African region, minimal assessment and monitoring of forage and grazing land use changes has been undertaken in the Karamoja sub-region of Uganda. This is particularly attributed to prolonged periods of conflict and civil unrest that have plagued the sub-region. With the return of relative peace, security and stability, there has been increased promotion of sedentarisation and crop cultivation ostensibly to promote food security (Wamani and Bagonza 2013; Avery 2014). As a result, the pastoralist system in Karamoja is undergoing radical changes that are negatively affecting the pastoral livestock production (Anderson and Robinson 2009).
The ongoing conversion of rangelands to croplands has not been adequately addressed. Limited efforts (e.g. Nakalembe 2013; Scott-Villiers 2013) have been channeled towards examining the extent to which the changes, particularly in the grazing landscapes, have occurred over time. Nonetheless, a few studies have attempted to provide insights into the land use and land cover changes in Karamoja sub-region. One such study conducted in Moroto district indicated that deforestation was the most significant biophysical change occurring in the district (Majaliwa et al. 2009). In addition, vegetation cover and pasture resources were reported to have undergone significant changes in the area. No study has attempted to provide a sub-regional analysis of land use and land cover changes and how they impact on extensive livestock production system in the Karamoja sub-region, and yet, pastoralism is still the main livelihood activity for the Karamojong community. Mobile pastoral production systems traverse administrative borders, and therefore, their assessment requires a landscape approach so as to provide decision-makers with a sub-regional status of grazing resources. It is against this background that the 10th European Development Fund (EDF) Karamoja Livelihoods Programme (KALIP) recommended that a full study be undertaken of pasture availability by season and location in the sub-region (Anderson and Robinson 2009).
Sustainability of grazing and forage resources in pastoral areas requires the assessment and routine monitoring of spatio-temporal distribution and changes of these resources, as well as the awareness of the drivers of the observed change dynamics (Feng et al. 2009). Pastoralists have developed their own rangeland assessment and monitoring systems based on indigenous knowledge (Oba 2012). However, where changes are rapid and unrecorded, earth observations from space provide objective information on human use of the landscape (Ruelland et al. 2010). Remote sensing further plays a pivotal role in guiding grazing management by providing information in support of analysis, modeling and forecasting for decision support (Angerer 2008; Kawamura and Akiyama 2010). However, the relevance of satellite imagery in providing information to address challenges relating to livestock grazing resources will be greater when satellite data is integrated with ground-based assessments. The ground-based assessments help to fill the gaps in the satellite data particularly with regard to the composition of vegetation resources (Xie et al. 2008; Gintzburger and Saïdi 2009). A dearth of comparable empirical knowledge exists regarding the current real spatial and quantitative extent of forage resources in Karamoja sub-region. Therefore, this study (i) identified herbaceous and woody forage species in the grazing land covers, (ii) quantified the extent of the land use/land cover change in Karamoja and compared land cover change rates over time, (iii) quantified the potential available forage in the sub-region by integrating clipped wet weight and dry matter and related this to the extent of each grazing land cover and (iv) determined the relationship between Normalized Difference Vegetation Index (NDVI) and herbaceous biomass.
Study area
Karamoja is located in northeastern Uganda (Figure
1
) and is bordered to the east by the Rift valley escarpment that drops down into the Turkana territory of Kenya. To the north lies the Republic of South Sudan and to the south are the Mt. Elgon highlands. In the west, Karamoja is bordered by the home territories of the Teso, Lango and Acholi ethnic communities. The mountain areas of Karamoja are inhabited by the Tepeth Teuso and Nyangwe (Kagan et al.
2010
). The semi-arid lands of Karamoja are inhabited by pastoralist and agro-pastoralist communities. Rainfall in the region is variable, unpredictable and often sparse (Quam
1999
). Rainfall totals vary (from around 500 to 800 mm) within the sub-region with the few highlands generally receiving higher totals than much of the plains. Temperatures are generally high all year round. In the north and south and along the eastern escarpment are the forested mountainous areas, and in the west of the area (where the Labwor people inhabit the Abim district), the land is better watered with high vegetation cover of bushlands and woodlands.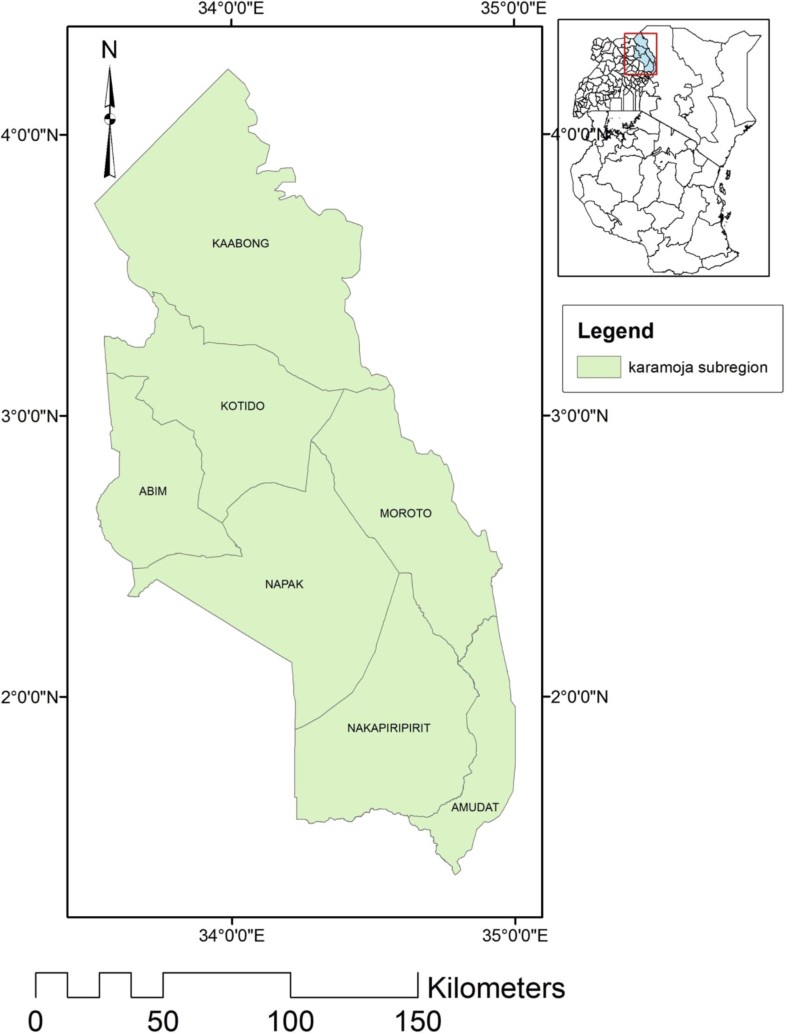 The area is dominated by indigenous tropical grasses such as Themeda triandra, Heteropogon spp., Andropogon spp., Aristida spp., Eragrostis superba, Panicum maximum, Chloris gayana, Setaria spp., Brachiaria spp., Hyparrhenia rufa, Cenchrus ciliaris, Cynadon spp. and Hyperthelia spp. The overstorey is dominated by Acacia tree species such as Acacia tortilis, Acacia mellifera, Acacia etbaica, Acacia nilotica, Acacia brevispica, Acacia bussei and Acacia albida (Anderson and Robinson 2009; Nalule 2010). Owing to the spatial and temporal variability in rainfall and forage availability, the Karamoja pastoralists strategically move their animals to optimize utilization of various ecological niches subject to water availability and security (Grade et al. 2009).
Land use/cover types in Karamoja
Five land use/cover types were identified in the sub-region, namely subsistence farmlands, woodlands, grasslands, thickets and shrublands, and lastly bushlands (Figure
2
a,b,c,d). Table
1
below describes the characteristics of each land cover type.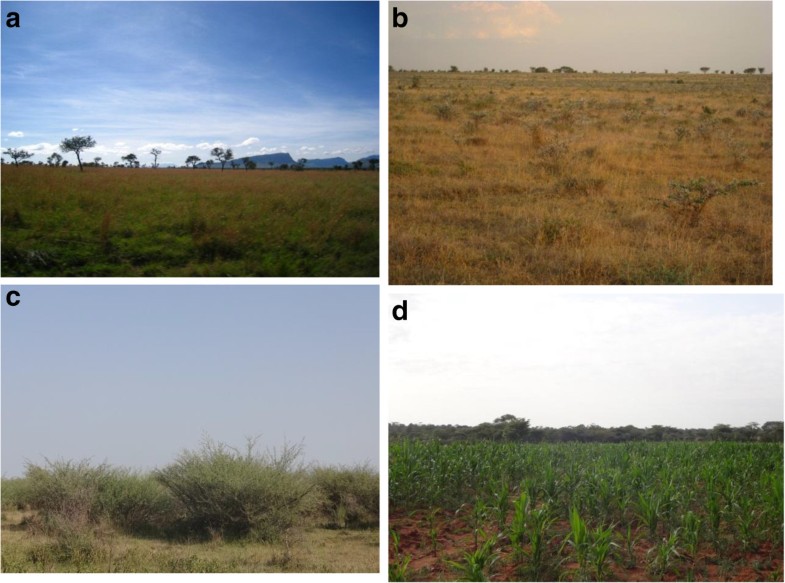 | Land use/cover type | Location | Description |
| --- | --- | --- |
| Croplands | About 1 to 4 km away from the manyattas (homesteads). Traditionally, the largest cultivations are those around Kangole (now Napak district), west of Moroto (Nadunget sub-county), around Kotido (Panyangara and Nakapelimoru) and north of Toror hills (Thomas 1943). From Lorengdwat through to Southern Karamoja-Namalu area are dotted plots of croplands. Water deficits are a known challenge to the cropping estate | All land is dedicated to the production of cultivated crops. In Karamoja, these are principally open cultivated fields with sorghum as the main staple crop (Figure 2d). Trees (often thorny bushes, twigs and trees) are cleared during land opening. Once productivity has declined, the farmer either clears the adjacent land and/or shifts to another location. These farmlands are often located a few metres from the manyattas to about 4 km away |
| Grasslands | Between four groups of hills, Moroto, Toror, Napak-Iriir (Figure 2a) and Lawor, there is a landscape of open grasslands. Grasslands also occur in the open plains of Nakaale in Amudat district after Tokora to the lower areas of Namalu through the broader plains of Moruajore and Pian Upe game reserve and much of Lolachat in Nakapiripirit district. This stretch of grasslands follows a northward trending through Lolachat to Iriir and to the foot slopes of Opopwa hills north of Napak district where Themeda triandra, Bracharia brizantha, and Sporobolus pyrimidalis are dominant grasses (Thomas 1943) | Land composed of annual, biennial and/or perennial self-seeding grasses. In Karamoja, these are natural grasses that include all the grass steppes and savannas in the east, grasslands of the broad valleys in the center and open grasslands of the plains in the south and west of generally grass steppes. Grasses such as Setaria holstii, Panicum meyerianum and Themeda triandra and the legume Clitoria ternatea can be found in these areas (Thomas 1943) |
| Thickets and shrubland | These are generally more dominant in Kotido (Figure 2b) district than anywhere else in the region. They also occur around Panyangara, Nakapelimoru and parts of Regen sub-county from areas of Lokadeli | Land on which vegetation is dominated by low-growing woody plants having single to multiple stems arising at or near the base (Allen et al. 2011). In Karamoja, this landscape when looked at from a distance forms whitish carpeting (especially during the dry season) of thorny trees (generally of a low height of 1 to 3 m although the more mature trees may reach 5 to 6 m) with short grasses at the base. These trees are generally Acacia species (e.g. Acacia drepanolobium, A. oerfota, A. kirkii) providing browse for ruminants |
| Woodlands | Generally tropical savanna-woodlands occurring in the south and west (Iririr), north west in the Labwor ranges (present day Abim district), central region around Mount Moroto, and far north to Mount Zulia area; from Nabuin (Figure 2d) through parts of Kamulasabala through to Acholchol in Nakapiripirit district; and areas around Moruita in Amudat district. Compared to all other districts in the sub-region, woodlands in Kotido are insignificant and those that exist occur mainly along river channels and a few major shrines (respected for traditional ceremonies) | Land with a plant community which, in contrast to a typical forest, contains trees that are often small, characteristically short-boled (height ranges 5 to 20 m) relative to their crown depth and form an open canopy only with the intervening area being occupied by shorter vegetation, commonly grass (Allen et al. 2011). In Karamoja, these areas are generally occupied by deciduous trees with a fair height level in the range of 5 to 12 m (Figure 2d at the far background). Tree species such as Combretum binderianum and Bauchinia thoningii can be found in this land cover with interwoven Acacia and other plant forms including grasses that similarly occur in the grasslands |
| Bushlands | Fringes of gardens, areas with a past history of grazing but with decreased grazing over the last 15 years and former abandoned kraals (old livestock enclosures). One can easily observe bushland land covers around Toror mounts, Lobel in Kotido district (Figure 2c). In Kaabong district, a wide spread beginning from around Lobunyet to the northeast trending parts of Nakimoru, Napararo, Kamion, Oropoi, Morungole and towards Pirre. In Moroto district, bushland can be observed after the Moroto River in the northeast trending to Lokisile, Ilokapel and after River Acholchol and towards the airstrip in Amudat district | Land with >15% to 20% bush or shrub cover and plant height ranging on average between 3 and 6 m. In the Karamoja case, some bush and shrub vegetation form a V-shape spreading canopy (Figure 2c). It is dominated by Acacia oerfota, A. mellifera, and A. nilotica, and around Lorengdwat in Nakapiripirit district and Lokisile in Moroto district, there is a mix of Euphorbia prostrate, E. candlebrum and E. tirucalli. A slight variation exists in the southern bushlands which are relatively stable and even becoming woodlands in places, while the bushlands in Moroto and parts of Kotido are relatively young with aggressive tree species of Acacia oerfota and A. mellifera. These were mainly identified by the key informants as formerly heavily grazed areas with some having occurred in former croplands |
Conclusion
This study was commissioned with the main objectives of quantifying forage in the different grazing land use/cover types in Karamoja and providing a long-term portrait of how these grazing land use/cover types have changed. This study has successfully bridged the information gap on forage quantity at seasonal and regional levels, thus fulfilling one of the recommendations made in the 10th EU/KALIP project document seeking for a full forage assessment on seasonal and location basis in the sub-region. We have not only provided a wet and dry season perspective, but have also provided a transitionary season view point which is critical in providing warning signals on the likely challenges that the pastoralists may face during the dry season.
It is hoped that this information should be able to trigger early preparation and early response to the plight of pastoralists and agro-pastoralists. This study has also highlighted the existence of spatial heterogeneity in different grazing land covers as well as districts in the region. Thus, mobile grazing practices as used in the region are likely to continue and may offer the best option for coping and adapting to the heterogeneity in the grazing landscapes as observed in this study. Furthermore, this study has shown that the grasslands, which represent the most important grazing land cover in the sub-region, are under threat from bushland encroachment. In particular, the proliferation of alien species such as Prosopis spp. will pose an even greater risk in a few years. This requires immediate management attention to reduce the evident bushland invasion.
Uniquely, this study has shown that while other grazing land covers decline in forage quantity during the dry season, the thickets and shrublands have their peak production during the transitionary season. The growth in cropping in the last 13 years is unprecedented. It is therefore imperative that while supporting intensification and increases in crop cultivation, efforts are also geared towards integrated livestock-crop production systems in the sub-region. Therefore, the sustainability of livestock grazing in the sub-region will depend on the health of the grasslands for continued mobile grazing practices in order to overcome the low forage quantity per hectare. This study has also shown that it is possible to estimate above-ground biomass using remote sensing technologies. The estimation equations developed in this study offer baseline information that could be utilised by decision-makers to rapidly obtain forage information status. The varied response rates of land covers at different locations demonstrate the heterogeneity within the land covers and locations in the sub-region. We recommend that long-term monitoring studies be conducted in the sub-region within three main treatments: no grazing, controlled grazing and open-access grazing.
Author's information
AE is a PhD student at University of Nairobi and an Assistant Lecturer at Makerere University, Uganda. OW (PhD), LM (PhD) and JM (PhD) are Lecturers at University of Nairobi. JK is an MSc. student at Makerere University, Uganda, and GJMM is an Associate Professor at Makerere University, Uganda.
Declarations
Acknowledgements
This study was funded in part by a grant to Makerere University by the Carnegie Corporation of New York and Makerere University. Additional funding was provided by Regional Universities Forum for Capacity Building in Agriculture (RUFORUM). We are grateful to the Uganda People's Defense Forces (UPDF) for the provision of security at various locations in the region.
Authors' Affiliations
(1)
Department of Land Resource Management and Agricultural Technology, University of Nairobi, Nairobi, Kenya
(2)
German Institute for Tropical and Subtropical Agriculture (DITSL), University of Kassel, Witzenhausen, Germany
(3)
Department of Agricultural Engineering, Makerere University, Kampala, Uganda
(4)
Department of Geography, Geo-informatics and Climatic Sciences, Makerere University, Kampala, Uganda
(5)
Department of Agricultural Economics, University of Nairobi, Nairobi, Kenya
Copyright
© Egeru et al.; licensee Springer. 2014
This article is published under license to BioMed Central Ltd. This is an Open Access article distributed under the terms of the Creative Commons Attribution License (http://creativecommons.org/licenses/by/4.0), which permits unrestricted use, distribution, and reproduction in any medium, provided the original work is properly credited.