No longer tracking greenery in high altitudes: Pastoral practices of Rupshu nomads and their implications for biodiversity conservation
Pastoralism: Research, Policy and Practice
Pastoralism: Research, Policy and Practice
2013
3:16
Received: 23 February 2013
Accepted: 6 June 2013
Published: 7 August 2013
Abstract
Nomadic pastoralism has thrived in Asia's rangelands for several millennia by tracking seasonal changes in forage productivity and coping with a harsh climate. This pastoralist lifestyle, however, has come under intense transformations in recent decades due to socio-political and land use changes. One example is of the high-altitude trans-Himalayan rangelands of the Jammu and Kashmir State in northern India: major socio-political reorganisation over the last five decades has significantly impacted the traditional pasture use pattern and resources. We outline the organizational transformations and movement patterns of the Rupshu pastoralists who inhabit the region. We demonstrate the changes in terms of intensification of pasture use across the region as well as a social reorganisation due to accommodation of Tibetan refugees following the Sino-Indian war in 1961 to 1962. We focus in particular on the Tso Kar basin - an important socio-ecological system of livestock herding and biodiversity in the eastern Ladakh region. The post-war developmental policies of the government have contributed to these modifications in traditional pasture use and present a threat to the rangelands as well as to the local biodiversity. In the Tso Kar basin, the number of households and livestock has almost doubled while pasture area has declined by half. These changes have potentially negative consequences for the long-term resilience of nomadic pastoralism as well as for the survival of rare local wildlife. To increase the pastoralist standard of living, having fewer pastoralists may be the only solution, and alternative livelihood options may bring this about. Development programmes should concentrate on enhancing opportunities for herders so that there is a greater diversity of employment opportunities and potentially better chances for the persistence of biodiversity.
Keywords
Grazing intensityRangelandsTrans-HimalayaWildlifeHuman-wildlife conflictsHuman dimensions of wildlife
Introduction
Over the course of the last five decades, pastoralist lifestyles around the world have been influenced by changes in socio-political circumstances leading to changes in pastoralist rangeland use practices (Behnke and Scoones 1993; Robinson and Milner-Gulland 2003; Namgail et al. 2007a). Commonly observed impacts of such changes are reductions in pasture turnover, sedentarization of nomadic pastoralists, increased livestock populations and conflicts with wildlife sharing similar resources. For instance, changes in government in the former Soviet Central Asian republics have been traumatic not only for the pastoralists but also for the pastures and wild herbivores such as the highly endangered saiga antelope (Saiga tatarica) (Milner-Gulland et al. 2001; Kerven 2003; Robinson and Milner-Gulland 2003). The curtailment of pastoralists' movements after the end of the USSR, following the previous Soviet collectivization of livestock to increase the livestock production, ended in a near disaster, ecologically and economically for Central Asia rangelands (Ellis and Lee 2003; Kerven 2003). Similarly, official pasture use policies in Chinese Tibet have seen dramatic changes in the recent past, with the fencing of winter pastures for livestock and changes in rangeland management goals, leading to sedentarization of pastoralists and endangering local flora and fauna, such as the emblematic migratory Tibetan antelope (Pantholops hodgsonii) and wild yak (Bos grunniens) (Bauer 2005; Xu et al. 2009; Fox et al. 2009). In parts of Central Asia and Himalaya, studies have demonstrated that intense livestock grazing may pose a serious threat to wildlife resulting in their decimation or even local extinction (Mishra et al. 2002, 2004; Bhatnagar et al. 2006a).
Overall, the recent fast pace of perturbations that have occurred in Central Asia coupled with conflicting needs between the intensification of land use and low productivity ecosystems challenge our understanding of the spatial and social extent of the above changes. Hence, there is room for integrative and ecosystem level analyses of these transformations despite the paucity of data so as to obtain a better understanding of the state of the systems and the causes of changes. A better understanding could contribute to long-term co-existence of pastoralism and native wildlife in the region through implementation of effective management plans. We address this issue using the case study of the socio-ecological pastoral system of Rupshu pastoralists in the high-altitude rangelands in the Indian trans-Himalayan region of Ladakh, Jammu and Kashmir. This region has undergone socio-political reorganisations and increasing developmental interventions by local and national governments. This, along with other anthropogenic pressures such as population growth, increasing demands for goods and services and education, has led to a rapid change in the pastoralist lifestyle.
Nomadic pastoralism has existed in high-altitude rangelands of the trans-Himalayas and Tibetan plateau for several millennia (Miller and Schaller 1996). The pastoralist lifestyle has subsisted in these highly seasonal and unpredictable environments, managing the uncertainty and risk and converting sparse vegetation into livestock biomass (Miller and Schaller 1996). With a short growing season and a limited range of elevations at which livestock can graze, pastoralists practised well-defined movement, tracking the changing seasonal and spatial variability of resource quality and quantity and seeking to overcome unpredictable events such as drought, snow disasters and predation (Schaller 1998; Hagalia 2004).
The main of changes in the pastoral practices of Rupshu has been the Sino-Indian war of 1962 which affected core area near the Indo-Tibetan border historically inhabited by the Rupshu groups in Ladakh. A number of other consequential changes occurred as a result of the war, which were also socio-political in nature (Bhatnagar and Singh 2011). We present this case study, taking Rupshus as a model, showing how externally generated shifts in pastoral practices could affect the local wildlife, including some species of conservation importance, which compete for the same resources as livestock.
We examine the changes in a spatial and social context over the last five decades, compare the historical trends with the current state and quantify the changes in terms of increased grazing intensities in the area. We then demonstrate the effect of the changes in pasture use patterns on biodiversity by using Tibetan argali - a species of wild sheep (Ovis ammon hodgsoni) - as a case study and studying spatial interactions between argali and livestock. Combining literature reviews and field investigations, we discuss both ecological and social elements, for management policy formulation. Our focus area is the Tso Kar basin, an area inhabited by one of the Rupshu subgroups which has experienced changes in pastoral practices while containing key biodiversity elements of the region between India and China (Singh 2008).
Study area
The Rupshu groups of pastoralists inhabit the trans-Himalayan region of Ladakh, a part of which is known as Changthang ('northern plains') in the state of Jammu and Kashmir in northern India (Figure
1
). The Changthang region is not an administrative zone but the western extension of the Tibetan plateau, an important highland grazing ecosystem (Goldstein and Beall
1990
). Rupshus are ethnically Tibetan who migrated to the Indian part of the Changthang in the eighth century (AD) (Jina
1995
; Chaudhuri
1999
,
2000
). They are among the few nomadic pastoralists left in India (Ahmed
1996
). In their political system, the traditional structure (village council with a chief/
goba
and village administration) and the government-sponsored local bodies (
panchayats
) coexist, but with differing roles.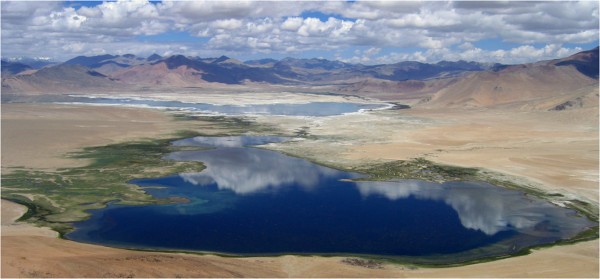 Methods
It is difficult to separate causes and consequences as the events and changes have occurred often simultaneously over the past five decades. Our analysis demonstrates the critical interplay between the three main stakeholders in the pastoral system: the pastoralists, legal bodies and government, and wildlife, all interacting with each other. We use the term 'ecological stakeholders' to encompass the rangelands and its wildlife. To help understand the context and the pastoral changes, we provide a chronology of events as a general and historical framework (Figure
2
).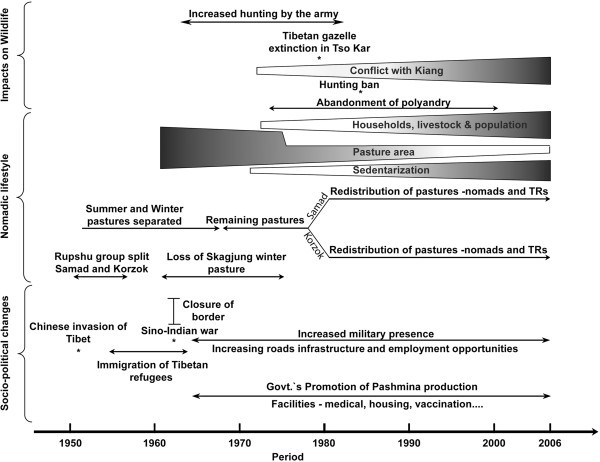 From 2004 to 2008, we conducted 80 semi-structured interviews that included Rupshu pastoralists (in two villages of Samad and Korzok that reside in the area; Figures
1
and
3
show the study area), Tibetan refugees and government officials of the Wildlife Protection, Sheep Husbandry and Animal Husbandry Departments (the State of Jammu and Kashmir, India). Our aim was to document the post-1962 war perceived changes in pastoral practices. Two officials from the Sheep Husbandry Department, Leh, were also interviewed in August 2006 to gather information on recent governmental interventions aimed at developing livestock production. We also reviewed land use and socio-economic reports as well as the livestock data available at the local Sheep and Animal Husbandry Departments. The information on past pasture use, migration patterns and socio-economic changes was provided by six elderly people from the community. The contemporary patterns were described by the community head, the Lama (priest) and ten young educated herders. Information on family size and livestock holdings was obtained from an adult member of each family (Samad village:
n
 = 22 local pastoralists, ten Tibetan refugees; Korzok village:
n
 = 20 local pastoralists, ten Tibetan refugees).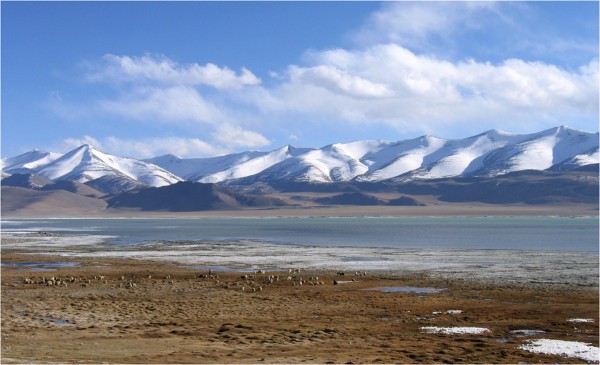 We report livestock in terms of sheep (or goat) units (hereafter SU) and convert yaks and horses on the basis of 1 yak = 4 SU and 1 horse = 6 SU, as suggested by Long et al. (1999). Information on time spent (number of days) at particular seasonal locations and pastures was obtained from the village goba.
We used the digital elevation model from the Surface Radar Topography Mission, NASA, for the Ladakh region, and based on information collected from herders, we mapped seasonal pasture use polygons. All the numbers are approximations. For detailed information on the land use of the Tso Kar basin by Rupshu members from Samad village, we recorded global positioning system (GPS) locations of the herder camps from 2005 to 2007 during the summer season and generated an accurate map of the movement patterns of the nomads as well as camp site locations in the Tso Kar basin (Figures
1
and
4
a,b). Herders confirmed that these camps were regularly used over the years.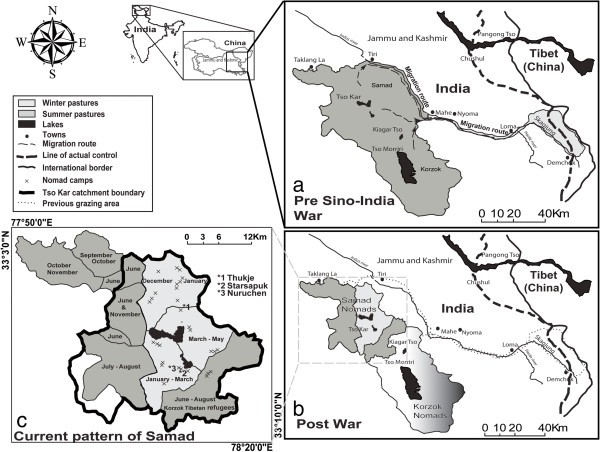 Space use between livestock and argali
We estimated the seasonal pasture use of argali and livestock to calculate the extent of range overlap among the groups in the Tso Kar basin. We used argali as an example as it is one of the most important species of conservation importance in the area (Singh
2008
). The area contains 29 designated camping sites for nomads and Tibetan refugees (Table
1
, Figure
5
a). These camping sites are distributed all over the study area and are used in different seasons. One camping site may be used by several nomadic households. To estimate the livestock range around camp sites as well as extent of resource exploitation, we made a spatial projection of the grazing intensity around herder camps (Figure
5
b). In the absence of measures of actual forage removed by livestock and livestock group movements, a surrogate variable related to the 'intensity of use' reflects the grazing pressure on the pastures. We assumed that areas experiencing higher resource exploitation should be shown as areas that have been used more heavily (higher number of livestock) and for longer periods. The intensity could then be expressed as number of Sheep Unit Days (SUD) per site. Also, the distribution of grazing pressure needed to be determined in order to distinguish between grazing-induced depletion, seasonal fluctuations and changes that were due to other reasons. We recorded the number of families residing per camp site, livestock holding per family (SU) and time spent per camp site (number of days). Hence, grazing pressure was estimated as a function of SUD per camp site (Table
1
).
Table 1
Individual herder camp sites and the estimated grazing intensity around them
| Camp ID | Number of families | SU | Days spent at site | SUD |
| --- | --- | --- | --- | --- |
| 1 | 2 | 578 | 31 | 17,918 |
| 2 | 2 | 578 | 31 | 17,918 |
| 3 | 2 | 578 | 31 | 17,918 |
| 4 | 3 | 866 | 31 | 26,846 |
| 5 | 6 | 1,148 | 25 | 28,700 |
| 6 | 4 | 765 | 134 | 102,510 |
| 7 | 2 | 578 | 91 | 52,598 |
| 8 | 24 | 4,592 | 89 | 408,688 |
| 9 | 2 | 578 | 91 | 52,598 |
| 10 | 2 | 578 | 91 | 52,598 |
| 11 | 3 | 866 | 89 | 77,074 |
| 12 | 6 | 1,733 | 89 | 154,237 |
| 13 | 4 | 1,155 | 89 | 102,795 |
| 14 | 12 | 2,297 | 89 | 204,433 |
| 15 | 2 | 578 | 31 | 17,918 |
| 16 | 2 | 578 | 31 | 17,918 |
| 17 | 8 | 2,310 | 61 | 140,910 |
| 18 | 5 | 1,444 | 91 | 131,404 |
| 19 | 3 | 866 | 91 | 78,806 |
| 20 | 2 | 578 | 91 | 52,598 |
| 21 | 32 | 5,882 | 134 | 788,132 |
| 22 | 16 | 2,965 | 134 | 397,326 |
| 23 | 32 | 5,882 | 60 | 352,934 |
| 24 | 25 | 4,606 | 85 | 391,510 |
| 25 | 32 | 5,882 | 35 | 205,878 |
| 26 | 16 | 4,376 | 61 | 266,936 |
| 27 | 12 | 2,236 | 89 | 198,990 |
| 28 | 10 | 2,769 | 89 | 246,468 |
| 29 | 9 | 2,502 | 61 | 152,596 |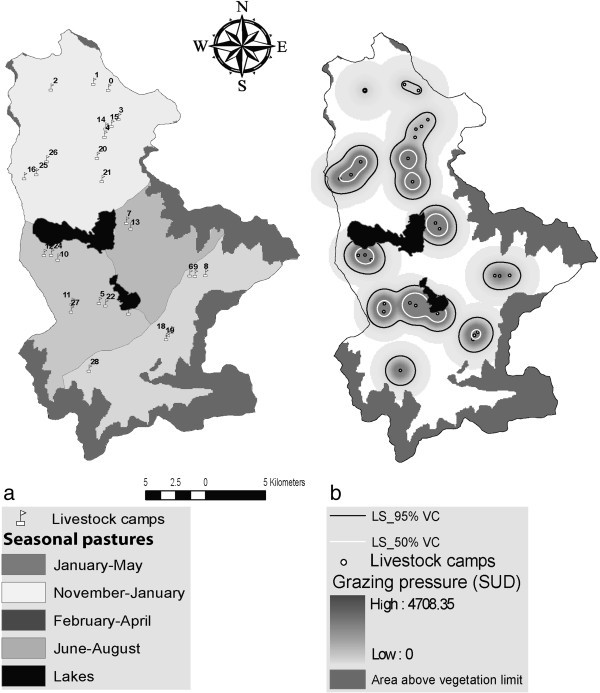 A greater clustering of the camp sites was assumed to increase pressure in the impact zone by their combined effect. Argali use of the area was determined through direct observations of the feeding argali groups from 13 vantage points every four days, using 15 × 45 spotting scopes (see Additional file
1
). The space use overlap between argali and livestock was estimated using kernel density analyses (see Additional file
1
). We used the following formula to estimate the overlap index (OI) (Cole's coefficient of association (Cole
1949
, Kenward et al.
2001
)):
where A1 is the area of argali utilisation distribution (UD) polygon and A2 is the area of livestock UD polygon. The UD provides a global but static (time-integrated) representation of space use patterns of animals that perform home range behaviour (Worton 1989). We assessed the OI bounded by the 50% and 95% volume contours of the two UDs. Overlap among the seasonal polygons was estimated using intersect tool in the ArcToolbox in ArcGIS 9.2.
Declarations
Acknowledgements
The Rufford Foundation for Nature Conservation (UK) and the University of Tromsø provided support for the fieldwork. The Research Council of Norway (through the International Polar Year Project 'Arctic Predators') provided additional financial assistance. We thank the Departments of Wildlife Protection and Sheep Husbandry, Jammu and Kashmir, India for permissions to conduct the fieldwork. E.J. Milner-Gulland, Roy Behnke, Manju Sharma and two anonymous reviewers provided valuable comments that greatly improved the manuscript.
Authors' Affiliations
(1)
Department of Arctic and Marine Biology, Faculty of Biosciences, Fisheries and Economics, University of Tromsø, Tromsø, Norway
(2)
Nature Conservation Foundation, Mysore, India
(3)
Department of Wildlife, Fish, and Environmental Studies, Faculty of Forest Sciences, Swedish University of Agricultural Sciences, Umea, Sweden
(4)
Canada Research Chair in Polar and Boreal Ecology, Moncton University, Moncton, Canada
Copyright
© Singh et al.; licensee Springer. 2013
This article is published under license to BioMed Central Ltd. This is an Open Access article distributed under the terms of the Creative Commons Attribution License (http://creativecommons.org/licenses/by/2.0), which permits unrestricted use, distribution, and reproduction in any medium, provided the original work is properly cited.